MidWeek veteran rejoins the team
Chris McMahon will be the company's director of merchant services
Chris McMahon, the original vice president of advertising for MidWeek during its launch in 1984, has once again joined the organization after almost a six-year hiatus.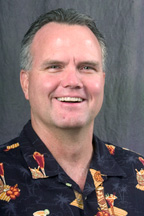 "Chris' local knowledge and experience over the past two decades in this marketplace is tough to find and we're pleased to welcome him back as our director of merchant services," said David Kennedy, vice president of marketing. "Chris brings CreditBack, an attractive state-of-the-art database management and automated rewards program for merchants to the Honolulu Star-Bulletin and MidWeek, of which he'll continue to champion," Kennedy said.
Glenn Zuehls, vice president of advertising, said, "We're taking advertising sales and servicing our customers to a whole new level by integrating CreditBack as an extension of our many great products."
McMahon said he was excited at the opportunity to bring CreditBack to the Star-Bulletin and MidWeek and its hundreds of clients.
"For over 20 years, MidWeek has successfully battled hard for a share of the advertising dollar with an array of different marketing strategies," he said. "I'm looking forward to joining the best advertising and marketing managers here in Hawaii. The Star-Bulletin and MidWeek team is very experienced with local businesses and are held in high regard with advertising clients. I'm eager to join them."
McMahon called CreditBack, MidWeek and the Star-Bulletin "a perfect fit."
"It's a dynamic product and service that serves both the merchant and consumer," he said. "Both parties win. The consumer wins by shopping or dining at our local merchants with a singular card (that can be used at hundreds of participating stores). The merchant wins by truly identifying and rewarding their most frequent or best customers through CreditBack's automated system."
CreditBack President Jay Taylor said more than 20,000 reward certificates have been mailed to Oahu consumers.
"Our average reward certificate is $25 -- that's a little over $620,000 being kicked back into the marketplace to CreditBack consumers and merchants alike," Taylor said. "Our top clients include Lex Brodie's, Young Laundry, Papa John's Pizza, Hilo Hattie, HomeWorld Furniture, Genki Sushi, University of Hawaii athletics and hundreds more.
"By year's end, any CreditBack card purchased from a merchant in Hawaii will also be good at over 1,000 stores on the mainland as well for instant discounts or rewards."