---
[ FAST FACTS HAWAII ]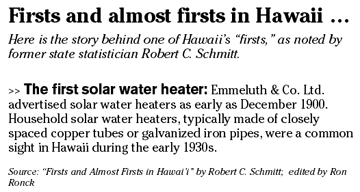 ---
BACK TO TOP


|


NATION
Be sure to mention your many 'soft skills'
Your resume is always current, ready to zap to a potential new employer with a superlative position that's open, right? But have you got your "invisible resume" prepared?
Such a CV refers to the compendium of so-called "soft skills" many employees possess but that do not show up on traditional resumes -- typically a down-to-facts recitation of your education, training, previous work and technical acumen. Trevor Gandy, vice president of human resources at insurance giant Chubb Group, offers a few questions to pose yourself about issues and skills you'll want to have ready to share with a prospective recruiter.
» Do you meet deadlines?
» Do you avoid a reclusive nature at work, and seek to collaborate on projects?
» Can you navigate your way through various departments and management levels?
» Will your skill set meld with the organization's basic talent structure? If so, how?
» Do you volunteer for activities outside your specific work group?
These questions can lead to a wealth of skills your facts-based resume might never cover, or even intimate.
Keep your kids safe on Halloween
Sugar overload is not the only potential safety issue of Halloween. Dr. Ari Brown, a pediatrician and spokeswoman for the American Academy of Pediatrics, has a few tips for the tonight's trick-or-treating.
» Feed the young-uns before the outing. Protein, vegetables and carbs are a good idea before they binge on the candy calories.
» Stay in a group. Kids wandering solo after dark is not a good idea.
» Remind the children and their group leader never to enter a stranger's house.
» Keep good vision. Masks can obstruct views of feet, curbs and passing buses racing by at 50 miles an hour. Consider nontoxic makeup instead of a mask for their costume.
» Make your walkway safe. Remove obstructions from the path to your door.
» Practice pumpkin safety. Young kids can get just as much fun from sketching on their pumpkin with markers as from butchering it -- and possibly their hands -- with a knife.
Middle managers hit the road
The improved job market is leading to an exodus of middle managers at twice the rate of senior executives, according to a survey of managerial turnover.
Just over a third of the companies, 34 percent, had implemented new or revised retention programs while nearly a third (31 percent) have done the same for senior-level management.
Also, nearly half of the companies (40 percent) said middle managers are overseeing more people now than they did during the recession, but only a quarter of the companies admitted that those people were getting extra preparation for the expanded duties.
The survey involved 168 companies and was conducted by Boston-based ClearRock, an executive coaching and outplacement group.