| | |
| --- | --- |
| | Newswatch |
---
$63M for Hawaiians clears Senate hurdle
A federal spending bill containing more than $125 million for health, education and social services in Hawaii, including $63 million for native Hawaiians, has cleared the Senate.
Nearly $35 million of the money is earmarked specifically for native Hawaiian education, U.S. Sen. Daniel Inouye, D-Hawaii, said in a statement.
"These funds have tangible, positive results: teacher training and recruitment, scholarships for outstanding native Hawaiian students, and the repair and renovation of public schools with a significant number of native Hawaiians," he said.
The Senate voted Thursday to pass the massive measure covering health, education and labor programs, the largest of the spending bills Congress considers every year. It now goes to House and Senate negotiations.
City cancels video test for firefighter recruits
The firefighter recruit video test scheduled for today at the University of Hawaii's Manoa campus has been canceled, according to city officials.
All candidates who received admission letters should not report for the test. The city has removed the video test from the examination process, and it will not be scheduled. The test scores will be based solely on the written test, officials said.
Former Maui resident pleads guilty to fraud
A former Maui resident has pleaded guilty to wire fraud and obstruction charges for schemes to hide his own income and the assets of his clients from the Internal Revenue Service.
John David Van Hove, also known as "Johnny Liberty," took $700,000 from clients of his financial planning and investment advice business on Maui since 1997, according to an announcement Thursday from the U.S. Attorney's Office. He offered them purported ways to avoid taxes.
Most of Van Hove's clients received no profits and lost whatever they invested, according to information entered in U.S. District Court.
Van Hove entered a plea agreement in which he admitted he was paid $281,890 for work with the Institute of Global Prosperity from 1998 to 2001, and directed the payments to nominee bank accounts to conceal his income. He has been imprisoned since his arrest May 9 in Ashland, Ore. He was indicted by a federal grand jury.
He faces a maximum penalty of 20 years in prison and $250,000 fine on the wire fraud charge, and three years and $250,000 for the obstruction charge. He will be sentenced May 15 by U.S. District Chief Judge David Ezra.
---
Police, Fire, Courts




By Star-Bulletin staff



HONOLULU
Men attack police after noise complaint
Two police officers were assaulted at Mayor Wright Housing early Thursday while responding to a noise complaint.
Police said the officers were at the housing project about 12:55 a.m. and confronted a group of men who were drinking. The officers tried to arrest one man who police said was drunk and disorderly when another man, 28, approached from behind and punched one of the officers in the head.
The second officer stepped in, and the suspect allegedly punched him in the chest. The suspect then fled on foot but was later caught and arrested for investigation of two counts of assaulting a police officer in the first degree.
Police arrest man, 18, after car rams jeep
Police have arrested an 18-year-old man who allegedly used a stolen car to ram into a jeep in which his girlfriend was a passenger.
The alleged incident happened on July 23 at Ala Moana Beach Park. Police said the suspect became irate when his girlfriend arrived at the park with four of her friends in a jeep. He intentionally reversed his vehicle twice into the jeep, police said. The boyfriend fled on foot, and when police arrived they discovered the car he was using had been reported stolen.
The boyfriend turned himself in to police Thursday.
He was arrested for investigation of auto theft and criminal property damage and released pending an investigation.
Teen boys allegedly harass homeless man
Police arrested two teenage boys after they allegedly harassed and threatened a homeless man Wednesday in the downtown area.
Police said that about 7:30 a.m. the boys, ages 14 and 13, accosted the homeless man. One boy allegedly grabbed two paperback books from the victim's shopping cart and threw them to the ground, while the other boy allegedly grabbed the books and threw them into the stream.
The victim, 40, started swinging a string with three locks on it to keep the juveniles back, according to police. The suspects allegedly picked up two concrete bricks and an aluminum pipe but walked away after a security guard broke up the fight.
Police later stopped the suspects and arrested them for investigation of first-degree terroristic threatening, fourth-degree theft and criminal littering. They were released pending an investigation.
LEEWARD OAHU
Driver in moped crash is in critical condition
A 17-year-old boy riding a mo-ped was critically injured yesterday in Waianae, according to an Emergency Medical Services supervisor.
The collision between the mo-ped and a vehicle occurred about 6:20 p.m. at Kaneaki Street and Kepaula Place, police said. No further details were available at press time.
Bad driving leads to woman's arrest
Police arrested a 22-year-old woman for several offenses after she was pulled over for speeding Wednesday night in Ewa Beach.
Police said the woman was seen traveling at a high rate of speed, then disregarding a red light before a patrol officer attempted to pull her over about 9:45 p.m. When officers stopped the vehicle, the woman could not explain who owned the vehicle she was driving.
The officers also recovered a bag from the vehicle, obtained a search warrant and found a firearm and narcotics inside, police said. The suspect was arrested for investigation of detaining stolen property, disregarding a red signal, refusing to stop, driving without a license or insurance, as well as having several outstanding warrants along with two firearm and two drug offenses.
NEIGHBOR ISLANDS
Big Isle man charged in escape from prison
Big Island police have charged a 28-year-old Hilo man for assisting an escapee from the Hawaii Community Correctional Center this month.
Keone Smith was charged Wednesday with first-degree hindering prosecution for allegedly assisting Kole Race-Joaquin, who escaped from the Hilo prison and remains at large.
Race-Joaquin, Shawn DeCosta and Franklin Enos escaped from the Hilo facility Oct. 2. DeCosta and Enos were captured.
Police also charged Smith in connection with a robbery and kidnapping incident last Saturday in lower Waiakea Uka.
Smith was charged with second-degree robbery, first-degree kidnapping, first-degree criminal property damage, third-degree assault and first-degree hindering prosecution. Smith's bail was set at $200,000.
Anyone with information is asked to call Detective Juergen Canda at 961-2381 or police at 935-3311. Anonymous calls may be made to CrimeStoppers at 961-8300 in Hilo or 329-8181 in Kona.
Hiker requires airlift from Alakai swamp
An injured hiker was airlifted off a trail Thursday in the Alakai swamp on Kauai.
The 42-year-old man, visiting from Washington, was walking along the boardwalk at the swamp when he slipped and fell about 2 p.m. and severely sprained or broke his ankle, a fire official said.
He was airlifted to Princeville Airport where he was picked up by ambulance and transported to Wilcox Memorial Hospital.
WINDWARD OAHU
Man, 54, arrested after threats to wife
Police arrested a 54-year-old man after he allegedly violated a restraining order filed against him by his estranged wife and threatened to kill her.
Police said the suspect entered his wife's Kaneohe home through the kitchen window and threatened to kill her with a knife at about midnight Monday. The suspect also allegedly punched his wife, 52, in the ear.
The man was found in Kailua a couple of days after the incident as a passenger in a vehicle during a traffic stop and was arrested for investigation of burglary, terroristic threatening, abuse and violating a protective order.
WINDWARD OAHU
Drowning victim was Kaneohe man, 58
The city Medical Examiner's Office has identified the man who drowned Thursday after his boat capsized near Kahana Bay as Gerald Kalei Lee of Kaneohe.
The death of Lee, 58, was ruled an accident, the Medical Examiner's Office said yesterday.
The Medical Examiner's Office also said heart disease was another significant condition that contributed to Lee's death.
13-year-old allegedly shoots girls with pellets
Police arrested a 13-year-old boy after he allegedly shot two girls in the buttocks with a pellet gun Wednesday at school.
Police said the suspect brandished the pellet gun at the Waimanalo Elementary School playground at about 9:50 a.m. He allegedly shot two girls, ages 11 and 12.
Police arrested the boy for investigation of two counts of third-degree assault.
State Hospital patient remains at large
A Hawaii State Hospital patient, who escaped with a machete Thursday afternoon, remained on the loose last night.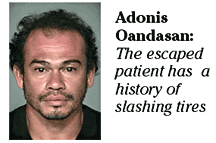 Adonis Oandasan, who has a history of slashing tires, was last seen before 1 p.m. Thursday in the garden area of the Kaneohe hospital with a machete.
Police said Oandasan had not taken his medication for a couple of weeks and was paranoid about police and the FBI being after him.
Oandasan was charged last year with slashing the tires on dozens of vehicles on the Big Island, causing an estimated $3,188 in damage.
He was transferred to the State Hospital in June.
Oandasan was working in the garden, which is an activity to help patients reintegrate back into society.
Anyone who sees Oandasan is urged to call police at 911.