---
[ FAST FACTS HAWAII ]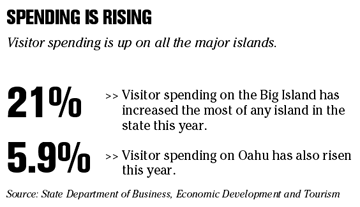 ---
BACK TO TOP


|


NATION
Scrushy pleads not guilty to bribing ex-governor
HealthSouth Corp.
founder Richard Scrushy, acquitted of accounting fraud in June, pleaded not guilty yesterday to federal charges he bribed a former Alabama governor to get a seat on the state's hospital regulatory board.
U.S. Magistrate Charles Coody accepted Scrushy's plea and told him he would face as much as 40 years in prison if convicted on all charges. Scrushy was released on an unsecured $25,000 bond.
Scrushy is accused of secretly paying $500,000 to former Gov. Don Siegelman's campaign to win voter approval of a lottery for education. Siegelman didn't initially report the payments as required by state campaign disclosure laws, prosecutors say. Scrushy's lawyers say he's done nothing wrong and is a victim of overzealous, unethical federal prosecutors.
Ford's director of hybrids resigns
Ford Motor Co.
, the second-largest U.S. carmaker, said Mary Ann Wright resigned as head of its hybrid auto program, a month after Ford announced plans for a 10-fold increase in vehicles powered by a combination of gasoline and electricity.
Wright, 43, resigned for "personal reasons" this week as director of sustainable mobility technologies and hybrid programs, Ford spokesman Oscar Suris said. Her departure was "amicable," and Nancy Lee Gioia, 45, Ford's director of current model quality for North America, will succeed Wright, he said.
"This doesn't change our commitment to being a leader in the hybrid vehicle area," Suris said. "We are still committed to our larger vision for the future."
WORLD
Qantas dropping flights to Bali
Qantas Airways Ltd.
, Australia's biggest airline, will suspend some flights to the Indonesian resort island of Bali starting next month after demand dropped following the Oct. 1 suicide bombings that killed 23 people.
Qantas' Australian Airlines carrier will halt services from Perth and Melbourne to Bali from Nov. 10 to Jan. 29, the Sydney-based company said in a statement e-mailed to Bloomberg News yesterday.
"We have taken this decision in line with the decrease in demand for Bali following the bombings on Oct. 1," Australian Airlines Chief Executive Andrea Staines said in the statement. "We are confident Australians will return to Bali in increased numbers as they have done in the past."
Suicide bombers killed 20 people, including four Australians, earlier this month on the eve of the third anniversary of the 2002 terrorist attacks in Kuta that killed 88 Australians. Following the bombings, Australia's government warned citizens not to travel to Indonesia.
Agricultural tariff cuts attacked
BRUSSELS, Belgium » The European Union on Friday made what it called its most sweeping offer yet to cut its agricultural tariffs in an effort to prevent the collapse of global trade talks.
But the proposal came under immediate attack from all directions -- from the United States and Brazil for being inadequate and from France for going too far.