---
[ FAST FACTS HAWAII ]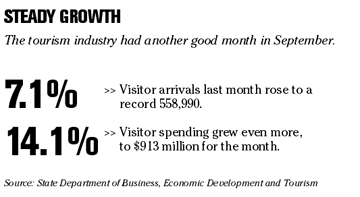 ---
BACK TO TOP


|


Higher room rates boost Hilton Hotels
Hilton Hotels Corp.
, the No. 3 U.S. hotel company, said third-quarter profit rose 46 percent on higher room rates and property sales.
Net income increased to $89 million, or 22 cents a share, from $61 million, or 15 cents, a year earlier. Revenue rose 6.7 percent to $1.1 billion a year ago, the Beverly Hills, Calif.-based company said yesterday in a statement.
Hilton lifted rates an average of 8.9 percent at owned hotels in markets including New York and Hawaii as business and leisure travel rose.
Judge approves Delphi financing
NEW YORK » A bankruptcy court judge yesterday approved a $2 billion financing plan for auto parts maker
Delphi Corp.
, which filed for bankruptcy protection earlier this month. The plan allows the company to pay everyday expenses such as employee salaries.
The judge also allowed Delphi to continue shifting money from its U.S. unit to its business units in 40 countries as part of its business activities.
Martha's show is hurting company
Martha Stewart Living Omnimedia Inc.
's third-quarter loss widened on costs to pay producer Mark Burnett for television programs. The stock posted its biggest drop in more than a year as ratings on the new "Martha" talk show trailed the company's forecast.
The housewares and media company said its net loss expanded to $26.1 million, or 51 cents a share, from $15 million, or 30 cents, a year earlier. Sales rose 5.7 percent to $40.9 million, the New York-based company said yesterday in a statement.
Goodyear's profit highest in years
Goodyear Tire & Rubber Co.
, the largest U.S. tiremaker, posted its highest quarterly profit in seven years, helped by rising sales in North America.
Third-quarter net income increased to $142 million, or 70 cents a share, from $38.5 million, or 20 cents, a year earlier, Goodyear said in a statement. Shares of the Akron, Ohio-based company jumped, erasing their decline for the year.
Wendy's shares drop on forecast
Wendy's International Inc.
, the third-largest U.S. hamburger chain, said third-quarter profit rose 4.3 percent, helped by the sale of stores. The company cut its annual earnings forecast for a second time this year, sending the shares to their biggest decline in eight months.
Net income increased to $72.1 million, or 61 cents a share, from $69.1 million, or 60 cents, a year earlier, Dublin, Ohio- based Wendy's said yesterday in a statement. Sales climbed 5 percent to $960.6 million.
The company reduced its profit forecast for the year by as much as 4.9 percent because of lower-than-expected sales at Wendy's and costs for a public offering of the Tim Hortons doughnut chain.
---
[Hawaii Inc.]
NEW JOBS
» Japanese Guide to Hawaii-Ai has hired
Yukashi Smith
as associate editor/writer. She will oversee advertiser editorials, cover feature stories, the Aloha Letter and calendar of events and develop new editorial features and her own column for the monthly visitor publication. She previously worked as a writer in Japan and Hawaii for the last 10 years.
» Team Vision has hired Cheryl Cambra as an assistant account executive. She will be responsible for servicing the Castle & Cooke account. She previously as a media research analyst for Warner Bros. in Burbank, Calif.
» Mary Worrall Associates Inc. has hired Catherine J. Fadrowsky, Marsha Forsythe and Vickie G. Williams as real estate sales professionals. Fadrowsky worked in sales and marketing at the Marriott Vacation Club International in Park City, Utah. Forsythe previously established Cover Look Inc., a photo studio at Pearlridge Center, in 1988. Williams co-founded and co-owned All Star Locating Inc. & All Star Properties, a real estate and relocation company in Dallas.
PROMOTIONS
»
Wimberly Allison Tong & Goo
has promoted
Mary Suenaga
to associate and interior design group leader. She will be responsible for leading the design and management of the interiors group. She has been with the company since 1998.