---
[ FAST FACTS HAWAII ]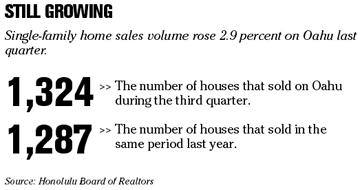 ---
BACK TO TOP


|


Hokulia settlement talks reach impasse
KAILUA-KONA » Settlement talks that attempted to resolve the lawsuit that blocked the Hokulia residential development in Kona have reached an impasse, attorney Robert Kim said.
Kim represents three of the plaintiffs, Charles Flaherty, Patrick Cunningham, and Michele Wilkins, who entered discussions with Big Island developer Oceanside 1250 Partners after the company suggested new talks.
Two other plaintiffs, Jack Kelly and Protect Keopuka Ohana, declined to participate, but the others hoped an agreement could be reached that would be acceptable to all, Kim said.
Talks ended when the Hawaii County, a defendant, declined to change procedures to give agricultural land more protection, Kim said.
An appeal by Oceanside and the county is pending before the state Supreme Court.