The war in Iraq enters a pivotal stage for the Bush administration as the U.S. death toll hits ...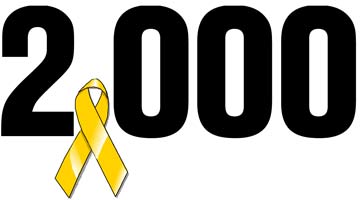 WASHINGTON » The American military death toll in the Iraq war reached 2,000 yesterday with the announcements of three more deaths, including an Army sergeant who died of wounds at a military hospital in Texas and two Marines killed last week in fighting west of Baghdad.
The Bush administration and the U.S. military are looking for victory against a stubborn insurgency, two and a half years after the first bombs fell on Baghdad. Yet ever more members of Congress and the American public are looking for a way out.
With the death toll reaching 2,000, those two goals are colliding as escalating public impatience with the war is triggering demands for more progress in Iraq than the political and military forces have been able to muster.
That leaves predictions murky about when a significant U.S. withdrawal from Iraq can commence -- and how much higher American casualties may rise.
President Bush has spoken only in generalities -- vowing to stay the course, stay on the offense. The troops, he said, will come home when Iraqi forces become more capable.
Military commanders, meanwhile, have had varying views of the Iraqi security forces' capabilities.
Bush and his military leaders steadfastly refuse to commit to an exit timetable, insisting that it would only provide a tempting goal for terrorists eager to wait out the Americans. But as suicide bombers blast away at coalition forces and Iraqi people, U.S. lawmakers have gotten more vocal about the need for a road map out of Iraq.
As a result, the 2,000th death, while in itself no more tragic than any other single war fatality, brings greater political reverberations for Bush.
In recent months as the death toll rose, vital segments of voters voiced increasing displeasure with Bush. According to a recent AP-Ipsos poll, Bush's job approval rating has sunk to 39 percent, the lowest level of his presidency, while 66 percent of those polled said the country is heading in the wrong direction.
Republicans and Democrats in Congress have turned up the heat on administration officials and military leaders, grilling them about their specific plan for winning the war and bringing the troops home.
"We should recognize that most Americans are focused on an exit strategy in Iraq," Sen. Richard Lugar, R-Ind., told Secretary of State Condoleezza Rice during a Senate hearing. "Even if withdrawal timelines are deemed unwise because they might provide a strategic advantage to the insurgency, the American people need to more fully understand the basis upon which our troops are likely to come home."
Lawmakers and analysts suggest that the political hurdles in Iraq are higher than the military ones. Bush, though, has touted the progress that the fledgling democracy has made -- with its successful parliamentary elections in January and balloting on the constitution earlier this month.
U.S. military commanders track the Iraqis' progress, in part, by counting the number of Iraqi security forces that are considered trained and equipped, and eventually able to take over the fight so American forces can go home.
In October 2004, there were a little more than 107,000 trained Iraqi forces. In late September of this year, there were about 195,000, and as of Oct. 17, the total was about 206,000. Their ability to replace coalition forces, however, is a point of debate.
Gen. George Casey, top U.S. commander in Iraq, raised eyebrows in Congress recently when he said only one Iraqi army battalion was ready to go into combat without U.S. support, down from three battalions a few months ago.
Public discord with the war is as much about the sales pitch as the slow progress, said Anthony H. Cordesman, a Middle East expert with the Center for Strategic and International Studies.
The way the Bush administration has presented the war, he said, "is not to present the uncertainties or the sacrifices or the range of possible costs, but to try to spin almost every major event as if somehow it was a decisive turning point."
He said people should not demand an exit timeline.
"How quickly that will take place, and to what level it will reduce the cost and size of the U.S. presence, is something that has got to be determined by actual success, not some kind of calendar," said Cordesman.
---
70 with isle ties killed in Iraq so far
Seventy soldiers, sailors, and Marines with Hawaii ties are among the 2,000 U.S. military casualties in Iraq.
Most were based at Hawaii military installations. But some, like 20-year-old Pfc. Joshua K. "Buzz" Titcomb, who was killed before his fiancee, Laura McCord, gave birth to their child, grew up in the islands.
A 2001 graduate of Waianae High School, Titcomb joined the Army both because he sought adventure and wanted to make a difference.
He died Sept. 29 last year in Ar Ramadi from injuries suffered when an explosive blew up near his tank a day earlier.
As of yesterday, at least 2,000 members of the U.S. military have died since the beginning of the Iraq war in March 2003, according to an Associated Press count.
Those with Hawaii ties killed in Iraq since the beginning of the war include 43 Marines, 23 soldiers, two sailors and one Hawaii Army National Guard soldier.
Marine Lance Cpl. Andrew Riedel, stationed at Marine Corps Base Hawaii in Kaneohe, had wanted to follow his stepbrother into the ranks of the Jefferson County Sheriff's Department back home in Colorado.
Riedel's unit had only arrived in Iraq the month before a car bomb killed him and eight other Marines outside of Fallujah.
Riedel's stepbrother, Russ Montanio, said the 19-year-old was profoundly affected by the Sept. 11, 2001, terrorist attacks. Riedel joined the Marines in 2003 after graduating from Northglenn High School.
The Kaneohe installation was hit especially hard when a helicopter transporting troops ahead of the Jan. 30 elections in Iraq crashed, killing 30 Marines and one sailor.
The deadliest crash in more than two years of combat in Iraq took 26 Hawaii-based Marines and one sailor.
Sgt. Deyson Ken Cariaga from the Hawaii Army National Guard became Hawaii's first citizen-soldier to be killed in combat since the Vietnam War when an explosive blew up near the Humvee he was driving on patrol in Baghdad.
There are still 2,000 Hawaii National Guard troops deployed to Iraq and Kuwait, though some soldiers are due to start coming home next month. All are expected to return by February, though this date could be changed.
The last unit of Schofield Barracks' soldiers sent to Iraq returned last month. Several hundred from the Marine Corps' 3rd Radio Battalion were deployed to Iraq, but many have since returned.