[UH FOOTBALL]
---
UH quarterback growing up fast
Brennan keeps progressing in Jones' system, and the many hard hits he took in JC helped
June Jones is learning to live with the adventurous side of Colt Brennan.
The Hawaii football coach prefers that his quarterback end more of his scrambles with a safe slide, or an exit out of bounds before defenders can pound him.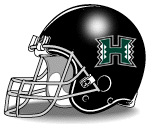 "I do tell him to do that. But he doesn't seem to have that in his repertoire right at this moment," Jones said yesterday, as UH began preparing for Saturday's home game against Fresno State.
Brennan, who is the Warriors second-leading rusher with 96 yards in 53 attempts, said he doesn't plan to change his style soon.
"I don't know. We'll see how it goes," the 6-foot-2 1/2, 205-pound sophomore said. "If I get bigger and stronger, I'll be a lot more durable and I'll keep doing what I'm doing now. Right now I'm just kind of surviving out there. I never played the game that way. I've never been a quarterback, just a football player. I was a middle linebacker in Pop Warner, and it's not my style to be timid."
Brennan crashed into the line of scrimmage for a 1-yard touchdown run in UH's 45-38 victory over San Jose State on Saturday. It was his first rushing TD to go with 21 scoring passes in his first seven games as a Division I football player.
He said playing junior college football at Saddleback (Calif.) last year toughened him up.
"It was definitely good for me. JC football's a lot looser. A lot of it is schoolyard ball, so it developed my scrambling," Brennan said. "I was targeted last year because of my off-field issues (a dorm incident that got him kicked off the team at Colorado). People went after me. My team supported me, but it was pretty nasty. I really grew up in a different sense. It was schoolyard intense.
"I could make a highlight video of late hits last year. One guy sacked me, then he raised his leg, dropped it on me and dug his cleat into me. The game etiquette is much better (in Division I)."
Not that Brennan hasn't taken some hard hits this fall.
The hardest?
"Maybe the one I got against SC that hurt my (right, throwing) shoulder. That was the welcome-to-college-football shot," he said. "Another would be at LaTech when some guy landed on me after hitting me late. It sucked everything out of my whole body. I got the wind knocked out and hurt my other shoulder."
Although Brennan isn't shy about running the ball, he is getting better at checking all his receivers before taking off.
Brennan completed 36 of 48 passes for 457 yards and three touchdowns against San Jose State. He was intercepted twice, but still has a good TD-to-pick ratio of 21-to-7 for the season.
"He's playing and starting to see things, competing. He's a fun one to coach," Jones said. "He's getting better every week. And seeing a lot of stuff, a little bit more every week that he didn't see the week before. So hopefully he just keeps carrying all that over and getting better."
Brennan has completed 69.9 percent of his passes, for 2,450 yards.
"I knew he was accurate coming in, but he's even more accurate than I thought. And also his ability to avoid (sacks) is something you don't coach. He's picking his spots better to (run)," Jones said.
Porlas tops chart: Walk-on freshman safety Dane Porlas may have earned a starting spot. He played the second half against San Jose State, and with 55 seconds left intercepted a pass to end the Spartans' last-chance drive. He is listed atop the UH depth chart at free safety, but Jones said that isn't gospel.
"He takes reps throughout the week and Jerry (defensive coordinator Glanville) certainly has some pretty strong feelings about him. So he'll get probably the same amount of reps that he's gotten all along," Jones said.
Reinforcements?: Defensive endtackle Melila Purcell (knee) is listed as doubtful for Saturday's game after missing the last two.
Also, Jones said safety Leonard Peters, who has been out with a knee sprain since the season opener, told him he plans to return to practice soon.