---
HOKU STARS ON NASDAQ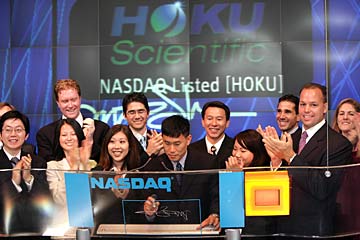 Stocks jump on news of new Fed leader
NEW YORK >> Wall Street staged an impressive rally yesterday after the nomination of top White House economist Ben Bernanke as the next Federal Reserve chief, with the Dow Jones industrial average soaring nearly 170 points. Strong quarterly earnings from drugmakers and lower oil prices bolstered the gains.
Stocks were already advancing when news came that President Bush picked Bernanke, chairman of the president's Council of Economic Advisers, to succeed Chairman Alan Greenspan when he retires in January. Bernanke was widely seen as continuing Greenspan's policy of fighting inflation.
Meanwhile, upbeat profit reports at Merck & Co. and Schering-Plough Corp. eased earnings concerns prompted by Pfizer Inc.'s weak forecast last week. Encouraging results from American Express Co. late in the day also lifted stocks.
At the close of trading, the Dow climbed 169.78, or 1.66 percent, to 10,385.00, its largest single-day gain since a 206-point advance April 21.
Broader stock indicators also rose sharply. The Standard & Poor's 500 index was up 19.80, or 1.68 percent, at 1,199.39, and the Nasdaq composite index jumped 33.62, or 1.61 percent, to 2,115.83.
Bonds declined, with the yield on the 10-year Treasury note rising to 4.45 percent from 4.39 percent late Friday. The dollar was mixed against most major currencies, while gold prices inched upward.
Bernanke's nomination helped soothe a market that has grown increasingly nervous in recent weeks as record energy prices and inflation threaten to clamp down on consumer spending and economic growth. The announcement removes much uncertainty that would have worsened if there were a prolonged period of questions about the future Fed leader, said Lynn Reaser, chief economist for Bank of America's investment strategies group.
"He's likely to continue to enhance the Fed's move toward greater transparency," Reaser said. "One change might be his advocacy of an explicit inflation target. But it should help credibility and confidence."
Investors have been hoping the new Fed chief would be less hawkish than Greenspan on inflation and keeps interest rates lower to spur the economy, but analysts say Bernanke will probably stay with the central bank's rate-tightening campaign.
Richard Hoey, chief economist and chief investment strategist for Dreyfus Corp., said Bernanke was the "most likely case," and that under him, the new issue will be whether the Fed officially targets an inflation rate -- moving beyond the current practice of issuing a consensus forecast.