---
[ FAST FACTS HAWAII ]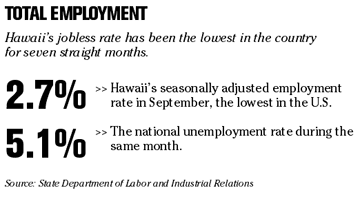 ---
BACK TO TOP


|


Theft, security cost farmers $11.4M
Theft and security costs for Hawaii farmers reached $11.4 million last year, 9 percent of the total net income generated by local farms in 2004, according to the U.S. Department of Agriculture.
Theft of crops, equipment and materials totaled $1.95 million, while vandalism cost more than $2 million, the government said. Meanwhile, 199 arrests occurred as a result of reported theft or vandalism, and 34 people were found guilty.
To prevent more theft and vandalism, farms spent $7.4 million statewide on security measures last year, the USDA said.
St. Francis nurses ratify contract
St. Francis Hospital's nurses have overwhelmingly ratified a new one-year contract that includes a 12 percent hourly wage increase and boosts in shift differentials and on-call pay. The contract ends Nov. 30, 2006.
"This is the first of the Big Five negotiations to be settled this year," said registered nurse Aggie Pigao Cadiz, executive director of the Hawaii Nurses Association. "Negotiations are ongoing at the other facilities and we are hopeful that they, too, will result in timely and very positive agreements."
Delta puts Hawaii fares on sale
Delta Air Lines
is putting all of its Hawaii destinations on sale for travel beginning Monday.
One-way sale fares include $199 between Honolulu and Los Angeles, $229 between Honolulu and San Francisco, and $259 between Honolulu and Atlanta.
Tickets must be bought by Nov. 9. For more information, visit www.delta.com. Additional taxes, fees and restrictions apply.
Cendant announces breakup plan
NEW YORK »
Cendant Corp.
, which built itself into a $20 billion conglomerate to please investors, said yesterday it was disbanding into four separate companies. The reason for the split: Its unhappy investors.
But Wall Street remained grumpy with the company. Shares of Cendant, which owns Century 21 real estate, Ramada hotels, Avis rental cars and Orbitz online travel service, fell $1.32, or 6.6 percent, to close at $18.77 on the New York Stock Exchange, after earlier hitting a new 52-week low of $18.36.
Companies line up to buy Refco
NEW YORK » Four new potential bidders for all or part of
Refco Inc.
's business identified themselves in filings with the bankruptcy court in Manhattan, as competition for the beleaguered futures and financial market brokerage firm heats up.
Futures brokerage firm Man Financial, Marathon Asset Management LLC, Apollo Capital Management LLC and DIGL Inc., a Delaware corporation formed by Dubai Investment Group LLC and the Yucaipa Cos., all told the court they are potential bidders for Refco assets. Yucaipa also is the major investor in bankrupt Aloha Airlines.
Clear Channel cuts back on commercials
Clear Channel Communications Inc.
, the world's largest radio broadcaster, said third-quarter profit fell 21 percent because the company aired fewer commercials, part of a plan to draw more listeners to its 1,200 stations.
Net income declined to $205.5 million, or 38 cents a share, from $261.2 million, or 44 cents, a year earlier, the San Antonio-based company said yesterday.
Clear Channel is cutting advertising time on its stations to build ratings and stem audience defection to competitors such as satellite radio and the Internet.
In Hawaii, Clear Channel owns KSSK-AM 590/FM 92.3, KIKI-FM 93.9, KDNN-FM 98.5, KUCD-FM 101.9, KHVH-AM 830 and KHBZ-AM 990. The seven stations represent the most the company can own in Honolulu.
JAL forming alliance for first time ever
TOKYO »
Japan Airlines
, the nation's top carrier, is joining the OneWorld alliance, which includes
American Airlines
and
British Airways
, Kyodo News reported today.
JAL spokesman Stephen Pearlman refused to confirm the report but said Chief Executive Toshiyuki Shinmachi would announce an important alliance later in the day at Tokyo headquarters.
Although Japan Airlines has code-sharing agreements with some airlines, allowing it to share flights with rivals, it had not previously joined a major international carrier alliance, choosing to go at it alone.