---
[ FAST FACTS HAWAII ]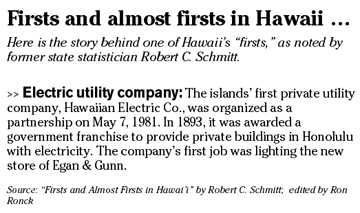 ---
BACK TO TOP


|


NATION
Men and women differ about money
The Mars-Venus debate about male and female differences may rage forever. A survey of 1,000 investors demonstrates how we differ when it comes to money.
We hide cash: 26 percent of women and 24 percent of men said cash was the No. 1 issue they're likely to hide from their spouse. We sneak about spending, too -- 20 percent of men said they'd hide "entertainment" purchases from a spouse and 16 percent said electronics. For women, 23 percent said clothes, followed by 19 percent who cited food.
What if you could have more time or money? Sixty percent of women said the money, compared to 54 percent of men.
Men also seem to make investment decisions while women handle the routine financial chores. When it comes to buying and selling stocks for the family, 44 percent of men handle that duty, compared to 25 percent of women. But women were more likely to say they pay the bills (60 percent), balance the checkbook (67 percent) and mind the family budget (54 percent).
The survey was conducted for mutual fund company OppenheimerFunds Inc., which manages more than $190 billion in assets in more than 6 million accounts.
Research those credit card offers
It's a rough time for many credit card borrowers. Interest rates are rising, banks are looking to squeeze extra profit from each account and the industry's "grace periods" have contracted in very ungraceful ways the past few years.
The November issue of Consumer Reports magazine summarizes many of the new pitfalls for card holders and offers a few tips to navigate this treacherous fiscal landscape.
» Research card offers closely. The lowest rate is just one of numerous factors to weigh, including grace periods,
» Consider credit union cards. These financial institutions typically feature lower fees and interest rates.
» Pay on time. Mail your payment when you get your bill. Late-arriving payments have become a gold mine for banks and a thicket for consumers in recent years.
» Request a better rate. Many, if not most, banks will lower your rate if you have a good payment history, decent credit score and spend regularly.
» Complain. Calling the card issuer can help if you have a late fee or rate hike on your bill.
» Walk away. The bank wants you to keep borrowing, and they never forget you can take your business elsewhere. You should remember that, too.
Flavored coffee gains popularity
You're possibly a junkie. Every morning first thing, you gotta have it. But regular coffee is becoming passé for many Americans, who are flocking to quirky flavored concoctions from the
Starbucks
and
Dunkin' Donuts
of the world.
Nearly 80 percent of 1,032 people in a survey last month said they had had a flavored drink over the past two weeks. Even more startling, some people (19 percent) said they'd give up sex before coffee, and 22 percent said they'd skip exercise before the java, if forced to choose.
The survey also found that Northeasterners and those in the West drink more flavored coffee than those living in other regions.
Most of us do coffee in the morning, with 87 percent saying they take a coffee break before lunch.
The telephone survey last month was conducted for Dunkin' Donuts Inc., based in Canton, Mass.