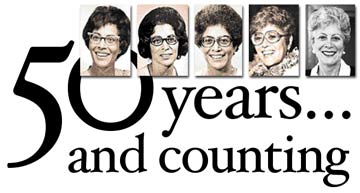 The world around Star-Bulletin reporter Helen Altonn may have changed in the past half-century, but her passion for journalism remains a constant
"I think I have had a happy life and a good career."
Reporter Helen Altonn said that in 1980, reflecting on 25 years with the Honolulu Star-Bulletin.
That good career is now 50 years long ... and counting. By the additional awards she's racked up since then and the friends and family who surround her, those words could easily have been said today.
Altonn, 74, is the Energizer Bunny of local journalism, continuing to write stories with as much passion and caring as she did as a young reporter, fresh off the SS Lurline from California.
She was feted by colleagues recently not only for her remarkable milestone, but for her contributions as a journalist, mentor, friend and mainstay of the Star-Bulletin.
When she joined the Star-Bulletin on Oct. 22, 1955, the company was based near the Ewa end of Merchant Street. After two moves and four ownership changes, including an aborted attempt by Gannett Corp. to shut down the then-117-year-old paper in 1999, both the Star-Bulletin and Altonn continue to produce stories that inform, educate and entertain the community.
Her luncheon celebration had to be held a week early, because Altonn, hoping to escape any hoopla, took the past week off.
As much as she's known as a tenacious reporter who can't abide fools or being fooled, those close to her know she's a softie at heart. She fought against any attention but ultimately was moved to tears at the tributes given to her.
Star-Bulletin Editor Frank Bridgewater called her a "true professional," someone who "has the highest journalistic and ethical standards and, every day, goes beyond what is expected of her."
Her other significant impact, he said, is how "she has influenced generations of journalists through her actions and mentoring. In this way, she has helped ensure that the Star-Bulletin has a strong newsroom now and will in the future."
Altonn, born Helen Abood in Nebraska, didn't know what she wanted to do in life when she left the cornfields of Shelton to attend Colorado Women's College in Denver.
But a newswriting class taken on a whim set her on course to the University of Missouri, where she earned a journalism degree; to her first career job with the Orange Daily News in Southern California, where her parents had moved; and ultimately, to Honolulu, where she intended to stay for only two years.
Marriage, two daughters and a mortgage helped to cement a life in the islands.
The small daily paper in Orange, Calif., was a perfect training ground for the novice journalist, who covered everything from traffic accidents to city hall, doubling as photographer along the way. She even became the city editor, pointing out, with her familiar hearty laugh, that the staff totaled three.
But after a $5 raise, which boosted her weekly pay to $55, was rescinded because of a tight budget, she decided it was time to move on. Fortuitously, a colleague had worked for the Star-Bulletin and he pointed her to the Pacific.
Before heading out to Hawaii, she remembers covering the opening of a theme park in early 1955. The Orange Daily News is long gone, but Disneyland also celebrated its 50th anniversary this year.
Altonn came to Hawaii as many people did in those days -- by ship.
Boat arrivals were newsworthy events, and she did her share of riding the tugboat out to an arriving ship, then going aboard to interview celebrities.
Back then, "We had to ask everybody who came to town what they thought about statehood for Hawaii," which didn't happen until 1959.
Then, as today, movie stars were big. Jerry Lewis, Gregory Peck, Katharine Hepburn and Rhonda Fleming made her list of celebrity interviews, as did Chief Justice Earl Warren, aviator Charles Lindbergh and Richard Nixon before he made it to the White House.
Her first presidential interview was Lyndon B. Johnson. More recently, she tailed Bill Clinton three different times during his presidency, recalling in particular one incident at Mid-Pacific Country Club. Altonn was in the national press pool, standing in a balcony overlooking the golf course. Just as Clinton was about to tee off below her, a cell phone went off.
"We all started looking to see whose cell phone that was," she recalled. (Clinton) looked up, too, and was a little disturbed. The guy next to me said, 'I think that's coming from your bag.' I was new to cell phones," she said, in what remains an understatement. She was quickly hustled away by White House staff.
The phone call, to her consternation, was from a colleague asking whether she was free for lunch.
Altonn covered the Legislature for years, starting when it was the Territorial Legislature and based in Iolani Palace. When the State Capitol opened in 1969, she and lawmakers moved across the street.
"Government and the Legislature have been a big part of my career," she said, enjoying that beat "because you meet everybody ... all the movers and shakers and all the people who need help."
She also liked "being on top of all the issues."
Lawmakers in her early days as a reporter tackled many serious issues, but they "were more relaxed" and didn't take themselves as seriously as they seem to do these days, she said.
In a letter to her, former Gov. George Ariyoshi applauded her rare milestone, noting most people have several job changes in their lifetimes.
But beyond that, he wrote, "Your reporting has been in-depth, critical but always fair, and I guess this is because you are basically a nice, decent person."
Away from politics, memorable assignments include covering the solar eclipse on Mauna Kea; riding in the University of Hawaii's two-man submersible, Makali'i, around Makapuu; and chronicling the aftermath of Hurricane Iniki on Kauai.
In the 1960s, she and photographer Warren Roll spent a week tracking down "hippies."
"They were big news then, and we went to the beaches, the mountains, the forests to interview them," she explained. A photograph that didn't make it in the paper shows her standing next to a naked young man with his back to the camera. The look on her face was, as they say, priceless.
More recently, she has been a premier science and health reporter.
Over the years, she has won numerous awards, including from the American Cancer Society, Hawaii Children's Campaign, Sex Abuse Treatment Center, Minority Organ Tissue Transplant Education Program, Mental Health Association of Hawaii, Prevent Child Abuse Hawaii, National MS Society, Hawaii Medical Association and Hawaii Academy of Science.
She has captured various awards from the now-defunct Honolulu Press Club, Society of Professional Journalists, Hawaii Publishers Association, as well as from the Star-Bulletin itself.
Former Mayor Eileen Anderson named her as one of Honolulu's 12 outstanding women in 1982. Just this month, she was named "media champion of 2005" by the Coalition For a Tobacco-Free Hawaii.
Although Altonn has been employed by the Star-Bulletin for half a century, she did spend some time away: four months with USA Today in 1989, when both papers were owned by Gannett Corp., and four months as an exchange journalist with the Adelaide News in Australia.
Asked about changes in her profession, Altonn said newspapers today are "more glitzy," putting "a lot more emphasis in presentation." She can understand the need for change but comes from the old school of journalism, where, after one got the facts straight and spelled the names right, the story sold itself.
Asking her to explain her long career, it becomes clear why she hasn't said "30," the way reporters used to end their stories: She is a diehard journalist, always in search of a good story, and blessed with the ability to tell it in ways that make people read.
"How many jobs are this much fun?" she asked, rhetorically. "How many jobs do you get to come in the morning and you don't know what the day holds? You could be going out to cover a hurricane or be interviewing a famous pilot or any number of things."
As she learned early at the University of Missouri and which has been reinforced over 50 years: "Everybody has a story."
Fifty years at one paper is quite a milestone, she finally conceded.
"I keep thinking I'll know when I want to retire," she said. "I'll just wake up and say, 'I don't want to work anymore.' But that day hasn't arrived yet. When I feel I can't do my job professionally, that's when I'll retire."
Those of us at the Star-Bulletin hope that day doesn't come anytime soon.