The Koizumi Boom
Japan's leader pushes privatization to try to stem the national debt
Normally drab, colorless and nondynamic, Japanese prime ministers govern on the basis of primus inter pares for two years or less, trying to make as few waves as possible. However, every once in a while a true leader a la Yoshida Shigeru, father of Japan's economic miracle, Kakuei Tanaka, nicknamed the "bulldozer" because of his great ambition and energy, or from 2001, iconoclastic Junichiro Koizumi makes his way to the top of Japan's murky political world. Divorced and known for his love of rock music and his flamboyant mane, Koizumi is uncharacteristically straightforward, not averse to risk-taking, and is the take-charge sort of prime minister that the United States likes to see at the helm of the Japanese ship of state.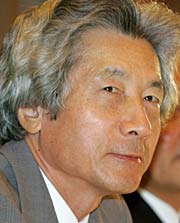 Koizumi's Liberal Democratic Party's decisive Sept. 11 electoral victory gives him control of 296 of 480 seats in the Japanese parliament's lower house, the House of Representatives (HR). Adding the number of seats gained by the LDP's junior coalition partner, the Buddhist-backed New Komei Party, the coalition has 327 seats in its arsenal. A two-thirds majority is required to override the upper house, the House of Councilors (HC). With such political capital, Koizumi has set a clear path for achievement of his long-coveted centerpiece in Japanese financial reform: the privatization of Japan Post. Japan's national postal system is far more than just a conveyor for delivering letters. It is also a huge bank with deposits of $3 trillion; privatized, it would be the largest bank in the world. In much the same way that the U.S. Congress uses the Social Security trust fund to finance pork-barrel projects, Japanese politicians use Japan Post accounts to build bridges and highways to nowhere. Koizumi seeks privatization to stem Japan's soaring public debt that stands at 150 percent of GDP, the highest rate in any industrialized country, and as a way to make more capital available for more efficient market distribution.
Despite Koizumi's having brought stability to Japan's banking system, reduced the influence of "zoku" or groups of Diet members that promote a particular industry's interests to the public's detriment, and centralized control over factions which are groups of LDP Diet members, often lead by former prime ministers, that encumber party unity, reaching this point wasn't easy. Achieving his historic electoral victory underlies Koizumi's determination. His previous attempt in August to privatize Japan Post failed to gain enough votes in the HC and given the LDP coalition's pre-election number of seats in the HR, there was no way to have overridden the upper house. Dissolving the HR and calling for a Sept. 11 lower house election, Koizumi vigorously created a victorious strategy. First, as president of the LDP, he withheld election support to 37 LDP rebels (20 were not re-elected) who had voted against his first postal privatization bill. To run against them, he recruited "shikaku" (assassins), many of whom are high-profile women. Second, Koizumi showed a keen ability to use the media to his advantage.
A record-breaking 67.5 percent of eligible Japanese voters went to the polls. In the post-election special Diet session convened on Sept. 26, the new HR passed postal privatization by a vote of 338 to 138, on Oct. 11. The HC did likewise by a vote of 134 to 100, on Oct. 14. Now law, privatization of the 260,000 employee, 25,000 post office system will start in 2007 and conclude in 2017.
As strong and determined as a reformer the prime minister is, he has not made any attempt to reduce the influence of the almighty Japanese bureaucracy. Operating in the nontransparent world of Japanese politics, the central government bureaucrats wield great influence over Japanese legislation and are not held accountable to the public. Many see the bureaucracy as inhibiting fiscal reform. Staffed with many of Japan's brightest and seen as an important institution that played a central role in Japan's postwar economic miracle, many reformers now call for the role of the bureaucracy to be redefined.
Others protest that while Koizumi has never taken his eye off of postal reform, he has paid little attention to national pension and health services reform. Both services are seen by many as more important given Japan's fast-aging population. Not the economic power of the 1980s that it was, Japan can not raise additional revenue by increasing income taxes or the controversial consumption tax. Doing so would retard Japanese economic activity, which is just now showing signs of stable growth. Thus Japan must more rationally manage its assets. Economically, the United States benefits from a more robust Japan that is better equipped to stimulate global economic growth.
The Japanese-American defense relationship is closer than it has ever been. The Japanese Self-Defense Force has become more internationally visible and is supporting the United States in Iraq. In November, to celebrate the 50th anniversary of the LDP, the prime minister wants to announce the draft of a new constitution, which will offer an amendment to Article 9, making it easier for the Japanese military to play a more significant international role. Such a more active defense role has long been advocated by the United States. While Japan has become more and more dependent on the Chinese market to re-inflate its economy, the Sino-Japanese political relationship is at its lowest point since 1972, when the two countries re-established diplomatic relations. Relations with North and South Korea are similarly poor. A major cause of such poor relations with its Asian neighbors is Koizumi's repeated visits to Yasukuni Shrine. The shrine glorifies Japan's military past and enshrines 14 Class-A war criminals who sought destruction of Korea's cultural identity and directed the Imperial Japanese army to burn, kill or destroy wherever it went in China during World War II.
During his recent election campaign, Koizumi repeatedly said that he would step down as LDP president when his term is up in late 2006. Will he? Former Prime Minister Yasuhiro Nakasone was able to extend his tenure after privatizing the Japan National Railway System in the 1980s. Having privatized Japan Post, Koizumi can now go after the Public Highway Corporation, another pork incubator.
---
Bill Sharp is adjunct professor of East Asian International Relations at Hawaii Pacific University and former executive director of the Japan-America Society of Hawaii.
---
Koizumi's visits to shrine boost controversial revision of history
TOKYO » Prime Minister Junichiro Koizumi's fifth visit to the Yasukuni Shrine last week on a drizzly morning set off angry protests in Asia. China canceled a visit by the Japanese foreign minister, no small thing. Yasukuni holds the remains of 14 Class A war criminals hanged after World War II, and is regarded as symbol of Japan's perceived failure to atone for its killing sprees in and brutal occupation of Asia 60 years ago.
The Shinto shrine, a solemn wooded acre in downtown Tokyo, private, and filled with purple and yellow chrysanthemums, seems an unlikely focus for either Asian anger or rising Japanese nationalism. Koizumi says the shrine visits are an internal affair and no one else's business. Some of his advisers feel that if Koizumi keeps visiting, the world will get bored and forget.
Yet a prime reason why that wish might not come true is found on the grounds of the shrine, a few paces from where Koizumi dropped a coin and prayed. It is a boxy refurbished museum called the Yushukan, whose self-professed aim is to "shed a new light on modern Japanese history."
In fact, the museum appears to be regularizing an extremist narrative about Japan's 20th-century military behavior and role in Asia. No mention is made of Japanese soldiers subjugating Asia and its populations. Rather, the new history portrays Japan as both the martyr and savior of Asia, the one country willing to drive "the foreign barbarians," as one panel describes them, from the Orient.
The unapologetic nationalism, emperor worship and military glorification offer graphic clues about why Asians remain concerned about "the lessons learned" by Japan after the war, to borrow the phrase used often in post-Nazi Germany.
Last week, after Koizumi visited the shrine, thousands of Japanese paid $10 to visit Yushukan, with its 20 rooms, high-tech displays and two theaters. They saw and heard that Japan occupied China and Korea in order to liberate and protect Asia from Russian Bolshevism and European colonialism. They were told the Japanese attack on Pearl Harbor was "forced" by "a plot" by President Roosevelt. Japanese-led massacres, Korean comfort women, Chinese sex slaves and tortured POWs are not mentioned. There are only Japanese martyr heroes dying in defense of Japan.
"Ten years ago that museum contained some expressions of regret and remorse for the loss of life, both Japanese and foreign," says Richard Bitzinger of the Asia Pacific Center for Security Studies in Honolulu. "Back then there wasn't an effort to tell a story about the war. Now, it is revisionist. A whitewash. Major battles where many thousands lost their lives on both sides are simply called Japanese 'operations' or 'incidents.'"
In one, the "Nanjing incident," thought to have been a slaughter of as many as 100,000 civilians in 1937, the museum text suggests that only those outside the city who refused to obey were harmed. Once the Japanese Army cleared up the problem, "residents were once again able to live their lives in peace."
"Nanjing is treated as something very minor, like just a few instances, sort of a spring-break party for the soldiers that got a little out of hand," Bitzinger notes.
In one set of panels about the European war, Adolf Hitler was merely "trying to reclaim the territory lost in World War I." No mention is made of other contexts, such as the murder of 6 million Jews.
The new history is being implicitly fed to a public that in Japan never got a very honest account anyway, scholars point out. Textbooks and public schools rarely describe the causes of war or Japanese behavior. Moreover, the Japan-is-innocent school is given legitimacy by the country's wildly popular prime minister when he visits the Yasukuni Shrine.
"It is an extreme version of history being viewed daily by the public," says a foreign diplomat. "When Koizumi goes to the shrine, it sure looks like it could be an endorsement."
To be sure, modern Japan is so cosmopolitan and diverse, and the general tenor of its political culture so mild that few experts see anything like a full-blown resurgent nationalist Japan on the horizon. But the rise of China has worried many Japanese.
"Left alone in a domestic context, Japanese don't buy this kind of ideology," notes Professor Yoshihide Soeya of Keio University. "But it comes up due to the concern about China. Sadly, many Chinese believe the Yasukuni Shrine thinking represents the majority of Japanese. It does not."