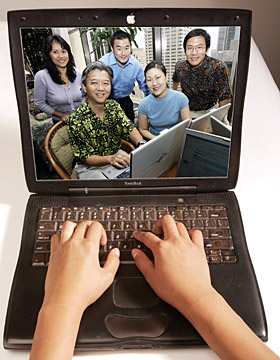 Greg Kim, second from left, is joined by his co-workers at the law firm he started, Vantage Counsel, in the Plaza Club atop the Pioneer Plaza building in downtown Honolulu. Kim and his partner, Elizabeth Lee, originally worked out of the Plaza Club lounge. From left, Minda Abad, Kim, Darren Matsuda, Lee and Vince Chow.
Virtual Law Inc.
Greg Kim is redefining the legal industry in Hawaii by creating a firm with no associates, no hourly rates and no office
A year ago, Gregory Kim was at the top of his game, a senior partner in one of Honolulu's most prestigious law firms, making $200,000 a year doing complex corporate work for blue-chip clients.
So Kim, who was then 47 and responsible for a lucrative stable of clients at Goodsill Anderson Quinn & Stifel, did something not unusual for an accomplished lawyer: he left Goodsill and started his own firm.
While many lawyers who leave big firms are driven by the desire for status or a greater share of the money they are earning for the big firm, Kim appears to have been motivated by something different.
Instead of ranks of associates to do his bidding -- and to rack up billable hours for his firm -- Kim has no associates at all.
His name appears nowhere in the name of the firm, which is called Vantage Counsel.
And instead of billing clients by the hour, Vantage usually bills by the job. In fact, some of Vantage's clients are young start-up companies that lack the money to pay much in legal fees at all.
Finally, instead of a corner office, Kim now has no office to call his own; instead, he shares communal space with his firm's four other lawyers -- who often work from home or from free WiFi hotspots at Kahala Mall or the Plaza Club downtown.
If all of this seems unusual, if not a bit flaky for a corporate law firm, there's an aspect that's perhaps most surprising: One year into the venture, Kim is making as much money as he did at Goodsill.
"We're really not about making money; we want to make money, and we want to make a lot of money," he said. "But we also want to start seeding some things in the community."
Still, when asked how his income compared to what he was making at Goodsill, Kim said: "I'm making at least as much if not more. If I wanted to make a lot more, that would be easy."
No traditional offices
Kim calls Vantage a "virtual law firm."
This means Vantage doesn't have traditional offices, but rather a suite of conference rooms at Pacific Guardian Center, which all the lawyers share. In fact, when Vantage started, Vantage had no offices: Kim and his partner, Elizabeth Lee, joined the Plaza Club and worked on laptops in its lounge, where there's free WiFi service.
For Vantage, virtual also means decentralized document file management and flexible hours that let the lawyers juggle family and volunteer work. And it means the company is sometimes willing to work with young startups whose revenues are, well, virtual.
Observers say this adds up to something highly unusual, if not unique, for Hawaii.
Lyn Flanigan, executive director of the Hawaii State Bar Association, said many small firms use technology to enable them to work like bigger outfits, and she said even large law firms sometimes negotiate flat fees for clients.
But no local firm is employing all of this to the extent that Vantage is, said Flanigan, who once worked with Kim as a lawyer at Goodsill.
"There are a lot of solo and small firms within the bar," Flanigan said. "But Greg's taken it a little farther; he's basically taken the way he practices into the 21st century."
Justin Levinson, an assistant professor at the University of Hawaii's William S. Richardson School of Law, said Kim is at the center of Hawaii's technology start-up community, not only because he helps start-ups, but also because he has created one himself with his law firm.
"It does seem to be a unique model, and what he's doing is bringing a venture consciousness to the area," said Levinson, a former lawyer in the Palo Alto, Calif., office of Wilson Sonsini Goodrich & Rosati, one of Silicon Valley's top firms. "It parallels the efforts of some of the entrepreneurs and for that reason should be successful."
"He definitely is the guy in Hawaii when it comes to start-up companies," said Stewart Pressman, a lawyer with the firm of McCorriston Miller Mukai MacKinnon LLC. "It seems like almost every deal we do on the investor side, Greg's already working for the company. He's very well plugged in."
Seeks tax-credit shift
Kim's ideas aren't all popular. For example, he has ruffled feathers by advocating shifting taxpayer money from Hawaii's Act 221 and 215 programs, which provide tax credits for investment in startups, to programs for later-stage companies. He has pushed for these changes recently from a powerful spot: as a member of Gov. Linda Lingle's Economic Momentum Commission, a panel of business and civic leaders appointed to craft policies to promote economic development.
Kim acknowledged he hasn't always gone over well with clients, some of whom have benefited from Acts 221 and 215. But Kim said his goal is to help the community, and not just himself.
"If we just wanted to keep making as much money as possible, we would just keep doing Act 221 deals and push it to the limit," he said.
"If you change the status quo, there's going to be winners and losers in the process, but that doesn't mean change won't be good," he said. "The thing about our company and me personally is we want to do the right thing even if there is some risk."
Others question whether it's really best for clients to have a firm of lawyers who can go days without seeing each other face to face.
"That face-to-face contact still has the ability to produce ideas and results that I'm not sure remote contact does," said Bernice Littman, an attorney with the firm of Cades Schutte in Honolulu.
Littman also has questioned how Kim plans to train young lawyers if not by hiring associates.
"His response," Littman recalled, "was, 'You bricks and mortar firms will have to do that for me.'"
Kim said that was "not exactly what I said," but he acknowledged he is still shaping his plan for training inexperienced hires.
A Goodsill veteran
Although it remains to be seen whether the virtual law firm is a boon or boondoggle, Kim's credentials certainly lend the idea credibility.
A 1975 graduate of Punahou School, Kim earned a bachelor's degree in engineering from Yale, and law and MBA degrees from the University of California at Berkeley, where he was an editor of the law review. After law school, Kim clerked for U.S. Ninth Circuit Court of Appeals Judge Herbert Y.C. Choy, then worked for several years in San Francisco for the firm of Pillsbury, Madison & Sutro.
In 1988, Kim returned home to work for Goodsill, where he stayed for 16 years. At Goodsill, Kim did corporate securities and mergers and acquisitions work, and cultivated tech clients such as Hawaii Biotech, Cellular Bioengineering and Hoku Scientific Inc., the publicly traded fuel-cell company that is a darling of Hawaii's tech world.
Kim enjoyed Goodsill's collegial culture and the quality of his colleagues and clients, but he also came to question the financial structure of traditional firms, he said.
Law firms typically are partnerships owned by the senior members, who divide the firm's profits among themselves. To generate revenue, the firms hire small armies of associates, who are paid salaries in exchange for performing work that can be billed to clients on an hourly basis.
The overhead for an associate could run about $150,000 per year, including costs of office space and salary, Kim said. Thus an associate billing $150 an hour must bill 1,000 hours before the firm starts making a profit from the associate. To reach that point of profitability, an associate must rack up 50 billable hours per week for five months.
Although those long hours give associates on-the-job training beneficial to their development as lawyers, Kim said that clients often complain that they essentially must pay to train young attorneys, who have a motive to bill the clients for as many hours as possible.
Partners generally make much more money per hour than associates and provide greater expertise. But the central tension nonetheless exists: like associates, senior lawyers are paid for the hours they spend working and not necessarily the results they produce.
In October 2004, Kim left Goodsill and started Vantage with the hope of fundamentally changing the traditional model.
Instead of charging clients by the hour, Vantage charges fixed fees based on reaching performance milestones or producing results; clients can choose from several fee structures.
The lack of traditional offices reduces overhead, Kim said.
As for associates, Vantage has none. Kim and Elizabeth Lee are the only partners. Three other lawyers -- Darren Matsuda, Melissa Pavlicek and Vincent Chow, who is based in Silicon Valley -- are "of counsel," which means they are affiliated with Vantage and refer work to their colleagues but are not paid a salary. Kim acknowledged that potential recruits might view Vantage's culture as one of "eat-what-you-kill."
But the firm's lawyers, he said, "view it as an opportunity to grow with the company and potentially have a big financial return."
"If they're productive and successful, they'll share in the financial return immediately instead of having to wait seven or eight years to make partner," he said.
Clients satisfied
In any case, some local executives are lauding Kim's business model.
"He's looking at reinventing the revenue side of the law business, and that's important," said Mitch D'Olier, president and chief executive of Kaneohe Ranch Co. who was one of Kim's mentors at Goodsill.
For companies, a central problem is that the cost of legal services is hard to predict. And that makes it hard to predict those costs when budgeting, D'Olier said,
Jeff Arce, chief financial officer of The MacNaughton Group, a development firm, agreed.
"In certain circumstances it's attractive to have a known number," Arce said. "To have that as an option as a businessperson just increases flexibility, and that's always a good thing."
Arce said MacNaughton uses both Goodsill and Vantage depending on the work being performed.
For some clients, simply finding the right lawyer can be difficult.
Dr. Dan Canete, a Honolulu cardiologist who is leading a group of doctors teaming to acquire St. Francis Hospitals on Oahu, said he spent considerable time finding a lawyer who could help him construct the deal, whose complexities include various regulatory issues and crafting a partnership with a Kansas joint venture partner.
Canete eventually hired Vantage, which was willing to provide the work for a set fee and did not require a retainer. The deal, which was announced last summer, is scheduled to close early next year.
"His firm was willing to take a risk knowing that we were a good risk," Canete said. "We've been very happy with them."
Kim has also plugged himself into Honolulu's nascent venture capital community. He serves as counsel to both Lava Ventures, a private equity firm, and DragonBridge Capital, a Honolulu-based merchant bank created to finance young companies that would relocate from China to Hawaii.
It's these sorts of contacts that make Kim invaluable for young companies, said Josh Beil, co-founder and vice president of business development for Skywave Broadband, which is rolling out wireless Internet service on Oahu. Kim has helped Skywave with fundraising and Act 215 regulatory procedures, Beil said.
Plus, Beil said, Kim is exactly the sort of mobile professional Skywave wants to reach, which gives Kim perspective into skyway's business that a traditional lawyer might not have.
"He's an ideal candidate for the kind of service that we're offering," Beil said.
Barry Weinman is chairman of DragonBridge Capital and an unabashed supporter of Kim. In fact, Weinman sublets the suite of conference rooms where Vantage lawyers come to meet with clients and each other when they need to. Although Weinman said he rarely sees Kim and the other Vantage lawyers, Weinman said he's in constant contact, by e-mail and instant message.
"Virtual means I don't know where Greg is most of the time," Weinman said. "Nor do I care. I'm always in touch."