UH FOOTBALL
---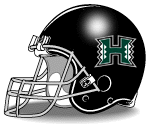 Recruiting battle to play out today
Hawaii quarterback Colt Brennan chose the Warriors over the Spartans
SAN JOSE, Calif. » If things had worked out just a bit differently, it could be Hawaii instead of San Jose State trying to stop Colt Brennan today.
The UH quarterback was offered a scholarship to join the Spartans after his standout 2004 season at Saddleback Community College. He paid a courtesy visit, but stuck to his earlier commitment of walking on at Manoa.
"I looked at the options and it was a tough decision because there were a lot of positives up there," Brennan said earlier this week in Hawaii. "I stuck with my decision and I'm glad for it."
Although the Warriors are 2-4 (2-2 WAC) going into today's game at Spartan Stadium, it isn't Brennan's fault. He is among the nation's top quarterbacks statistically, including a fine 18-5 touchdown-to-interception ratio.
Brennan will have a lot of family watching him today, including his uncle, San Jose State receivers coach and recruiting coordinator Brent Brennan.
Brent Brennan is also one of several San Jose State coaches who formerly worked at UH in addition to head coach Dick Tomey, who was the Rainbows' head man from 1977 to 1986. The others are offensive coordinator Ken Margerum, co-defensive coordinator Tom Williams and defensive line coach Joe Seumalo.
After a 49-28 home win against New Mexico State last week, UH will try to keep the momentum going as a 7-point favorite against the Spartans.
It's homecoming for San Jose State, and Hawaii coach June Jones is wary, even though UH has won the last four meetings of these teams, including a 13-10 decision at Spartan Stadium two years ago.
"Winning on the road is tough and Dick will have them ready," Jones said.
Tomey should have some ideas about how to stop the run-and-shoot, which has produced 369.8 passing yards per game this season (second in the nation). The former Hawaii coach has remained a close observer of the program over the years, and was a TV analyst for the Warriors in 2001 and 2002. He even let Jones implement some run-and-shoot concepts when Jones, a rookie coach then, worked as Tomey's quarterbacks mentor in 1983 at UH.
But Tomey made the idea of shutting down the Warriors' air attack Thursday sound futile: He said it can't be done.
"Nobody's gonna stop them, because June knows the offense and Mouse (Davis) knows the offense better than anybody in the world," Tomey said. "USC didn't stop them. You just try to hold on and contain them and make plays when you need to to win the game. But nobody's going to stop them. They've seen it all."
Meanwhile, Tomey and Margerum were trying to figure out who should quarterback San Jose State's offense: Adam Tafralis or J.P. Greco. Greco started for the first time last week against Boise State and completed a 90-yard touchdown pass to John Broussard. But Greco was relieved by Tafralis in the second half of the 38-21 loss.
Here's a look at what to watch for today -- in addition to the Warriors' replacement road uniforms, with easier to read numbers.
When Hawaii has the ball: Three different receivers caught passes for at least 100 yards last week in UH's win over New Mexico State. The Warriors slot backs -- Davone Bess and Ryan Grice-Mullen -- continue to be among Brennan's favorite targets. But wideout Chad Mock has also emerged. The junior from Farrington caught 10 passes for 147 yards, including a touchdown.
The Spartans will try to slow the Warriors with their version of the "Desert Swarm" scheme that Tomey and former UH defensive coordinators Bob Wagner and Rich Ellerson used at Arizona.
Hybrid inside linebacker/defensive lineman Matt Castelo is the wild card.
"It's an important position because that guy has to be able to do a lot of things for us," Williams said. "He's got to be able to pass rush like a defensive lineman and drop into coverage like a linebacker. Versatility at that position is the key."
If running back Nate Ilaoa (turf toe) is healthy enough to play effectively, it will open up the Warriors passing game even more. David Farmer, an effective blocker, will also play.
When San Jose State has the ball: Margerum described the 6-foot-1, 226-pound Tafralis as "a fullback/linebacker learning to play quarterback."
He laughed when asked if that suggests Tafralis has anything in common with Jim McMahon, Margerum's hard-nosed and eccentric QB teammate with the Chicago Bears.
"No, there's only one of him," Margerum said.
Tomey had not decided on a starter as of late Thursday.
"We're going to wait. We gave J.P. most of the work yesterday, we gave Adam most the work today."
Tomey, known for being relatively conservative on offense, has had to rely on passing more because of an anemic running attack that has generated only 98 yards per game.
"We've been less than dominant up front," Tomey said.
UH will likely have two new starters at cornerback in Lamar Broadway and Turmarian Moreland, defensive coordinator Jerry Glanville said.
Moreland intercepted a pass last week, and Broadway gets a chance at the position he worked out at his first two seasons with the Warriors before he was moved to safety.
A variety of injuries have slowed down starter Kenny Patton.
"I don't know if he's healthy or not. He hasn't practiced one lick," Glanville said.
UH linebacker Kila Kamakawiwo'ole and safety Lono Manners are tied for the WAC lead with two forced fumbles apiece.
Special teams: Both teams depend on true freshman kickers -- Dan Kelly for Hawaii and Jared Strubeck for San Jose State. Kelly has made good on four of seven field goals and 17 of 19 extra points. Strubeck leads the Spartans in scoring, making six of nine field goals and 16 of 17 PATs.
A.J. Martinez replaced Andre Taylor as UH's kickoff returner last week, and he was impressive, with runs of 67 and 44 yards. Taylor remains the punt returner.
Freshman Jake Ingram continues to do the snapping for Hawaii, giving starting outside linebacker Tanuvasa Moe a chance to rest during punts and place-kicks.
UH is last in the WAC in net punting, averaging 28.9 yards per kick.
KEY MATCHUP
Hawaii's offensive line vs. San Jose State's pass rush: If Colt Brennan has a fault as a quarterback, it is that he is still relatively inexperienced in the offense he is running. It showed two weeks ago against LaTech and the week before against Boise State, when he often failed to complete his progression of reads before tucking the ball in and trying to run.
While that wasn't a problem against New Mexico State, it could be against San Jose State, which is very good at pressuring quarterbacks -- especially if UH's offensive line is not up to its usual level of excellence.
The Spartans lead the WAC with 19 sacks for 117 yards.
San Jose State co-defensive coordinator Tom Williams said the Spartans will go after Brennan in spots, since he doesn't have the quick release of former UH quarterback Tim Chang. But they are also wary of Brennan's ability to escape.
"Colt seems like he's studying the defense a little bit longer," Williams said. "But when it's not there, he's able to run."
The Warriors have allowed 17 sacks. It's more than usual, but still a pretty good number considering UH has thrown 290 passes.
"We're going to see a lot of looks. They really have a motor in them," UH right guard Brandon Eaton said.
---
BACK TO TOP
|
HAWAII
2-4, 2-2 WAC
PROBABLE STARTERS
OFFENSE
| | | | | | |
| --- | --- | --- | --- | --- | --- |
| Z | 82 | Ross Dickerson | 5-10 | 185 | Jr. |
| Y | 7 | Davone Bess | 5-10 | 187 | Fr. |
| LT | 70 | Tala Esera | 6-4 | 295 | Jr. |
| LG | 64 | Samson Satele | 6-3 | 311 | Jr. |
| C | 59 | Derek Fa'avi | 6-1 | 273 | Sr. |
| RG | 66 | Brandon Eaton | 6-2 | 297 | Sr. |
| RT | 72 | Dane Uperesa | 6-5 | 331 | Jr. |
| H | 1 | Ryan Grice-Mullen | 5-10 | 174 | Fr. |
| X | 88 | Chad Mock | 5-11 | 171 | Jr. |
| QB | 15 | Colt Brennan | 6-3 | 190 | So. |
| RB | 48 | David Farmer | 6-0 | 240 | Fr. |
| or | 4 | Nate Ilaoa | 5-9 | 230 | Sr. |
DEFENSE
| | | | | | |
| --- | --- | --- | --- | --- | --- |
| T | 97 | Renolds Fruean | 6-4 | 275 | Jr. |
| NT | 67 | Michael Lafaele | 6-1 | 297 | So. |
| DE | 91 | Ikaika Alama-Francis | 6-5 | 260 | Jr. |
| STUB | 1 | Kila Kamakawiwo'ole | 6-3 | 237 | Sr. |
| MAC | 43 | Brad Kalilimoku | 5-10 | 204 | So. |
| BUCK | 41 | Solomon Elimimian | 5-11 | 224 | Fr. |
| WILL | 45 | Tanuvasa Moe | 6-0 | 225 | Sr. |
| CB | 6 | Turmarian Moreland | 6-0 | 186 | Sr. |
| FS | 8 | Landon Kafentzis | 6-0 | 202 | Sr. |
| SS | 15 | Lono Manners | 5-10 | 199 | Sr. |
| CB | 24 | Kenny Patton | 6-0 | 184 | Jr. |
| or | 22 | Lamar Broadway | 6-0 | 186 | Sr. |
SPECIALISTS
| | | | | | |
| --- | --- | --- | --- | --- | --- |
| P | 25 | Kurt Milne | 5-11 | 208 | Jr. |
| PK | 99 | Dan Kelly | 6-3 | 199 | Fr. |
| PR | 27 | Andre Taylor | 5-11 | 171 | Jr. |
| KR | 34 | A.J. Martinez | 5-10 | 177 | So. |
| LS | 57 | Jake Ingram | 6-4 | 226 | Fr. |
| H | 25 | Kurt Milne | 5-11 | 208 | Jr. |
SCHEDULE
Date
Opponent
Result

Sept. 3
USC
L, 63-17

Sept. 10
at Michigan State
L, 42-14

Sept. 24
at Idaho
W, 24-0

Oct. 1
Boise State
L, 44-41

Oct. 8
at Louisiana Tech
L, 46-14

Oct. 15
New Mexico State
W, 49-28

Today
at San Jose State

Oct. 29
Fresno State

Nov. 5
at Nevada

Nov. 12
Utah State

Nov. 25
Wisconsin

Dec. 3
San Diego State
---
SAN JOSE STATE
1-5, 0-3 WAC
PROBABLE STARTERS
OFFENSE
| | | | | | |
| --- | --- | --- | --- | --- | --- |
| WR | 80 | Rufus Skillern | 6-1 | 179 | Sr. |
| LT | 77 | Amadeo Novella | 6-5 | 315 | Sr. |
| or | 76 | Matt Cantu | 6-3 | 290 | Jr. |
| LG | 63 | John Booker | 6-4 | 308 | So. |
| C | 68 | Justin Paysinger | 6-1 | 290 | Fr. |
| RG | 76 | Matt Cantu | 6-3 | 290 | Jr. |
| or | 63 | John Booker | 6-4 | 308 | So. |
| RT | 71 | John Toensfeldt | 6-8 | 284 | Sr. |
| TE | 82 | Brian Watje | 6-4 | 242 | Sr. |
| QB | 17 | Adam Tafralis | 6-1 | 226 | So. |
| or | 19 | J.P. Greco | 6-1 | 188 | Jr. |
| FB | 42 | James Callier | 6-0 | 218 | So. |
| TB | 7 | Al Guidry | 6-0 | 198 | Jr. |
| WR | 81 | John Broussard | 6-1 | 165 | Jr. |
| or | 3 | James Jones | 6-1 | 202 | Jr. |
DEFENSE
| | | | | | |
| --- | --- | --- | --- | --- | --- |
| DE | 69 | Kinji Green | 6-2 | 275 | Sr. |
| DT | 92 | Freddy McCutcheon | 6-1 | 295 | Jr. |
| DT | 98 | Anthony Flores | 6-1 | 299 | Sr. |
| DE | 53 | Jarron Gilbert | 6-5 | 250 | Fr. |
| LB | 35 | Matt Castelo | 5-10 | 210 | So. |
| LB | 26 | Ezekiel Staples | 6-0 | 213 | Sr. |
| CB | 4 | Trestin George | 5-10 | 183 | Sr. |
| CB | 8 | Christopher Vedder | 5-10 | 196 | Jr. |
| S | 33 | Josh Powell | 6-3 | 213 | Sr. |
SPECIALISTS
| | | | | | |
| --- | --- | --- | --- | --- | --- |
| P | 18 | Waylon Prather | 6-3 | 219 | So. |
| K | 10 | Jared Strubeck | 5-8 | 162 | Fr. |
| H | 25 | Kevin Jurovich | 6-0 | 181 | Fr. |
| PR | 3 | James Jones | 6-1 | 202 | Jr. |
| KR | 81 | John Broussard | 6-1 | 165 | Jr. |
| LS | 40 | Grant Izokovic | 6-1 | 227 | So. |
SCHEDULE
Date
Opponent
Result

Sept. 3
Eastern Washington
W, 35-24

Sept. 10
at Illinois
L, 40-19

Sept. 24
at San Diego State
L, 52-21

Oct. 1
Nevada
L, 30-23

Oct. 8
Utah State
L, 24-17

Oct. 15
at Boise State
L, 38-21

Today
Hawaii

Oct. 29
at Louisiana Tech

Nov. 5
at Fresno State

Nov. 19
New Mexico State

Nov. 26
Idaho
---
Individual leaders
| | | | | |
| --- | --- | --- | --- | --- |
| RUSHING | A | Yds | Avg | TD |
| Nate Ilaoa, UH | 26 | 179 | 6.9 | 2 |
| Colt Brennan, UH | 46 | 100 | 2.2 | 0 |
| Yonus Davis, SJ | 31 | 148 | 4.8 | 1 |
| Al Guidry, SJ | 42 | 143 | 3.4 | 0 |
| | | | | | |
| --- | --- | --- | --- | --- | --- |
| PASSING | A | C | I | Yds | TD |
| Colt Brennan, UH | 244 | 168 | 5 | 1,993 | 18 |
| Tyler Graunke, UH | 44 | 22 | 0 | 226 | 1 |
| Adam Tafralis, SJ | 164 | 80 | 5 | 1,067 | 7 |
| Chad Bozzo, SJ | 33 | 13 | 1 | 155 | 1 |
RECEIVING
A
Yds
Avg
TD

Ryan Grice-Mullen, UH
39
563
14.4
7

Davone Bess, UH
41
507
12.4
6

Rufus Skillern, SJ
25
402
16.1
5

James Jones, SJ
20
225
0
| | | | | |
| --- | --- | --- | --- | --- |
| TACKLES | s | a | tot | fl/s |
| Tanuvasa Moe, UH | 29 | 15 | 44 | 5/2.5 |
| Kila Kamakawiwo'ole, UH | 22 | 17 | 39 | 8.5/5 |
| Solomon Elimimian, UH | 28 | 11 | 39 | 4/2 |
| Kenny Patton, UH | 25 | 10 | 35 | .5/0 |
| Lono Manners, UH | 17 | 16 | 33 | 0/0 |
| Brad Kalilimoku, UH | 18 | 15 | 33 | 4.5/.5 |
| Ezekial Staples, SJ | 27 | 35 | 62 | 1.5/.5 |
| Eric Wilson, SJ | 34 | 17 | 51 | 7/3 |
| Matthew Castelo, SJ | 23 | 18 | 41 | 5/2 |
| Josh Powell, SJ | 24 | 12 | 36 | 2/1 |
| Bobby Godinez, SJ | 19 | 15 | 34 | 3/1 |