Lack of news on boat fee hearings upsets some
The state agency in charge of public recreational boat harbors will hold hearings around the state next week on proposed increases to mooring fees.
The Division of Boating and Ocean Recreation has called for recreational mooring fees to increase an average of 25 to 40 percent in the first year of a three-year plan, followed by two years of across-the-board 8 percent increases.
The first-year increases are expected to provide $1.5 million a year in additional maintenance funds for state boat harbors, said boating division administrator Richard Rice.
The next two years would cover the cost of $20 million in construction projects, including pier and dock replacements, he said.
Of 2,123 state-owned recreational boat slips, 12 percent remain unusable for safety reasons, Rice said.
Yesterday, two boating advocates on Oahu and the Big Island protested that the boating division hasn't adequately informed affected boaters of next week's hearings. They also questioned why the state hasn't spelled out what improvements the rate hikes will bring.
---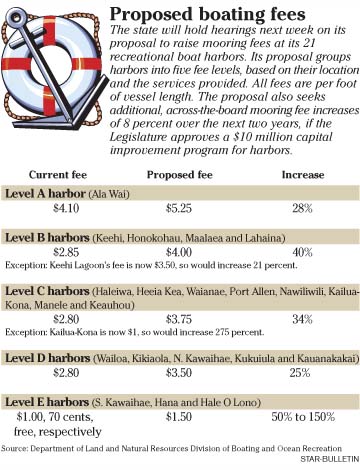 ---
Janet Mandrell, an Ala Wai slip holder and spokeswoman for the Makai Society, said she has been asking state officials about public hearings since November, when the proposed fee schedules were unveiled.
Mandrell said she heard last week, through word of mouth, that there would be meetings starting Tuesday, and was able to confirm that by calling the boating division.
But she said she hadn't seen any notices posted at the Ala Wai Harbor, and as recently as Wednesday couldn't find notice of the meetings on the boating division's Web site.
The Star-Bulletin was not able to locate meeting notices on the boating Web site until yesterday.
Big Island Capt. Rick Gaffney said he also ferreted out news of next week's meetings by following up on an off-hand comment from a boating official last week.
Gaffney said boating division officials had promised in November to meet with boaters about the proposed increases, but those discussions haven't happened.
State officials "haven't bothered to communicate with the boating community since then," said Gaffney, who keeps a boat and runs a business at Honokohau Harbor on the Big Island.
Most boaters are aware that Hawaii's slip fees are low -- and they're willing to pay higher mooring fees, Gaffney and Mandrell said, but they want to know what improvements they are paying for.
Rice said yesterday that his agency, which is part of the Department of Land and Natural Resources, presented the Legislature with a list of proposed harbor projects in February.
Lawmakers turned down the request for $20 million in reimbursable bonds to finance major improvements to the derelict harbors. Only $5 million was approved, all earmarked for federally mandated improvements to harbor wastewater systems.
Unless there are both fee increases and bonds, "harbors will get worse and worse and worse," Rice said.
Boat fee hearing schedule
Oahu
Tuesday, 6:30 to 8 p.m. at two locations:

» Jefferson Elementary in Waikiki

» Kapalama Elementary cafeteria

Wednesday, 6:30 to 8 p.m. at three locations:

» King Intermediate School, Kaneohe

» Waianae District Park

» Haleiwa Surf Center at Alii Beach Park
Neighbor Islands
Thursday, 6:30 to 8 p.m. at four locations:

» King Kamehameha III cafeteria, Lahaina, Maui

» Chiefess Kamakahelei cafeteria, Lihue, Kauai

» State Office Building, Rooms A, B, C, Hilo

» Kealakehe High School Cafeteria, Kona
CLARIFICATION
October 26, 2005
» On Sept. 23 the state published a public meeting notice in local newspapers about hearings on its proposed increase for boat mooring fees. A Page A3 article Saturday included criticism about the lack of publicity on the upcoming hearings but did not mention the public-notice publication.
---