The Bloomberg /
Star-Bulletin Index
---
The Bloomberg / Star-Bulletin Index is a price-weighted index designed to measure the performance of Hawaii-based companies. The index was developed with a base value of 100 as of December 31, 1999. A chart of the index which shows the weekly performance of its members is published weekly in the Honolulu Star-Bulletin.
Barnwell jumps
Barnwell Industries Inc.
, which announced Monday it was splitting its shares 3-for-1, soared 25 percent this week to run away from 10 other companies in the Bloomberg Honolulu Star-Bulletin index. The Honolulu-based company, which has oil and natural gas operations in Canada and real estate holdings on the Big Island, ended the week at an all-time high of $77.
Hoku Scientific Inc., the fuel-cell technology developer that went public in early August, posted its third straight profitable quarter and rose 6.4 percent to $11.43.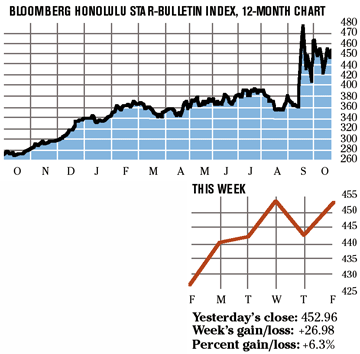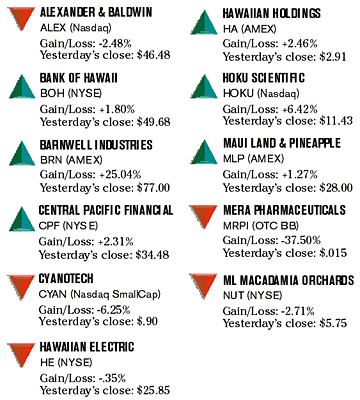 SOURCE: BLOOMBERG NEWS
STAR-BULLETIN GRAPHIC