| | |
| --- | --- |
| | Newswatch |
---
BIG APPETITE FOR BIG MAN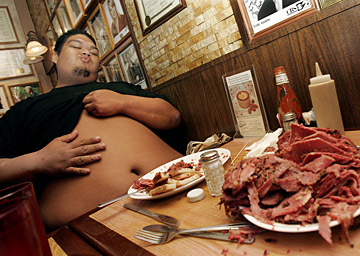 LCC fair offering interactive family fun
Leeward Community College will host its 16th annual Family Fun Craft Fair on Oct. 29 on its campus grounds in Pearl City.
From 9 a.m. to 2 p.m., the fair will feature the "Discovery Square," a courtyard with more than 25 interactive learning activities based on the college's educational programs.
Carnival games, children's activities, local food, a white elephant sale, a Korean drama exhibit, new car show, continuous entertainment and dozens of craft booths will be available.
There will be ample free parking. Some of the interactive activities include:
» Spaghetti engineering: Build structures and bridges with food.
» Instant snow: Make snow magically appear and take some home.
» Chemistry magic: Freeze a flower or shrink a balloon with liquid nitrogen.
---
Police, Fire, Courts




By Star-Bulletin staff



LEEWARD OAHU
Third man is arrested in Pearl City theft
Police arrested a third suspect in connection with a robbery in Pearl City earlier this month.
Police said that at about 5 p.m. on Oct. 13, three suspects stole beer from a liquor store, then used physical force to escape. They fled in a vehicle driven by a fourth man but were spotted by undercover police officers and stopped a few miles away, police said.
Police arrested two of the suspects but said the other two ran from the car. A third suspect was found Monday and arrested for investigation of second-degree robbery.
Ex-girlfriend allegedly tries to run over man
Police arrested a 42-year-old woman who allegedly rammed her ex-boyfriend's car with her car, then tried to run him down.
The victim, 35, was near his workplace in Campbell Industrial Park at about 3 p.m. Wednesday when the suspect found him in his car and rammed him several times, police said. The victim then got out of his car and tried to run away, and the suspect tried to run him down, police said.
Police arrested the woman for investigation of first-degree criminal property damage.
25-year-old is arrested for alleged sex assault
Police arrested a 25-year-old man Wednesday who allegedly sexually assaulted a 15-year-old girl in Kalaeloa.
Police said the girl disclosed she had been sexually assaulted Sept. 23 by a family friend at her Kalaeloa home.
Police arrested the suspect on one count of first-degree sexual assault and two counts of third-degree sexual assault. He was released pending further investigation.
CENTRAL OAHU
Laumaka inmate arrested in Wahiawa
Police arrested an inmate Wednesday who failed to return to the Laumaka Work Furlough Center last summer.
Police said Roger McCormack had been in prison for theft and auto theft when he was paroled in June but then failed to return to Laumaka on July 4. A CrimeStoppers bulletin was released on Oct. 7. An anonymous caller told police that McCormack was in the Wahiawa area.
Police arrested McCormack at 10:50 a.m. near Kilani Avenue.
WAIKIKI
Suspect allegedly takes photo from officer
Police arrested a 41-year-old man after he allegedly stole a Polaroid photo of himself from a police car in Waikiki yesterday.
Police said the suspect gave the officer permission to take his photo, after she told him to move his vehicle because it was parked illegally near the intersection of Nahua Street and Kuhio Avenue at about 3:15 a.m. Waikiki police said some officers take photos of people in the area to familiarize themselves with faces.
After taking the photo, the officer sat down in the driver's seat of her patrol car. The suspect then reached into the car and took the photo, which was on the seat beside her, police said.
The suspect allegedly refused to give the photo back when asked, shoved the officer, then ran away. He was stopped about a block away and allegedly got into a struggle with other officers before finally being arrested for investigation of second-degree robbery.
Waikiki Landmark fire forces evacuation
Fire damaged several cars in the parking garage of the Waikiki Landmark building yesterday and forced the evacuation of some residents.
The fire was reported just before 4 a.m. at 1888 Kalakaua Ave. Fire investigators said the fire began with one car on the seventh floor and then spread to four others, activating the garage's sprinkler system, which helped to contain the fire until firefighters arrived.
Landmark residents were let back into their building by 4:45 a.m. The fire caused an estimated $43,000 in damage to the vehicles, and investigators said the blaze appears to have been caused accidentally.
HONOLULU
Man allegedly refuses to exit woman's car
Police arrested a 31-year-old man who got into a woman's vehicle Wednesday and refused to get out.
The woman, 44, told police she was getting ready to go to work near 1427 Alexander St. near Wilder Avenue at about 5:40 a.m. when the suspect got into her vehicle. The woman called police after the suspect refused to get out, police said.
When officers arrived the suspect was wearing a jacket he had taken from the car, police said. The suspect allegedly became combative with officers and was arrested for investigation of unauthorized entry into a motor vehicle and disorderly conduct.