---
[ FAST FACTS HAWAII ]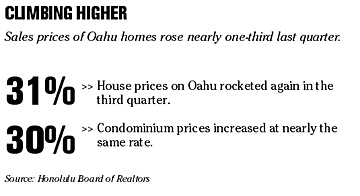 ---
BACK TO TOP


|


Unity House names new interim leader
Unity House, the local labor organization that is in court receivership, has named an interim executive director, retired Gen. Dwight Kealoha, a former interim chief of administration at Kamehameha Schools.
Kealoha, described in a news release as the only native Hawaiian to become a general officer in the Air Force, serves on the boards of several local nonprofit organizations. The federal government seized Unity House late last year as part of its criminal investigation into former Unity House President Tony Rutledge.
Hawaiian wants to delay hearing
Hawaiian Airlines
is seeking a one-week delay of next week's Bankruptcy Court hearing on whether the company's former trustee, Joshua Gotbaum, should get his requested $8 million success fee. Gotbaum, however, wants to proceed with the hearing, according to a court motion by the airline.
The airline and its parent company have asked the court to move the hearing to Nov. 3 from Thursday to accommodate Judge Robert Faris' request for more time to review documents due to be filed. Hawaiian's main witness -- its president and chief executive, Mark Dunkerley -- also has a commitment on the mainland on Thursday.
Ko Olina homes sell out in hours
The first phase of 72 new homes at Beach Villas at Ko Olina, the first oceanfront condominium to be built on Oahu in decades, sold out on Monday after just three hours on the market.
Of the buyers, 45 percent were from the mainland, 30 percent were local and the rest were from Japan. The entire project by Centex Destination Properties will encompass 247 villas in two condominium towers.
Adjustable mortgage rates soar
WASHINGTON » Rates on 30-year mortgages rose this week to the highest level in 15 months while one-year adjustable rate mortgages climbed to the highest level in 4 1/2 years. Analysts expect rising mortgage rates to cool the booming housing market in coming months.
The mortgage company Freddie Mac reported yesterday that the nationwide average for 30-year, fixed-rate mortgages rose this week to 6.10 percent, the highest level since 30-year mortgages were at 6.21 percent in late July 2004.
One-year adjustable rate mortgages rose to 4.89 percent.
Union refuses to vote on offer
MINNEAPOLIS » The mechanics union for
Northwest Airlines Corp.
said yesterday that it will not vote on the carrier's latest offer, saying the company inserted last-minute language that violates the union's constitution.
In an update posted on the Aircraft Mechanics Fraternal Association Web site, the union said the language added by Northwest was not addressed at a recent meeting between the two parties.
---
[Hawaii Inc.]
NEW JOBS
>>
Griffith Construction Consultants LLC
has hired
Dave Mattos
as senior project manager. He will be responsible for providing project management oversight for construction developments on Maui, Oahu, Kauai and the Big Island. He has over 24 years of experience in the building industry.
» SSFM International Inc. has appointed Corey Matsuoka project management and environmental planning group director.
» The East-West Center has appointed John Lewis media relations specialist. He previously served as a CNN correspondent and bureau chief in Asia. He will work the center's external affairs office.
» Alexander & Baldwin has hired Michele S. Loudermilk as associate general counsel. She will be responsible for legal matters relating to real estate. She previously worked for Cades Schutte LLP for 15 years.
» Matson Navigation Co. has appointed Qiang Gao the company's director, Asia. He will oversee Matson's new shipping service from China to Long Beach, Calif. He has over 17 years of experience in international shipping, logistics and cross-border trade in China and the United States.
» Makaha Resort & Golf Club has hired Veronica "Ronnie" Claveran as food and beverage director. She will be responsible for sales and promotions. She has over 20 years experience in hotel and golf-club food-and-beverage operations.