UH FOOTBALL
---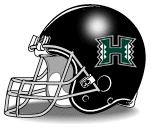 Warriors on road, but with less travel
This week's trip, the UH football team's fourth of 2005, is the shortest of the season -- to SJSU
The Hawaii football team has come -- and gone -- a long way so far this season.
The Warriors depart on their fourth road trip of the season today for their Western Athletic Conference matchup at San Jose State on Saturday.
By the time the Warriors return from their excursion to Northern California -- by far the shortest and least complicated of UH's mainland visits this season -- the team will have covered close to 29,000 miles this season, according to calculations by the UH Sports Media Relations Office.
The focus for the Warriors (2-4, 2-2 WAC) will be to ignore the mileage totals and concentrate on trying to add to the win total on Saturday.
"You can't let it affect you," UH coach June Jones said. "You have to treat every (game) the same and we have to take care of business."
The Warriors were to practice on campus this morning, then head to the airport to catch a 1:30 p.m. flight to San Jose. They have a workout scheduled for tomorrow and face the Spartans (1-5, 0-3) at noon Hawaii time on Saturday.
They'll depart right after the game and are scheduled to return to Honolulu early Sunday morning.
"That's just part of college football," senior safety Landon Kafentzis said. "There's so much traveling that goes along with it, and if we want to be successful and do what we want to do then we have to win on the road."
UH enters the week looking to even its road record this season, having lost at Michigan State and Louisiana Tech and having won at Idaho. The UH program is 11-17 in road games and 11-13 in WAC games on the mainland since Jones took over in 1999.
UH hasn't had much time to get settled at home this season. The Warriors have alternated home and away games over the past five weeks, beginning with their game at Idaho on Sept. 24.
The trend continues next week with a home game against Fresno State on Oct. 29, followed by a trip to Nevada.
The Warriors spent at least 18 hours on planes and buses during their first three trips this season, making today's 5-hour flight to San Jose a relatively brief jaunt.
The team endured 8-hour flights from Honolulu to Chicago and back for the Michigan State game. Then there were the bus trips from Spokane, Wash., to Lewiston, Idaho, to Moscow, Idaho, to play the Vandals. The Louisiana Tech trip included stops in Houston and Monroe, La., before arriving in Ruston.
"It's hard, but every team does it," offensive lineman Brandon Eaton said. "So that's no excuse for us."
Back to the start: Before he began teaching the elements of the run-and-shoot in the USFL and CFL, before the stints as a position coach and head coach in the NFL, June Jones broke into the coaching profession thanks to a call from then-UH coach Dick Tomey.
Jones was hired by Tomey in 1983 to coach the Rainbow Warriors' quarterbacks. He left after one year to coach in the professional ranks before returning to UH in 1999.
But he remains grateful to Tomey, now San Jose State's head coach, for giving him his start.
"I've been forever very thankful," Jones said. "I realize how hard it is to get into our profession. Kids that graduate here, every year I'm making calls trying to get them jobs and it's tough to get in. So I'm forever appreciative of him hiring me that one time."
Rolo on the move: As the Warriors visit San Jose this weekend, Nick Rolovich recently bid farewell to the town's Arena Football League team.
After two seasons with the San Jose SaberCats, backing up record-setting passer Mark Grieb, the former UH quarterback signed a free-agent contract with the Chicago Rush this week.
"It's an opportunity to start," Rolovich said. "I had the opportunity to learn from the best offensive coordinator and best quarterback in the league, so I got a good feel for it. I just needed to get the opportunity to play and see if I could do it."
Rolovich will remain with the Warriors as a student manager through the end of the season and will graduate from UH in December.
Former UH defensive back Shawndel Tucker (1999-2000) signed with the Austin Wranglers on Tuesday. Tucker is a five-year veteran of the AFL, with stops in Detroit and Dallas.