As cost of gas falls, views on price cap hold steady
Democrats see proof the law is working; Lingle maintains it should be repealed
Although the maximum price for wholesale gas is set to drop 12 cents next week, Gov. Linda Lingle reiterated her belief that the state's gasoline price cap law should be repealed by the Legislature.
"I don't think people should be fooled just because they (prices) are lower than the highs of a week or two ago," Lingle said yesterday after speaking at a tourism marketing association luncheon. "The fact is, prices are up substantially since the gas cap went into effect."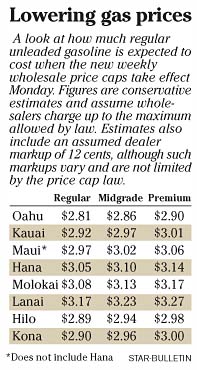 Lingle repeated that she hoped lawmakers would address the gas cap law early next session and repeal it.
That is unlikely to happen.
Democrats who passed the legislation continue to support it, pointing to recent declines as evidence of its success.
Price caps for next week, published yesterday by the Public Utilities Commission, are 12 cents lower than current price ceilings. The decline comes after price caps for this week were set 44 cents lower than a week ago.
"Prior to the cap, when prices on the mainland went up, Hawaii prices went up, but when mainland prices came back down, Hawaii prices stayed the same," House Majority Leader Marcus Oshiro (D, Wahiawa-Poamoho) said in a news release. "Under the fair gas price law, Hawaii consumers are protected from that kind of questionable pricing of the past."
The cap ties Hawaii's prices to an average of spot prices in the Gulf Coast, New York and Los Angeles. Prices in all three markets have steadily declined as major oil operations recovered from damage caused by Hurricanes Katrina and Rita in the Gulf of Mexico.
Those trends continued yesterday as crude oil prices dropped following the federal government's report that crude and gasoline inventories rose sharply last week -- a sign that supplies in the Gulf of Mexico are recovering from September's storms.
Hurricane Wilma, which for a time yesterday was the strongest Atlantic storm on record, kept oil traders on edge, but forecasters expect the hurricane to bypass key oil facilities in the Gulf region.
A small change in Wilma's projected course could mean a spike in oil prices, though.
"When you're talking about a Category 5 storm, there's still cause for concern," said Tom Bentz, analyst at BNP Paribas Commodity Futures in New York. The storm was downgraded to Category 4 last night.
Meanwhile, prices for regular unleaded on Oahu this week have dipped below $3 a gallon for the first time in about a month.
Under next week's caps, neighbor island prices could follow suit.
If wholesalers charge the maximum allowed, the price for regular unleaded on Oahu is projected to cost about $2.81 a gallon after taxes. Prices would be about $2.92 on Kauai, $2.97 on most parts of Maui excluding Hana, $2.89 in Hilo and $2.90 in Kona.
Lanai would have the highest projected cost at $3.17 a gallon, while Molokai would be at $3.08 and Hana, $3.05.
Projections assume a dealer markup of 12 cents, although such charges vary from station to station and are not governed by the price cap.
Hawaii's statewide average continues to pace the country. At $3.45 a gallon, Hawaii's average was 54 cents higher than runner-up Washington, D.C., and 73 cents above the national average, according to AAA's Fuel Gauge Report.
Gas cap opponents say the wide disparity is due to Hawaii's prices being artificially tied to three mainland markets -- the Gulf Coast, New York and Los Angeles -- that otherwise would have no impact on island prices because the state's two refiners import oil mostly from Asia and Alaska.
Supporters say the falling prices indicate the law is working, causing Hawaii's prices to track closer to mainland trends.
---
The Associated Press contributed to this report.