Kids found OK after thief takes van with engine on
Police again warn parents not to leave children unattended in their vehicles
An Ewa Beach woman watched helplessly from inside a bank while a car thief drove away with her van and two sons yesterday afternoon.
Sonia Tabladillo said her two sons, ages 1 and 4, were sleeping when she stopped at the Bank of Hawaii at 91-775 Papipi St. in Ewa Beach.
It was the fourth time this year that a vehicle with unattended children was stolen in Honolulu. In all the cases the children were recovered unharmed.
Tabladillo left the blue Toyota Sienna with the engine and air conditioner running and her children asleep in the back seat, both strapped into their child safety seats.
When she saw the minivan pull away at about 2 p.m., Tabladillo immediately called 911.
The minivan was found abandoned a short time later -- engine running and the two boys safe inside -- at the Kapolei Shopping Center behind Safeway. Soon after, police arrested a 29-year-old man on suspicion of auto theft and two counts of kidnapping.
---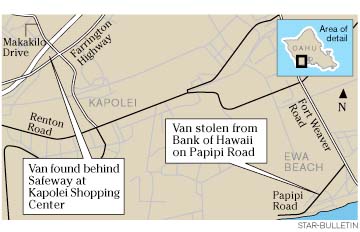 ---
Tabladillo's husband, Gerry, rushed to the shopping center from work to meet his family.
Tabladillo said 4-year-old Kyle James and Andrew, who is almost 2, were both crying when she got there.
"That's a good thing they are safe," Tabladillo said. She said she would definitely not leave her boys unattended again.
Her advice to other parents: "Don't leave the kids in the car by themselves."
To parents who leave their children unattended in vehicles, Lt. Hank Nobriga, who heads the Honolulu Police Department's Auto Theft Detail, had this to say: "Haven't you learned your lesson yet?"
"You never think it's going to happen to you," he said. "It only takes a couple seconds."
Police found the suspected car thief sitting at a bus stop on Farrington Highway near the shopping center, Nobriga said. Officers caught the man on a city bus as he tried to flee.
"He's come across our radar in the past," Nobriga said. "It was fortunate it happened that way. The car could have gone anywhere."
Automotive technician Gabe Kam, who works at the Goodyear Auto Service Center, said he and his co-workers saw police pass, then a man came limping through their work area, "then started to jog it."
"I kind of did wish I chased him," he said. "I really did feel bad for the kids."
The other thefts of vehicles with unattended children this year:
» On Aug. 26 a man left his 3-year-old son inside a truck at Carl's Jr. on Nimitz Highway.
The truck and child were recovered in Salt Lake.
» On June 22 a woman left her 4-month-old daughter in a pickup truck with the engine running outside a 7-Eleven near Nuuanu Avenue and North Kuakini Street.
A DHL delivery driver located the truck and child at a Red Hill church.
» On March 29 a man left his 5-month-old girl inside his parked car with the engine running and went inside the Golden Coin restaurant on Liliha Street to pick up lunch. The car was recovered nearby parked in a shady area about an hour later with the baby still inside. The suspect in that case, Tema Tanu Tema, pleaded guilty to charges of endangering the welfare of a minor, auto theft and breaking into a car.