Oahu home prices jump
The median price paid for a single-family home on Oahu jumped 31.1 percent to $615,000 during the three months ended Sept. 30, according to new quarterly data released yesterday by the Honolulu Board of Realtors.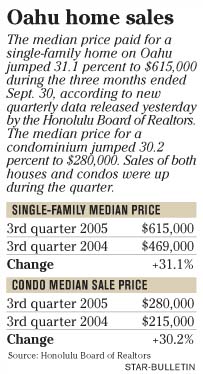 Despite rising prices, house sales, which totaled 1,324 in the quarter, finished 2.9 percent above the prior year's 1,287 sales.
The median price for a condominium on Oahu jumped 30.2 percent to $280,000 from $215,000 in the year earlier. Condominium sales increased 3.7 percent to 2,286 from 2,205 sales in the third quarter of 2004.
The total dollar volume of sales finished at a record $1.8 billion in the third quarter, a 36 percent increase from the same quarter last year, the Realtors board said.
The highest median prices for houses and condos were in Diamond Head, Hawaii Kai, the North Shore and Kailua.
The median sales price of an existing house in Hawaii Kai was $925,000 during the quarter, and the median in Diamond Head was $930,000.