Hoku posts another profitable quarter
Eight companies are trying out the firm's fuel cell products
Hoku Scientific Inc., the Kapolei-based maker of components for fuel cells, marked its third consecutive profitable quarter yesterday, reporting net income of $349,000 on revenue of $1.3 million for the three months ended Sept. 30.
The profit, which represented two cents per share, was a significant improvement over the same quarter last year, when the fledgling Hoku posted a net loss of $799,000, or 15 cents per share.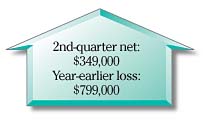 Hoku's chief executive, Dustin Shindo, said the company has established "meaningful relationships" with several automotive companies that are considering licensing Hoku's fuel cell "membrane electrode assemblies," or MEAs.
"Right now we have eight companies that we have meaningful relationships with, and when I say 'meaningful,' I mean that these companies are testing our products and that we are working very closely with them to integrate our Hoku MEAs into their (fuel cell) stacks," Shindo said.
Shindo said roughly half of those customers are automotive fuel cell makers, such as Nissan Motor Co., which is now Hoku's main client. The rest of the customers are stationary fuel cell manufacturers.
Shindo's remarks were the most extensive he has made publicly since the beginning of the months-long "quiet period" mandated by regulators before Hoku's initial public stock offering in August. Hoku's shares have almost doubled since they were initially priced at $6.
Although Hoku is in an industry getting considerable attention during a time of soaring fuel prices, the company has disclosed just two customers: Nissan and the U.S. Navy, with which Hoku is under a $2.1 million contract to help design a prototype fuel-cell power generator. If Hoku and its partner on the project, IdaTech LLC, succeed, then Hoku stands to secure Navy contracts worth an additional $2.5 million. So far, Hoku has not recognized any revenue from the Navy contracts, but expects to do so during the next 15 months.
Pressed by stock analysts about the potential to renew its contract with Nissan, Shindo stopped well short of saying that it would definitely be renewed after it expires in January. Shindo did say, however, that Hoku has been meeting the Nissan contract's milestones and is in informal discussions with the auto giant.
In the meantime, Shindo said that Hoku has distinguished itself as the "only pure-play fuel cell company to be profitable on a quarterly basis."
Hoku reported its results after the close of the market yesterday. Investors pushed Hoku shares up 26 cents to close at $11.70.