---
[ FAST FACTS HAWAII ]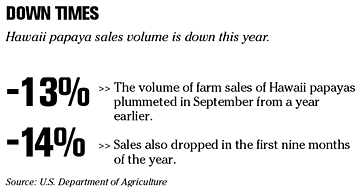 ---
BACK TO TOP


|


HAWAII
State action will reduce cable bills Oceanic Time Warner Cable subscribers statewide will save a total of about $1.5 million in the next 14 months, according to the state Department of Commerce and Consumer Affairs.
The department is cutting its portion of the cable franchise fee to zero from 1 percent beginning Nov. 1. The money is used to cover administrative costs but the state determined that it had collected more money than it needs to cover costs.
The agency expects the fee suspension to last through next year. Customers will save an average of $3.85 over the 14 months.
Cyanotech CFO leaving the firm
Cyanotech Corp.
announced yesterday that its chief financial officer, Jeffrey H. Sakamoto, is resigning effective Nov. 25 to pursue another career opportunity.
Sakamoto, who joined the Big Island company in 1995, was named CFO after Ron Scott stepped down from that position in February 2004.
Cyanotech, which produces nutritional products from microalgae, said it has begun searching for a replacement.
NATION
Major publishers go after Google Five major publishing firms sued the Internet search giant Google Inc. yesterday to stop the company from creating a digital index of millions of copyrighted books. The lawsuit, coming weeks after a group of book authors also sued Google, sets up a legal showdown over the limits of intellectual property law in the age of global computer networks.
The publishers -- the McGraw-Hill Cos., Pearson Education Inc., Penguin Group (USA) Inc., Simon & Schuster Inc., and John Wiley & Sons Inc. -- are trying to halt the Google Print Library Project, which Google unveiled in December 2004. The project aims to make digital copies of millions of books stored in the libraries of major universities. Google will then use its search technology to create an index of all the text in each book, and make this index available on the Internet at no charge. The result would be the world's largest and most powerful index of books.
Wal-Mart heiress returns degree
LOS ANGELES » Wal-Mart heiress Elizabeth Paige Laurie, accused of paying a fellow college student $20,000 to do her homework, has returned her University of Southern California degree, officials said.
The move came nearly a year after Laurie's freshman-year roommate, Elena Martinez, told the ABC newsmagazine "20/20" that she had written term papers and done assignments for the heiress for 3 1/2 years.
"Paige Laurie voluntarily has surrendered her degree and returned her diploma to the university. She is not a graduate of USC," the school said in a statement dated Sept. 30.
AOL laying off 700 call-center workers
RICHMOND, Va. » America Online is laying off more than 700 employees, mainly in call centers, as its base of dial-up subscribers continues to slump.
AOL is closing its Orlando, Fla., call center and laying off the 450 employees there, spokesman Nicholas Graham said Wednesday. It is also cutting positions in centers in Jacksonville, Fla., Tucson, Ariz., and at its headquarters in Dulles, in northern Virginia.
Graham attributed the cuts to a decline in members and an increased base of "computer-savvy" users. The cuts amount to about 4 percent of the Time Warner Inc. unit's 20,000 employees worldwide -- the largest layoff since December 2004, Graham said.
Big banks report higher earnings
NEW YORK » Two of the nation's largest banks,
Bank of America Corp.
and
JPMorgan Chase & Co
., reported solid third-quarter profits yesterday as strength in their investment banking and trading units more than offset sluggishness in their retail businesses.
Bank of America, the nation's second-largest bank, said its net income rose 10 percent in the July-September period, fueled by double-digit revenue growth across all business lines. JPMorgan Chase, which ranks third, said strength in investment banking, including record trading revenue, boosted its quarterly profit by 78 percent.