| | |
| --- | --- |
| | Key Ingredient |
---
SWEET TREATS
Black licorice makes a flavor comeback
Not many kids would include black licorice on their list of favorite candies, but the flavor is drawing a loyal following among adults. Their devotion is to natural licorice extract, however, not the artificial flavoring used by most U.S. candy makers.
Licorice is an herbal root traditionally used as an aid to digestion and to relieve coughs, sore throats, menstrual cramps and nausea.
A number of European and Australian companies are now making licorice candy the old-fashioned way, with extracts from the herb. The candy, with its signature anise flavor, is so popular that stores such as Kahala Mall's Carousel Candyland have a difficult time keeping it in stock. Candyland carries a variety of licorice from the United States, Holland and Australia. Flavors range from very salty to very pungent, in shapes from coils to coins. Imported licorice also tends to be harder than the chewy American-made versions.
Candyland owner Karen Fujimoto says she never cared for licorice until she started carrying natural licorice. "Now I love it," she says. At Carousel Candyland licorice sells for $7.80 a pound.
---
IN SEASON
It's a good year for 2 tropical fruit favorites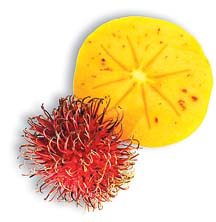 Bumper crops have been reported by growers of two exotic fruits: persimmon and rambutan.
A sweet maru variety of kaki, or persimmon, is grown on Maui by Hashimoto Farms. The maru resembles the fuyu kaki, but is distinguished by small brown specks in its flesh. These spots are actually pockets of sugar that develop the characteristic sweetness of the fruit. Like the fuyu, the maru is best eaten when still crunchy.
Rambutan is flourishing on the Big Island and so is its popularity. Considered lychee's hairy cousin, rambutan has a sweet, juicy and meaty flesh, similar to lychee. Although generally available year-round, peak season is now through spring.
Both fruits should be available at supermarkets and Asian markets for the next few months, or pick them up for the next two weeks at the Made in Hawaii booth at the farmers' markets at Kapiolani Community College and Mililani High School.