---
[ FAST FACTS HAWAII ]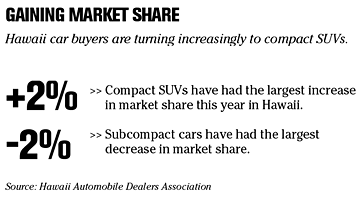 ---
BACK TO TOP


|


HAWAII
Turtle Bay hearings to continue today A federal hearing on union allegations of unfair labor practices at Turtle Bay Resort, the only major hotel on the Oahu North Shore, continues today after the resort's motion to disqualify the judge was denied yesterday.
Attorneys for Turtle Bay had sought to bar Administrative Law Judge Joseph Gontram from overseeing the National Labor Relations Board hearing on the grounds that he has "evidenced clear bias and prejudice" against the resort, according to a motion.
The hotel's failed motion comes two months after Turtle Bay began accusing Gontram and federal officials of forcing the resort to bribe union officials by providing free parking for those who come to the resort on official business.
Pflueger Auto expands to Maui
Pflueger Automotive Group broke ground for its first dealership on Maui yesterday. It will also be the Valley Isle's first Acura dealership.
The full-service dealership, with sales, service, parts and "everything our new customers on Maui will need," will be built at Airport Triangle Square in Kahului, and is to open next fall, said Alan Pflueger, president of Pflueger Automotive.
Maui General plans to merge
Maui General Store Inc.
, a startup company in Hana that could not get enough financial backing to get its Internet retail business off the ground, has signed a letter of intent to merge with Florida-based
Palmera Holdings Inc.
, an adult stem cell technology company doing business as Trinity BioGenics.
NATION
Intel sales forecast comes in low Intel Corp., the world's biggest computer-chip maker, said profit growth slowed to 4.7 percent after the company failed to meet demand for some chipsets. The shares fell after Intel forecast sales that missed analysts' estimates. Third-quarter net income rose to $2 billion, or 32 cents a share, from $1.91 billion, or 30 cents, a year earlier, Santa Clara, Calif.-based Intel said yesterday.
WORLD
Buyout fund will invest in Seibu Cerberus Capital Management LP, a U.S. buyout fund, will lead a $1.4 billion investment in the Seibu group, a Japanese railway and resort business that's selling assets to pay debt.
Cerberus and Nikko Principal Investments Japan Ltd. agreed to invest in group firms including Seibu Railway Co. and its parent, Kokudo Corp., Seibu said in a statement yesterday without elaborating.
The investment will give New York-based Cerberus a stake in about 80 hotels, 40 golf courses and 40 ski resorts. The fund joins others in betting such assets will benefit as the world's second-largest economy recovers. Japan posted its fastest growth in 15 years in the first half.