| | |
| --- | --- |
| | Newswatch |
---
SITE OF GREAT POTENTIAL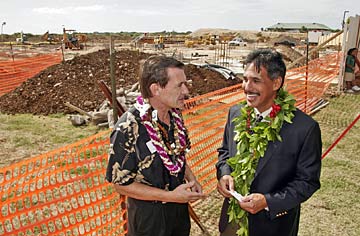 Taking Notice
» Honolulu resident
Ken Hockridge
, who works for American Medical Response, was honored by the American Ambulance Association as an Everyday Hero and one of its 100 "Stars of Life" award recipients.
» Rosalyn Cooper is serving as district governor of Rotary International, providing leadership for 41 clubs, until 2006. She is a member of the Rotary Club of Metropolitan Honolulu, which helped with extensive garden renovations at the Honolulu Clubhouse, a rehabilitation program for adults with mental illness.
» Mothers Against Drunk Driving-Hawaii has recognized these individuals, agencies and companies for their support:
Sgt. Ryan T. Nishibun of the Honolulu Police Department Selective Enforcement Unit of the Traffic Division received the Law Enforcement Award for Drunk Driving Prevention;
Officer Melvin R. Andres Jr. of the HPD Traffic Safety Section, the Underage Drinking Prevention Award;
Rosalind Luther, an 18-year member of MADD-Hawaii, the Carol McNamee Award for outstanding volunteer service.
Other awards went to Joan Bennett & Associates, the Brand Strategy Group, Olomana Marketing, Cutter Family Auto Center, KHNL News 8/KFVE, Tesoro Hawaii, Spunge, Visionary Radio, Clear Channel Communications, Signature Theatres and Double Talk Publishing.
Elsa Honma was named new board president.
---
"Taking Notice" runs on Tuesdays, Thursdays and Saturdays.
---
Police, Fire, Courts



By Star-Bulletin staff



WINDWARD OAHU
2 men mug woman at Kaneohe bus stop
Honolulu police are looking for two men who attacked a woman at a bus stop in Kaneohe Thursday night and ran off with the gold chain and crucifix she was wearing.
The woman told police she was sitting at a bus stop at the corner of Kamehameha Highway and Duncan Drive about 10:30 p.m. when two men grabbed her from behind and pushed her to the ground. She said she continued to struggle with her attackers after they grabbed her chain until they were scared off by a passing vehicle.
The woman went to the Queen's Medical Center, where she reported the incident to police.
HONOLULU
Officer injured while breaking up fight
Police said an officer was choked and punched in the back of the head Wednesday while breaking up a fight between two large groups of men at a park in Salt Lake.
The officer was one of three members of the Pearl City Crime Reduction Unit who happened upon the fight at Aliamanu Playground about 3 p.m. While attempting to break up the fight, the officers were challenged by an 18-year-old Kailua man, who was arrested for disorderly conduct.
As he was being arrested, the man slipped out of his handcuffs and fled but was caught and subdued by the officer. During the struggle, police said the man choked the officer while a 16-year-old boy punched the officer on the back of his head.
In addition to disorderly conduct, both teenagers were arrested for assaulting a police officer, resisting arrest and terroristic threatening. The 18-year-old was also arrested for escape.
Motorcyclist injured critically in accident
A motorcyclist, approximately 20 years old, was critically injured when he hit a fire hydrant in Kapahulu, according to an Emergency Medical Services supervisor.
The accident occurred yesterday at 4:17 p.m. near Campbell and Monsarrat avenues.
Police shut down the area due to the traffic investigation.
According to the EMS supervisor, the motorcyclist was not wearing a helmet.