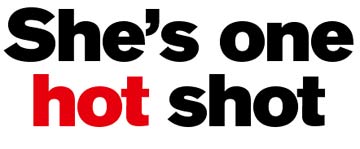 Bea Youngs is after respect in the male-dominated sport of paintball featured in recent All-Star Games
About 20 people lined a barrier alongside a playing field at Hawaii All-Star Paintball Games last weekend, whispering with excitement.
There were 29 three-member teams signed up for the Old School Championship Series, a Southern California-based circuit event making its first stop ever on Oahu. But none attracted the attention that three professional paintballers received when it was their turn to compete.
Dressed in custom long-sleeved jerseys, pants and protective gear, the trio assumed a starting position at one end of the field, opposite the other team. Wielding pump-action paintball markers (hence the "Old School" moniker, in a sport where semi-automatics that fire 15 rounds per second are the norm), they scattered for protection behind plastic barricades when a referree signaled for play to begin.
The action was lacking at first, as the two teams attempted to feel each other out. One of the pros, clad in a purple jersey, barked commands and served as lookout. When things heated up a little later, this person was eliminated first, while providing an opportunity for the other two pros to secure a win in this modified game of capture the flag.
As the teams exited the field, off came the protective masks shielding their identities. Rocky Cagnoni and Mike Paxson were shaking hands and joking around, but it was the purple-clad Bea Youngs who drew the most stares. Not only did she stir things up the most in this particular game -- she's also got the beauty and personality to attract a lot of attention in the male-dominated sport off the field.
"But now I'm trying to change that," said Youngs. "I'm trying to make the shift. Instead of using (my sexuality) as a marketing tool, I just want to gain respect from the guys out there."
WHEN YOUNGS got involved in paintball five years ago, she was a willing participant in a publicity stunt organized by longtime friend Tami Adamson.
"She wanted to start up an all-female team, so that was our claim to fame," Youngs explained. "We were girly-girls."
Although they weren't the first to try the all-girl gimmick, Adamson's Femmes Fatale were the sexiest, scoring photo spreads in magazines such as Maxim and Stuff. But the novelty wore off quickly for Youngs, who ended up leaving the team less than a year later when she moved from Florida to California.
"I enjoyed it, don't get me wrong," she said. "But it wasn't about winning, and I really want to win. It took me six months to figure that out ... then I decided to quit that team because I moved to California."
It was that move across the country that allowed Youngs' career to really take off. Her new job as a promotions coordinator for a paintball equipment and apparel manufacturer gave her the chance to work around as well as compete in the sport she was learning to love. She's served as a DJ and emcee at tournaments, and has represented the sport as a judge on TLC's "Junkyard Wars." Her likeness is also featured in the video game "Greg Hastings Tournament Paintball."
Now 25, Youngs hopes to get in a few more years of competition before settling down. Paxson, her teammate here last weekend, is also her boyfriend. The two have been together for four years, and she does admit to thinking about motherhood.
"Hopefully we'll get married and have kids," said Youngs. "He'll be the pro, and I'll manage him."
But that doesn't mean she's going to walk away from paintball entirely.
"Idealistically, I'd like to do more commentating if ESPN picks us up," she said. "I want to be the girl that's like, 'Hey, you just won the game, how do you feel?' I don't mind getting up in front of people and talking to them."
YOUNGS WASN'T the only woman talking about respect at Hawaii All-Star Paintball last weekend. Not only were females from Hawaii signed up to be part of the OSC Series, but others came from the mainland as well.
"Oh, she's very famous," said Los Angeles resident Linh Truong when asked if she recognized the professional sitting a few tables away. Truong and her team, Tombstone Pump Squad, made the trip to Honolulu for the tournament.
"We found out (OSC) had a Hawaii one, so we had to go," she said. "It's fun for me, but I want more women to play.
"With more women involved, it helps the sport grow more. I tell them to not be scared. We can play at the same level as the guys."