---
[ FAST FACTS HAWAII ]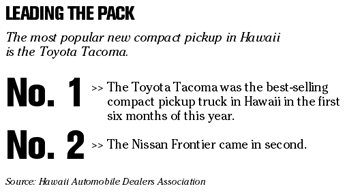 ---
BACK TO TOP


|


New law wards off bankruptcy filings
If yesterday was any indication, the U.S. Bankruptcy Court in Honolulu could be in for a well-deserved respite from the madness of the past several weeks. After a federal law making it harder for people to wipe out their credit card debts went into effect yesterday, the number of people filing for bankruptcy protection in Honolulu dropped precipitously to zero.
It was a sharp contrast to the previous two weeks, when debt-laden consumers stampeded the courthouse to beat the deadline. From Oct. 1-16, 1,458 people filed for bankruptcy protection in Honolulu, nearly 10 times the number of people who filed bankruptcy petitions here in the same period last year.
Furniture rental company settles
Canyon Rent to Town
, a Nevada company that rents home furnishings through outlets in Hawaii, has agreed to pay $71,000 to settle discrimination suits filed by two employees, the U.S. Equal Employment Opportunity Commission said yesterday.
Canyon admitted no wrongdoing while settling claims of Kelly Blanchard, a managerial trainee, and Karin Ho, an office administrator, who had claimed they were sexually harassed while working at stores in Wahiawa, Waipahu and Honolulu. One of the women also claimed to have been taunted about her background.
Barnwell declares 3-for-1 split
Barnwell Industries Inc.
, which split its shares for the first time in company history earlier this year, said yesterday it will split the shares again because of the company's strong performance.
The Honolulu-based company, which has oil and natural gas operations in Alberta, Canada, and real estate holdings on the Big Island, said it will split its shares 3-for-1. The new shares will be distributed Nov. 14 to shareholders as of Oct. 28. Previously, Barnwell split its shares 2-for-1.
Barnwell's stock jumped $2.92 yesterday to $65.50.
Troubled Refco files bankruptcy
NEW YORK » Troubled commodities broker
Refco Inc.
filed for Chapter 11 bankruptcy protection late yesterday and said it had reached a preliminary deal to sell its core futures brokerage business to a group of private investors for $768 million.
The consortium of would-be buyers for Refco LLC is led by private buyout firm J.C. Flowers & Co., which specializes in taking distressed financial companies and either turning them around or selling the pieces to other companies.
The Flowers-led consortium includes the Enstar Group Inc., Silver Point Capital, MatlinPatterson Global Advisers LLC and Texas Pacific Group. Refco said it expects definitive agreements to be reached soon.