N. Shore gets new model for tsunamis
Sunset Beach Elementary is no longer on the list of tsunami shelters
If a destructive tsunami hit the North Shore, Kamehameha Highway could be washed out, Dillingham Airfield flooded and access to Sunset Beach Elementary School blocked, according to a new model that has forced officials to change their evacuation plans for the area and take the school off Oahu's list of tsunami shelters.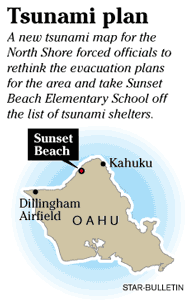 "Dillingham Airfield is now a flood zone," state Civil Defense plans and operations officer Victor Gustafson said at a community meeting last week in Sunset Beach.
The airfield would not have been evacuated based on old tsunami maps, which also predicted no part of Sunset Beach Elementary School would get flooded.
The new map shows water creeping up the school's tennis courts and flooding its entrance.
The North Shore was the first of 28 tsunami danger zones statewide to be re-evaluated as part of a project expected to be completed in 2010, and in many ways it presents unique dilemmas to disaster planners, with much of its development, along with its main thoroughfare, situated on the coastline.
A significant tsunami has not hit the North Shore since 1964.
Since then, dozens of homes and businesses have been built in the tsunami danger zone. And many residents have never been in a tsunami, which could mean they would not know how to react.
"We have a long history of big tsunamis hitting the North Shore," said Dan Walker, an Oahu Civil Defense tsunami adviser and former University of Hawaii professor. "But we're overdue ... and people like to think that disasters happen elsewhere."
Community members were able to see the updated North Shore map at a public meeting Thursday aimed at discussing the re-designation of Sunset Beach Elementary School.
But officials declined to release the map until it has been finalized, which they say could come before the end of the year. Meanwhile, the maps might not show up in phone books for years.
The evacuation maps in phone books were developed in 1991.
Gustafson said funding will determine how quickly the new maps are published. Police and Oahu Civil Defense personnel, he added, "know where the new (evacuation) lines are."
He also said current maps for the state "do offer safety."
The re-mapping is based on five tsunamis that hit the North Shore between 1946 and 1964, and takes into account the topography of the land along with how neighbor islands would affect the waves. Current tsunami maps are based only on historical data.
University of Hawaii professor Kwok Fai Cheung started the project in 2003 with $200,000 in federal funds but is expecting some additional money from the state this year.
If more funds come in, the mapping could be done more quickly.
Because the North Shore has relatively few shoreline barriers and is gently sloping, he said, there were significant -- but not dramatic -- changes in the safety zones between the old and new maps.
Other parts of the state, though, could have worse results.
Cheung is surveying East Honolulu next and expects to see considerable changes in how his model shows a tsunami hitting Koko Marina.
For North Shore residents the model has meant the number of tsunami shelters in their community has narrowed to just four: one in Waialua and three in Kahuku.
Gustafson said Sunset Beach Elementary School would still be safe in a tsunami, but its access would be blocked.
And civil defense officials say they are not worried about the number of tsunami shelters in the area.
It would only take minutes, they say, to walk uphill and away from the shoreline from most points.
"The best way to evacuate is go inland," Gustafson said, adding that if people fled in their cars along Kamehameha Highway, they would be putting themselves into a danger zone and could have to abandon their vehicles if they get stuck in gridlock.
At the Sunset Beach Elementary School meeting, Principal Ruth Holmberg also talked about a plan to store food and water for as many as 200.
Sunset Beach school, the first to take up a project, has spent about $3,000 to buy emergency kits, which include blankets and flashlights, in the event students are stranded.
It also plans to store enough food and water to hold students and teachers for up to three days.
"On either side of us, the roads could be inundated," Holmberg said. "If that happens, we would quickly be isolated."
About 45 North Shore residents attended the meeting, most of whom had students at Sunset Beach Elementary.
Chris Pirrone and his wife, Angela, came with their two daughters and said they were happy to see that the school and state were planning for the worst. They pledged to go home and plan, too.
But Linda Bard, whose 8-year-old niece attends the school, said she was left more confused than reassured.
"I really need more information," she said. "I feel we might live on high enough ground, but I'm not sure."
Oahu Civil Defense spokesman John Cummings said he and others would be holding other public meetings in coming months, but none are yet scheduled.