| | |
| --- | --- |
| | Newswatch |
---
Tapping the power of the sun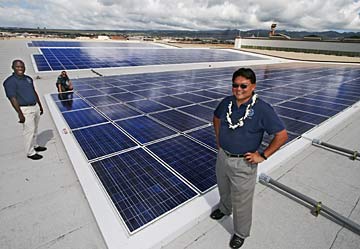 Clay to help promote children's health
A free family event, "Kids Fest," will be held from 10 a.m. to 3 p.m. Oct. 23 at the Bishop Museum to promote healthy lifestyles for Hawaii's children.
The event is sponsored by Straub's Bone & Joint Center, Kapiolani Medical Center for Women & Children and the Straub Foundation, affiliates of Hawaii Pacific Health.
"We want to instill the values of exercise and proper nutrition for our youth to prevent obesity, understand the dangers of drug use and increase their awareness of injury prevention," said Dr. Cedric Akau, chairing the event with Dr. Spencer Chang.
Booths staffed by community volunteers will offer "trick or treat" health-related activities. Decathlon world champion Bryan Clay will discuss the importance of staying healthy and his training regimen.
The first 1,200 people to arrive will receive free admission, then $3 will be charged for entry.
Free food will be provided while supplies last. There will be door prizes and entertainment.
Reservations are recommended. For more information or to register, call the Straub foundation, 524-6755.
Group seeks to lift mobility restriction
The Kokua Council has asked Hawaii's congressional delegation to try to reverse a series of policies of the Centers for Medicare and Medicaid Services to restrict access to mobility devices.
Medicare has a restriction "which potentially and directly impacts thousands of Hawaii's senior citizens -- an 'in the home' restriction on mobility devices, which confines people in need of wheelchairs to their homes," Council president Larry Geller wrote.
The council is seeking modification of the "in the home" restriction and support for legislation that might be needed to remove the restriction if it becomes necessary.
"The restriction makes prisoners of people with chronic illnesses who may be able to get around their home with a cane but who require a mobility device to move around outside," Geller wrote.
---
Police, Fire, Courts




By Star-Bulletin staff


LEEWARD OAHU
Man holds ex-wife hostage for 5 hours
A 26-year-old Oahu man is facing charges of burglary, terroristic threatening and kidnapping for holding his former wife hostage for more than five hours Friday at her Makaha townhouse, police said.
A neighbor called police to the Ala Mahiku Street address at 2:30 p.m. Friday, after the couple's children ran from their mother's apartment, Sgt. Steven Kitsu said.
Police believed the man was armed as he kept his 23-year-old ex-wife captive in the townhouse through the afternoon, Kitsu said. It was only after he gave himself up without incident that police inspected the weapon and discovered it was a BB gun shaped like a .45-caliber automatic.
The man has up to 60 outstanding family court violations totaling $61,000 in potential fines, mostly involving calls to his ex-wife in violation of a restraining order, Kitsu said.
During the hostage incident, the man threatened to kill his ex-wife, himself and police, Kitsu said. Police evacuated residents of some adjoining units in the building while they were negotiating with the man.
HONOLULU
4 are injured when man goes on rampage
A man with a knife went on a rampage early yesterday morning near Aala Park, attacking four men, police said.
The 20-year-old man flagged down a cab at 2:23 a.m. yesterday at King and Beretania streets, police officer Elvin Bumangleg said. The man asked to be driven to Schofield Barracks, then allegedly punched and bit the 41-year-old cab driver, showed him a knife and threatened to kill him, then left the cab.
The suspect then walked down Beretania, yelling at passers-by. Within the space of two minutes, the man stabbed or cut a man riding by on a bicycle, a man waiting at a bus stop and a third man who tried to intervene, Bumangleg said.
Two of the three stabbed men were taken to a hospital for treatment and the third was treated at the scene, Bumangleg said. All four of the attack victims were men in their 40s.
Police arrested the man shortly afterward.
NEIGHBOR ISLANDS
Driver critically hurt after car hits tree
A 27-year-old Maui man is in critical condition after a one-car accident early yesterday, police said.
The accident happened about 12:44 a.m. in Makawao. The man's 1997 Ford Explorer was traveling southbound on Baldwin Avenue, ran off roadway and hit a tree.
He was taken to Maui Memorial Medical Center.
Police are still investigating whether speed or alcohol were factors in the crash.