UH FOOTBALL
---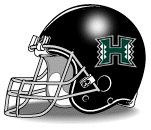 UH, NMSU looking for the reverse
Both teams will be watching for the big play to change their fortunes in today's WAC matchup
Hawaii football coach June Jones spoke this week of the importance of making plays that change the momentum of a game.
Tonight, the Warriors face New Mexico State in a matchup of teams trying to reverse the momentum of their seasons.
UH enters the game at 1-4 and 1-2 in the Western Athletic Conference following two disheartening league losses. NMSU (0-6, 0-2) hasn't experienced victory since last November.
So nothing would liven the spirits of either team more than a win in the first WAC meeting between the schools and only the second overall.
"All we need is a big game and the confidence starts to build for the next game and hopefully we get rolling," UH center and co-captain Derek Fa'avi said.
Kickoff for tonight's game at Aloha Stadium is set for 6:05.
UH is off to its worst start since 2000, when the Warriors struggled to a 3-9 mark for their only losing season in Jones' six-year tenure in Manoa.
After losses to USC and Michigan State to open the season, the Warriors appeared to get things rolling their way when they posted a shutout win at Idaho and built an early lead against Boise State in their last appearance at Aloha Stadium on Oct. 1.
Although the Warriors eventually lost a heartbreaker to the Broncos, their effort generated some optimism heading on the road. But after being run over in a 46-14 loss at Louisiana Tech a week ago, they returned home needing to regroup heading into the midway point of the season.
"It's frustrating where we're at right now, but we just have to keep working," quarterback Colt Brennan said. "We really got hit in the mouth last week and didn't see it coming. ... You have to stay humble and not let last week bring the morale of the team down. We just have to fight through it."
UH couldn't keep pace with talented national powers in its first two losses, but the last two have raised the team's frustration level.
The Boise State game was decided by critical special-teams breakdowns, and despite the lopsided score last week, the Warriors felt they could have been more competitive had they executed in a few momentum-turning situations.
"Coach Jones always says the games come down to five or six big plays," linebacker Tanuvasa Moe said. "These past few games we haven't won, we haven't taken advantage of those big plays that we needed."
Jones will have an idea of what the Warriors offense will face, having coached with NMSU defensive coordinator Woody Widenhofer with the Detroit Lions for two years.
"I know they know what we do, and we know what they do," Jones said. "It's just a matter of who wants to win more. ... It still comes down to execution."
The Aggies' 37-7 home loss to Fresno State last week extended their losing streak to seven games dating back to last season, their last in the Sun Belt Conference.
Slow starts in their games have mirrored the Aggies' troubles in trying to give coach Hal Mumme his first win at NMSU. The Aggies have been outscored 148-28 in the first half and have yet to hold a lead.
Mumme's renowned passing attack has yet to take flight in NMSU's first season in the WAC, due in part to youth on offense. Mumme said 33 of the Aggies' top 40 players on offense are either sophomores or freshmen, and the Aggies are scoring just 12 points per game.
"Obviously, it hasn't gone as well as we wanted to," Mumme said. "But you see growth in every game and we're still getting to know the players in a lot of respects. We'll get better; we've just got so many guys who are underclassmen."
One of the bright spots for the Aggies has been the emergence of running back Justine Buries. The sophomore began the year on the scout team, but was promoted to the starting lineup and promptly turned in three 100-yard performances.
So although the Aggies remain devoted to throwing the ball, Mumme calls close to 28 running plays per game as well.
Inside linebacker Jimmy Cottrell headlines a defense designed by Widenhofer, who led the Steel Curtain in Pittsburgh in the 1970s. If Cottrell matches his average of about 15 tackles tonight, he'll reach the 100-tackle mark for the second time in his career.
Still the Aggies are last in the league in total defense at 432.7 yards per game.
"It takes a while to figure out who your playmakers are and how the players adjust to your system," Widenhofer said. "They've played hard every game until the end. They work hard in practice. Their preparation is good. We've just had a very tough schedule in our first six games."
As the Warriors and Aggies attempt to change their fortunes, both teams hope tonight's game can be the first step toward a strong second half to the season.
"We have to get back on a winning streak," Moe said. "You never get used to losing, the whole morale is down and to get a win right now would be real big for the team."