| | |
| --- | --- |
| | View from the Pew |
---
Practical faith
Honolulu resident Kent Keith adds a new Christian perspective to his secular "Paradoxical Commandments"
It's a philosophy that strikes a chord whether the reader is religious or atheist. Anyone who sees it tacked on someone else's bulletin board or cubicle wall, will likely seek a copy for himself.
"The Paradoxical Commandments," sometimes identified as "Anyway," have been circulated by millions of people since they first appeared in a 1968 Harvard University handbook for student leaders.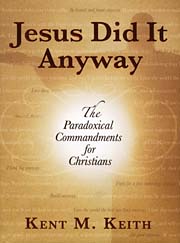 Only in the past eight years has the creator of the snappy creed for overcoming adversity and finding happiness in an unappreciative world recognized the impact of his idea.
After writing the advice as a university sophomore, Kent Keith of Honolulu went on to become a lawyer and progress through a career that included being a Hawaii state department head and Chaminade University president.
Since 1997, when he heard his words read aloud in a Rotary Club meeting, Keith has turned to a career path of developing and spreading the simple, powerful message as an author and motivational speaker. He wrote a basic introductory version of "Anyway" in 2001, which begins with an anecdote of hard times as a Roosevelt High School student. He developed the theme in a 2003 version, "Do It Anyway: A Handbook for Finding Personal Meaning and Deep Happiness in a Crazy World," with stories and thoughts from other people, some well known and some unknown. It has been translated into 15 languages.
On Thursday, G.P. Putnam's Sons will release the third edition of the commandments, in which Keith used biblical stories and reflections based in his Christian faith to tell how and why "Jesus Did It Anyway."
Keith said what he first wrote reflected the way his parents lived and "what I learned from my church. I thought I was reporting more than inventing; I thought I was being creative in the way I laid it out." It was intended to motivate high school student leaders.
"I wrote the Paradoxical Commandments as a way of throwing down the gauntlet. If you do what is meaningful for you, you get that meaning whether you are recognized for it or not. If you have the meaning, you don't have to have the glory."
He learned that Mother Teresa of Calcutta got the meaning and had posted the commandments on the wall of her home for children. They were quoted in a 1995 book, "Mother Teresa: A Simple Path," and some people still think they're her own words, he said.
When his Rotary Club colleague read aloud from that book at the September 1997 meeting, "That's about as close as I've ever got to getting a message, like a voice saying, 'Hello down there, are you paying attention? I want you to do something about this,'" Keith recalled. "That was a real turning point in my life, when I decided I'd be speaking and writing about the Paradoxical Commandments again."
Keith describes the first two editions as "secular spiritual." The principles were "intentionally written for anybody of any faith or no faith ... so there would be no barrier, they would not say, 'That's a Christian book, and I don't want to read it.'"
He had requests from readers to tie the commandments to Christ's teaching. Finally, televangelist Robert Schuller of the Crystal Cathedral made that imperative when he interviewed Keith on his "Hour of Power" show last year.
He began to seek scriptural references that demonstrate the 10 principles in what he described as "a wonderful spiritual journey, a time of religious rediscovery for me." He looked in children's Bible storybooks and renewed his acquaintance with the Old Testament book Ecclesiastes, which he quotes frequently in his third book.
"It is a very, very, very modern book," Keith said. "The examples are third-century B.C. examples, but what the voice is saying is that power, wealth, fame, physical pleasure are transient. Human beings have been struggling with these things continually for all these centuries; this is an ancient search for meaning."
A key biblical idea developed in the book is the concept of being "in the world but not of the world," as Jesus instructed his disciples in the Gospel of John.
"We need to be in the world," said Keith. "Jesus didn't go hide in a cave or go up on a mountaintop. He was fully engaged in the world but was not of the world.
"It's an important way of thinking about how to relate in the secular society around us. We're not against the world, but we don't have to follow the same norms or expectations of the secular, commercial world."
Keith sought suggestions and feedback on the book as he worked through about 50 drafts. He said eight Catholic and Protestant clergy responded, and he particularly thanked three former pastors of Manoa Valley Church, where he has been a member for 30 years. The Revs. Don Asman, Dan Hatch and Nelson Kwon helped with the study guide at the end of the book, preparing the commandments for organized scrutiny in church groups.
Although this book has a Christian perspective, the author said the concept of acting on principles without anticipating reward "is so fundamental that it cuts across different theologies, philosophies, ideologies. I think it is about what we have in common as human beings ... whatever our faith may be."
Keith said he would not rewrite the commandments he created at age 19: "What has changed is which are the most important to me. In the '60s, I was more about politics and social change, so I was closer to the sixth and the seventh. In the last 20 years, the most important to me is the first, about the unconditional love we need to hold families and communities together."
Meet the author
"Jesus Did It Anyway: The Paradoxical Commandments for Christians" will be available Thursday at major bookstores. The author, Kent Keith, will be at book-signing events at the following:

» Thursday, 7-9 p.m., Barnes & Noble at Kahala Mall

» Next Saturday, 5-7 p.m., Bestsellers at Koko Marina Shopping Center

» Oct. 23, 2-4 p.m., Borders at Ward Centre

» Oct. 25, 12:30-1:30 p.m., Bestsellers at Bishop and Hotel streets

» Oct. 29, noon-2 p.m., Borders Express at Windward Mall

» Oct. 30, 1-3 p.m., Borders Express at Kahala Mall

» Nov. 5, 2-4 p.m., Borders at Pearlridge Shopping Center

» Nov. 6, 4-6 p.m., Borders at Waikele Shopping Center