---
[ FAST FACTS HAWAII ]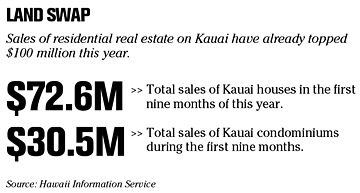 ---
BACK TO TOP


|


HAWAII
Plans for Costco gas on Maui get stalled WAILUKU » Maui residents won't be getting relief soon from the state's high gasoline prices from Costco Wholesale in Kahului.
The discount business will have to reapply for its shoreline permit in Maui County if it hopes to build a gasoline outlet at its store.
Costco officials submitted a proposal in mid-2004 to build a six-dispenser stand on the southwest corner of its 13-acre lot near the Kahului Airport.
But Costco later deferred its plan after noting it also wanted to develop a building addition, the county said.
Costco officials faced a number of issues, including finding enough space to fit the gasoline outlet as well as the new building addition on the same lot.
"They acknowledged they weren't going to be able to resolve the issues in a timely manner for it to proceed," said county planner Ann Cua.
Cua said the file has been closed, and Costco will have to seek a new special management area use permit if it wants to build a gas outlet.
A Costco representative in Washington state was unavailable for comment.
NATION
Northwest Air mechanics lose big MINNEAPOLIS » Union leaders said late yesterday that they would let striking Northwest Airlines mechanics vote on the carrier's latest offer, which would save the jobs of only a fraction of those who walked out nearly two months ago.
The offer might preserve 500 of the 4,100 jobs that members of the Aircraft Mechanics Fraternal Association held when they went on strike Aug. 20, the union said.
"This was AMFA's negotiating committee making a very difficult decision to allow the AMFA membership to have a say in this process," said Jeff Mathews, contract coordinator for the union.
AMFA's leaders rejected a Northwest offer Aug. 19 that would have preserved 2,750 mechanics jobs and pay up to 26 weeks of severance for 1,350 mechanics, cleaners and custodians targeted for layoffs. Last month, negotiators rejected a proposal that would have kept 1,080 mechanics jobs and pay up to 16 weeks of severance for those laid off.
According to Mathews' statement, posted on AFMA's Web site, the airline's latest offer includes only four weeks of severance pay.
AMFA had counted on the strike crippling Northwest. But the airline spent an estimated $100 million lining up outside vendors and replacement workers and managers, and has continued to fly.
Crude-oil futures finish week below $63 a barrel
Crude-oil futures fell below $63 a barrel yesterday, extending their losses amid signs of weak U.S. gasoline demand coupled with reports that more refineries in the U.S. Gulf region were back online after hurricanes Katrina and Rita.
Light, sweet crude for November delivery slipped 45 cents to settle at $62.63 a barrel on the New York Mercantile Exchange. Front-month crude futures are down 10 percent from their record settlement price of $69.47 on Sept. 1.
Oil prices dipped on signs of flagging U.S. demand for gasoline and heating oil, although there are still concerns that lower supplies due to hurricane-related shutdowns may not be adequate, particularly as it gets colder in the Northern Hemisphere.
Harvard replaces controversial money manager
BOSTON » Harvard University, whose wealth recently surged past $25 billion, tapped a specialist in emerging market debt yesterday to oversee its endowment and try to extend a yearslong streak of hugely successful investing.
Mohamed El-Erian, a recent candidate to lead the International Monetary Fund, will become CEO of Harvard Management Co. early next year. He succeeds Jack Meyer, who helped grow Harvard's endowment from $4.7 billion when he arrived in 1990 to $25.9 billion at last report.
El-Erian, 47, is a managing director at Pacific Investment Management Co., a California-based firm specializing in fixed-income assets. He also was a candidate to be IMF managing director last year but was passed over for former Spanish Finance Minister Rodrigo Rato.
During Meyer's tenure, Harvard was criticized by some alumni for paying managers as much as $35 million in bonuses and salaries. But Harvard, noting the bonus system was tied to beating benchmarks, said the its managers earned billions for the school and could command far higher salaries on Wall Street.
Actors want their cut from TV shows on iTunes
LOS ANGELES » In a show of unity, five unions representing actors, writers and directors issued a joint call for talks to make sure their members get a cut of revenue generated by the sale of TV shows on Apple's iTunes software.
The unions sent a clear message to TV producers.
"We have not yet heard from the responsible employers of our members," their joint statement said. "But we look forward to a dialogue that ensures that our members are properly compensated for this exploitation of their work."
GM may be close to reaching deal with union
DETROIT »
General Motors
and the United Auto Workers union are near an agreement that would help the automaker cut some of its nearly $6 billion a year in health care costs, the union said yesterday.
The union and GM are expected to continue negotiations over the weekend, but neither side would speculate about the timing of a deal, which would end six months of talks over what the automaker has said is its most pressing financial problem.
Yesterday, a UAW spokesman, Paul Krell, said the union had sent an e-mail message to its local chapters saying the negotiations with GM were progressing to the point "where it's possible we could reach an agreement."
WORLD
McDonald's offers shrimp burger TOKYO » Struggling to lure customers back amid increased competition, McDonald's is adding a new item to its menu in Japan: the shrimp burger.
The $2.40 burger, shown to reporters yesterday and set to go on sale this month, is the latest effort by the Japan unit of the U.S. fast-food chain to win over Japanese palates -- and spark sales.
McDonald's Japan is also testing other additions, including chicken salad and yogurt.