UH FOOTBALL
---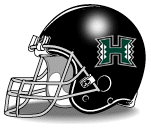 UH and NMSU defenses will see something familiar
The teams have similar approaches on offense, often using four-receiver passing formations
In a sense, the Hawaii and New Mexico State defenses have been preparing for this week's matchup all season.
The Warriors and Aggies meet in a Western Athletic Conference game Saturday at Aloha Stadium and will be quite familiar with the offensive sets across the line of scrimmage, as both teams are led by coaches known for developing high-powered passing offenses that routinely spread the field with four receivers.
Hawaii has annually ranked among the nation's top passing offenses since June Jones installed his run-and-shoot attack. Hal Mumme's "Air Raid" offense has also produced gaudy passing numbers at his various coaching stops.
The schemes may not be identical, but facing their own offenses on a daily basis gives the defenses a head start in preparing for what they'll see on Saturday.
"We're used to playing against the pass because of our run-and-shoot. I think we're very prepared for this game," UH linebacker Tanuvasa Moe said. "We just have to do what Coach (Jerry) Glanville says and take the practice into the game. It's great if you perform in practice, but if you don't do it in the game it doesn't mean anything."
Hawaii (1-4, 1-2 WAC) leads the WAC in passing offense and ranks seventh in the country with 337.6 yards per game this season. New Mexico State (0-6, 0-2), meanwhile, has struggled as Mumme implements his scheme in his first season with a young Aggies' offense.
"They do it a little bit different with their routes, but there are a lot of similarities," Jones said. "A lot of the same runs, quick throws, screens."
Jones' scheme resulted in Tim Chang setting the NCAA record for career passing yards last year. Colt Brennan is the WAC's top passer so far this season with 295.6 yards per game and 11 touchdowns.
Mumme developed his system by studying film of Brigham Young under former coach Lavell Edwards and his offenses have consistently posted big numbers, most notably at Kentucky, where quarterbacks Tim Couch and Jared Lorenzen ranked among the nation's most productive passers.
"It's not the same system, but June and I talk all the time and have a lot of the same ideas," Mumme said. "I'd say it's pretty much the same spirit. It's one of those things where we get to it a little bit different, but it's kind of the same idea."
Mumme's latest venture has gotten off to a rocky start, as NMSU is fifth in the conference with 219.3 passing yards and averages 12 points per game.
In his first season with the Aggies, quarterback Royal Gill averages 184.2 yards and has five touchdown passes to seven interceptions.
Among the differences between the offenses is their reliance on the running game. Where Hawaii has rushed for 349 yards as a team, NMSU running back Justine Buries has 401 on his own.
Although they practice against four-receiver sets every day in practice, the Warriors are keying on elements specific to the Aggies' system as they attempt to rebound from a rough outing last week at Louisiana Tech.
"Nobody does quite what June does, so it's not like it's a replica of what we do," UH defensive backs coach Rich Miano said. "But the formations are similar, so your alignment should be more consistent, and your assignments should be more clear cut because you get a lot of reps against it practice."
New Mexico State at Hawaii
Where: Aloha Stadium

When: Saturday, 6:05 p.m. (Gates open at 3 p.m.)

TV: Live, pay-per-view (Dig. 255). Call 625-8100 on Oahu or (808) 643-2337 statewide. Delayed, Sunday 10 a.m., KFVE

Radio: KKEA-1420 AM

Internet: sportsradio1420.com

Parking: $5. Parking lot gates open at 2:30 p.m. Alternate parking at Leeward Community College (free, $2 shuttle), Kam Drive-In ($5, free shuttle). Shuttles run from 3:30 p.m. to 6:30 p.m. and one hour after the game ends. Parking also available at Radford High School ($3, no shuttle). No tailgating at alternate parking sites.

Stadium security: No weapons, coolers, noisemakers, back packs, umbrellas, outside food/beverages. Fanny packs, purses, handbags subject to check.

Tickets: $5-$28. Available online at HawaiiAthletics.com, by phone at 944-2697 between 9 a.m. and 5 p.m., at the Stan Sheriff Center Box Office, Aloha Stadium Box Office, UH Campus Center Box Office, RainBowtique at Ward Centre, Windward Community College's OCET Office.

Student buses: Free bus transportation is available for UH students. Four buses will pick up students in front of Gateway House. The buses leave at 4:30 p.m. and return 45 minutes after the game ends. Seating is first-come, first-serve.
---
BACK TO TOP
|
Manners hurting, but he'll be on hand
The Hawaii coaching staff doesn't have to worry about the toughness of safety Lono Manners.
Actually, maybe it does.
Manners has played with two dislocated fingers for the past three weeks and his ability to play through pain often makes it difficult for the coaches to figure out the extent of his injury.
"The thing about Lono that you're kind of concerned about as a coach is you don't know how bad it is because the kid's not going to tell you," UH defensive backs coach Rich Miano said.
Manners said he hurt his hand against Idaho on Sept. 24 and it "popped out" again against Boise State the following week. He said his hand is feeling better this week after struggling to bring down ballcarriers in UH's loss last week to Louisiana Tech.
"It was painful throughout the whole game," he said. "It's more using my body, just flying around. I try to grab, but it's just not the way it used to be."
He's had his fingers heavily wrapped during practice this week, but said the injury won't keep him from playing against New Mexico State on Saturday at Aloha Stadium.
"Everything is for my team right now," Manners said. "We're down and I feel I can contribute to our team goal."
Manners is fifth on the team with 27 total tackles. He has one interception and has broken up four passes.
Manners was held out of a couple of drills yesterday as Kirk Alexander got some work at safety, but the coaches said Manners will be ready to go on Saturday.
"He could have one leg and he's going to want to go out there," Miano said. "Last year when he broke his ankle he wanted to go back on the field. He just has that type of passion and respect for the game that playing hurt is something he thinks you're supposed to do. So you have to keep him out of some practices because he's liable to hurt himself worse."
Road unis: When Hawaii plays at San Jose State a week from Saturday, the Warriors' numbers will be easier to see. But some of the detail in their uniforms will be gone.
Nike, which provides UH's uniforms, will provide white jerseys that have black numbers and "Warriors" across the front.
UH's new white jerseys with silver numbers became an issue because the numbers were difficult to read for broadcasters, spotters and stat crews.
"We don't have them in hand yet, so we don't want to say too much," UH spokeswoman Lois Manin said.
UH athletic director Herman Frazier said the new uniforms will be paid for with "raised funds," Manin said.
The Warriors have two road games remaining. The other is at Nevada on Nov. 5.
Backfield motion: Freshman Mario Cox got the bulk of the first-team repetitions at running back yesterday.
Cox has filled in for Nate Ilaoa, who has been sidelined with turf toe and may not play on Saturday. David Farmer also worked with the first team yesterday.
Cox missed fall camp while awaiting NCAA clearance and became eligible last month. He's played in two games and has 9 yards on four carries.
"I'm way more comfortable with the line and the rest of the team," Cox said.
Welcome back: The UH Alumni Association will hold its second annual Homecoming Pau Hana with coach June Jones and defensive coordinator Jerry Glanville today from 5 to 8 p.m. at Gordon Biersch at Aloha Tower Marketplace.
Frazier and UH-Manoa chancellor Denice Eby Konan are also scheduled to attend.
Tickets are $15 for UHAA members and $20 for non-members.
UHAA will also hold a members-only tailgate from 4 to 5:30 p.m. Saturday in the Aloha Stadium parking lot. UHAA members who present their membership card at the Stan Sheriff Center Box Office will receive two game tickets for the price of one. Tickets must be purchased in advance.
---
Dave Reardon of the Star-Bulletin contributed to this report