---
[ FAST FACTS HAWAII ]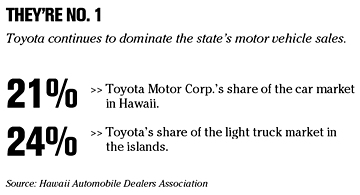 ---
BACK TO TOP


|


HAWAII
First Hawaiian parent cleared to buy bank The Federal Deposit Insurance Corp. has approved a deal by First Hawaiian Bank's parent to acquire Commercial Federal Bank, an Omaha, Neb.-based federal savings bank.
The FDIC also approved the merger of Commercial Federal Corp. into Bank of the West, a sister of First Hawaiian Bank.
The Office of Thrift Supervision and the California Department of Financial Institutions already have approved the acquisition by Honolulu-based BancWest Corp. Commercial Federal shareholders are scheduled to vote on the combination on Nov. 1.
The transaction, announced in June, is expected to close in December.
NATION & WORLD
Krispy Kreme shares drop 13% Shares of Krispy Kreme Doughnuts Inc., which is under a federal accounting probe, fell 13 percent as investor concern intensified that the company's largest franchisee may falter. The decline was the biggest in nine months.
Krispy Kreme last week disclosed that Great Circle Family Foods LLC, a Southern California franchisee that operates 32 stores, had sued the doughnut chain. Great Circle claimed Krispy Kreme is trying to force it into bankruptcy with unreasonable charges for supplies. Great Circle also said in the suit that Krispy Kreme is preparing a bankruptcy filing for Glazed Investments, the Colorado, Wisconsin and Minnesota franchisee.
Krispy Kreme's Canadian franchisee KremeKo Inc. filed for bankruptcy in April. In June, Krispy Kreme fired six executives as a result of an internal investigation into its accounting.
Oil prices increase on demand expectations
SINGAPORE » Crude oil prices rose today after the U.S. Department of Energy said the world's appetite for crude would remain strong into next year.
The agency also said American households would pay 32 percent to 48 percent more to heat their homes during the upcoming winter and predicted benchmark crude oil prices to average around $64 to $65 a barrel next year.
Light, sweet crude on the New York Mercantile Exchange rose 27 cents to $64.39 a barrel for front-month November contracts in electronic trading today. In New York floor trade, the contract settled 59 cents higher yesterday at $64.12 a barrel.
Harley-Davidson's profit lifts 16 percent
Harley-Davidson Inc.
, the world's most profitable motorcycle maker, said third-quarter earnings rose 16 percent as new models such as the six-speed Dyna cruiser helped the company post its best results in a year.
Net income increased to a record $265 million, or 96 cents a share, from $229 million, or 77 cents, a year earlier, the company said yesterday.