UH FOOTBALL
---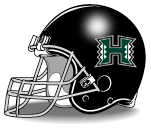 Hawaii QB on the run
Brennan is keeping his line busy with his unpredictibility
With Colt Brennan at quarterback, Hawaii's offensive linemen are putting those offseason conditioning sessions to good use.
While Brennan's penchant for scrambling has him second on the team in rushing yards this season, it also means the offensive line has had to work longer to protect him at times.
But the Warrior linemen don't seem to mind.
"It's just part of being an O-lineman," UH center Derek Faavi said. "If you have to block for 20 seconds, you have to block for 20 seconds. If that's what Colt needs, that's what we have to do."
The UH line will try to keep Brennan off the Aloha Stadium turf again on Saturday when the Warriors (1-4, 1-2 Western Athletic Conference) face conference newcomer New Mexico State (0-6, 0-2 WAC). Kickoff for UH's homecoming game is set for 6:05 p.m.
Brennan's team-high 37 rushing attempts is due partly to his inexperience in UH's run-and-shoot system, and his nimble feet have helped him elude the rush while keeping things exciting for UH fans numerous times this season.
His style also required an adjustment for an offensive line that could count on Tim Chang being in the pocket in previous seasons, running only as a final option.
This year, the linemen are learning to keep track of Brennan as he roams the backfield or takes off downfield.
"It's hard, but I think we're doing a lot better job staying on our blocks a lot longer this year," tackle Tala Esera said. "The main thing is just to block them for 10 seconds and we should be fine."
"Sometimes you don't even know," Faavi said. "You're just blocking your man and you see Colt running out of the pocket and you just have to keep on blocking."
UH coach June Jones has said Brennan needs to work on getting the ball to his receivers on time, but that will come as he gets more comfortable with the offense. In the meantime, Brennan, the WAC's leader in total offense, has shown little hesitation in trying to make plays with his legs.
The sophomore has gained 138 yards on runs, but has also been dropped for 84 yards in losses. UH opponents have 16 sacks this season. The Warriors gave up 17 all of last year.
"We probably have 10 sacks that we shouldn't have," Jones said.
Brennan certainly appreciates the efforts of the Warrior teammates who protect him, although he has heard from a few winded linemen at times during games.
"Against Boise State, when there were a couple times where they were like 'come on man,' " Brennan said. "But they're great sports and terrific guys."
With four starters back, the UH line entered the season as the most experienced group on an otherwise youthful offensive unit.
Esera, Faavi, tackle Dane Uperesa and backup guard/center Marques Kaonohi were among a group of UH players who showed up for every voluntary workout over the summer. Esera said he does notice a difference among the linemen this season.
"This year we're in much better shape, much stronger, in better condition," the junior said.
Although the linemen may have to work a little longer when Brennan scrambles, it also opens up opportunities for big hits on defenders focused on catching the quarterback.
"Football's a game of running around and blocking," Brennan said. "If anything, sometimes they get pretty excited because they get to peel back and clean up guys."
Said Faavi: "He's scrambling and the defensive lineman doesn't see you coming and you can just whack him."