| | |
| --- | --- |
| | Key Ingredient |
---
LUXURIES
Ultimate chocolate indulgences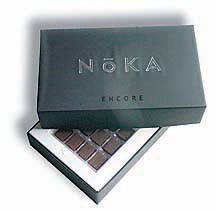 Chocolate connoisseurs, this latest box of fine chocolates is sure to get your heart racing. It's called the NoKA "Vintages Collection" of single-origin dark chocolate and sells for an awe-inspiring $40 for 12 tiny pieces.
NoKA chocolate's philosophy is to offer chocolate in its purest form, from ultra-fine cacao grown on exclusive plantations in Venezuela, Ecuador, Trinidad and Cote d'Ivoire in West Africa.
Each piece is less than an inch long, a size thought to be the optimal amount of chocolate for the palate. Like fine wine, these chocolates are for the enthusiast -- to be savored and appreciated.
NoKA chocolates pair well with brut champagnes and bold, full-bodied wines. They are available at the Epicure Department at Neiman Marcus in Ala Moana.
---
KEY INGREDIENT
Tiny romas pack plenty of tomato taste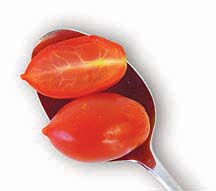 First there were cherry tomatoes, then grape tomatoes, now baby roma tomatoes have joined the tiny tomato varieties. Slightly larger than the cherry and elongated like regular romas, baby romas are being grown locally.
Baby romas are firm and have thicker skin than other small tomatoes. They also have fewer seeds and are very meaty and flavorful. Regular romas are traditionally used in great tomato sauces, but baby romas are best consumed in salads, fresh salsas or even skewered and roasted over a hibachi.
Baby romas, like all ripe tomatoes, should be stored at room temperature and should keep several days. Refrigeration can reduce sweetness. Look for firm, brightly colored tomatoes free of blemishes and soft spots.
Baby romas aren't available at all supermarkets, so some searching is necessary. They are packaged in pints and 12- to 16-ounce bags, priced at $3 to $4, and should be available sporadically year-round.