---
[ FAST FACTS HAWAII ]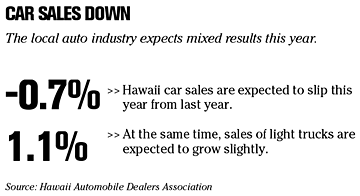 ---
BACK TO TOP


|


HAWAII
New cruises start serving Maui
KAHULUI »
Norwegian Cruise Line
has begun offering weeklong interisland cruises that originate and end at Kahului, Maui.
The first passengers to take advantage of the new service boarded the Pride of Aloha this past weekend.
A few of the customers said they liked the fact that the cruises start and end on Saturdays.
"It really just worked out for us on the dates and the choice," said Mark Wever of North Carolina.
NATION
Northwest to meet with mechanics MINNEAPOLIS » Northwest Airlines Corp. and its striking mechanics said yesterday they'll meet this week, although neither side described the talks as negotiations.
Northwest mechanics, cleaners and custodians have been on strike since Aug. 20, although Northwest has kept flying without them. The last round of talks broke off on Sept. 11. Northwest filed for bankruptcy three days later.
Northwest spokesman Kurt Ebenhoch said the sides will meet tomorrow "to review the status of bargaining and what options remain, if any, for resolution" of the strike.
Google delivers on charity promise
Google
gave the first details yesterday of how it would carry out its commitment to devote a share of its lucrative public stock offering to charity and social causes. It said it had donated $90 million to a new charitable foundation it started and would give another $175 million to nonprofit groups and what it considers socially useful businesses over the next two to three years.
Sheryl Sandberg, a Google vice president for sales who is also coordinating the foundation and related programs, said the company would focus its charitable efforts in two areas: global poverty and energy and the environment. She said the two priorities were selected by Google's founders, Larry Page and Sergey Brin.
Judge OKs financing for bankrupt Delphi
NEW YORK » A judge approved yesterday the use of $950 million in financing for auto supplier
Delphi Corp.
, which is expected to consolidate or divest a significant portion of its U.S. plants during its stay in bankruptcy court.
That sum is part of a $2 billion debtor-in-possession loan assembled by a consortium of lenders led by J.P. Morgan Chase & Co. and Citigroup Global Markets Inc., which will help the company operate during its bankruptcy, expected to end in early 2007.
Crude prices jump on supply concerns
WASHINGTON » Crude oil prices rose almost 3 percent yesterday on concerns that last month's sharp drop in gasoline demand would be temporary and that the supply of transportation and home-heating fuels would remain tight well into 2006.
Analysts are particularly worried about the pace of recovery for offshore oil and natural-gas drilling -- and onshore oil refining -- in the aftermath of hurricanes Katrina and Rita.
Light sweet crude for November delivery climbed $1.73 to settle at $63.53 a barrel on the New York Mercantile Exchange, where unleaded gasoline futures rose 3.26 cents to settle at $1.8332 per gallon.
Gannett's profit falls on lower advertising
Gannett Co.
, the largest U.S. newspaper company, said third-quarter earnings fell 4.3 percent as advertising declined at its television stations and USA Today flagship publication because of the absence of the Olympics.
---
[ HAWAII INC. ]
NEW JOBS
»
D.R. Horton - Schuler Division
has hired state
Sen. Willie Espero
as the company's new community relations manager. He will represent the company on key industry and marketplace organizations, while retaining his duties as a senator.
» Alexander & Baldwin Inc. has hired Chunhua Dai as audit project manager, information technologies, in Oakland, Calif. She will be responsible for auditing the information technology systems of A&B and its subsidiaries. She has 10 years of IT audit and security experience with Big 4 and Fortune 100 companies.
» NetEnterprise Inc. has hired Perry Kaleohano as business unit director. He will be responsible for supervising the Engineered IT division of the company. He has more than 10 years experience in sales and service of wireless technologies in California and Hawaii.
» Halekulani Corp. has appointed Erika Kauffman public relations director. She will be responsible for directing all corporate and community media relations, overseeing promotions and special events. She most recently served as a Becker Communications Inc. account executive.
PROMOTIONS
»
AIG Hawaii
has appointed
Raymond Buzz Joao
the company's sales and service director. Joao has previously served as a vice president at
Island Insurance
. He replaces
Carol Dorr
, who recently retired as a senior vice president after 11 years.