[UH FOOTBALL]
---
Warriors hurting in more ways than 1
Injuries are taking their toll and a porous defense is giving up 415.2 yards per game
Recovery time is a luxury the Hawaii football team does not have these days.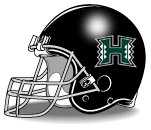 The Warriors are in the middle of a stretch of eight weeks without a break and could use time to regroup following a lengthy road trip that left the team hurting in multiple ways.
Not only are the Warriors (1-4, 1-2 Western Athletic Conference) trying to shake off the disappointment of a 46-14 loss at Louisiana Tech, they enter Saturday's homecoming game against New Mexico State with several starters nursing injuries.
"Everybody has that problem and you have it every year," UH coach June Jones said of the injuries. "But somehow you have to find a way to do it."
UH defensive lineman Melila Purcell won't play against the Aggies (0-6, 0-2) at Aloha Stadium after suffering a knee injury in the first quarter against Louisiana Tech.
Jones said doctors hadn't had a chance to review the results of an MRI taken yesterday to determine the extent of the injury, but he isn't counting on having Purcell available.
"It doesn't look like it's torn, but obviously it's very sore and I would not expect that he would play this week," Jones said.
Jones said junior defensive lineman Renolds Fruean, who has missed most of the season with an ankle injury, could help fill Purcell's spot along with senior Tony Akpan. Sophomore Karl Noa played in Purcell's place on Saturday and assisted on two tackles.
"We have some guys in there who I think can step up and do the job for us, and now they're going to get a chance to do that," Jones said.
The UH coach added that offensive tackle Dane Uperesa was "very iffy" for Saturday's game due to an elbow injury. Uperesa has started all five games despite a sprained ankle early in the season, but could be sidelined this week.
Safety Lono Manners played with two broken fingers against Louisiana Tech, and is expected to remain in the lineup.
The Warriors don't have another bye until mid-November.
"We're kind of beat up, but we're still playing hard," Jones said. "Lono probably missed more tackles in that game than he has all year. He has two broken fingers, can't grab and can't play like he did two weeks ago. We just have to battle through all that stuff and keep playing."
The injuries further hamper a UH defense that is surrendering 415.2 yards per game, placing the Warriors seventh in the WAC.
The Warriors gave up a season-high 327 rushing yards and four touchdowns on the ground against Louisiana Tech, but Jones said the offense could have done more to help keep the defense off the field.
While UH converted on only three of nine third-down opportunities, LaTech got first downs on 10 of 14 third downs and maintained possession 15 minutes longer than the Warriors.
"You have to make those plays to take over the momentum of the game," Jones said. "If you don't do that then it just snowballs the other way.
"If we just answer the call offensively and put the ball where we're supposed to, we're probably going to keep pace with them and have a chance to win the game. But when you're on the road it's tough to get the momentum back. We have to learn how to do that."
New Mexico State comes to Honolulu last in the conference in scoring offense (12 points per game) and total defense (432.7 ypg) and looking to give Hal Mumme his first win as Aggies coach.
Although Mumme is known for designing high-powered passing attacks at his previous coaching stops, Jones expects the Aggies to try to run the ball against the Warriors.
"New Mexico State is running the ball 30 times a game, kind of similar to Louisiana Tech, and I think they would continue to try to do that," Jones said.
Ranking watch: Hawaii enters the week ranked seventh in the country in passing offense with 337.6 yards per game. Quarterback Colt Brennan is 12th nationally in total offense (306.4 ypg) and leads the WAC in passing yards and total offense.
Freshman slotback Davone Bess is 18th in the nation with 6.8 receptions per game.
Weekly honors: Nevada running back B.J. Mitchell, Louisiana Tech defensive lineman Moqut Ruffins and Utah State punt returner Kevin Robinson were named the WAC players of the week.
Ruffins had two sacks and recovered a fumble against UH last week.