---
[ FAST FACTS HAWAII ]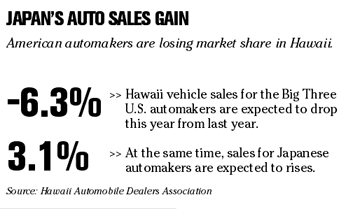 ---
BACK TO TOP


|


State to temporarily waive investment adviser fees
Hawaii is granting a one-year waiver of fees paid by state-regulated investment advisers for registration in the Investment Adviser Registration Depository program, a national database sponsored by the investment industry, state regulators and the Securities and Exchange Commission.
Investment advisory firms in Hawaii normally must pay $100 annually to help maintain the national system, while individual advisers pay $45.
State Securities Commissioner Corinna Wong said the one-year waiver is being adopted because the national system has attracted enough applicants to cover the system's costs. In future years, Wong said, the state's fee will be reduced by 30 percent. The waiver and reduction apply only to registration system fees and not to state licensing fees, Wong said.
Valerie Joseph to open at McCully
Hawaii retail veteran Valerie Ragaza-Miao is opening her own women's fashion shop, the Valerie Joseph Boutique, this month at the McCully Shopping Center.
The store will carry such labels as French Connection, Seven 7 and Take Outs as well as the Valerie Joseph private label.
Life insurer to buy Jefferson-Pilot
Life insurer
Lincoln National Corp.
, whose shares have trailed competitors for five years, agreed to buy
Jefferson-Pilot Corp.
for about $7.5 billion, betting it can cut 12 percent of the companies' combined costs to boost profit.
The Philadelphia-based insurer will pay about $55.48 in cash and stock for each Jefferson-Pilot share, or roughly 11 percent more than the average price for the past month, the companies said yesterday on a conference call.
China's economy to grow 9.2%
SHANGHAI, China » China's economy grew at a blistering rate of 9.4 percent in the first nine months of this year compared to the same period a year ago, and is forecast to expand 9.2 percent for the entire year, the country's top planning agency said.
However, growth is expected to slow to about 8.5 percent next year, the National Development and Reform Commission said in a report published today in the state-run newspaper China Securities Journal.
Post office privatization passes
TOKYO » Japan's powerful lower house of parliament approved a plan today to privatize the country's $3 trillion postal system and create the world's largest bank, plowing ahead with the prime minister's reform platform following the ruling party's landslide electoral victory.
The bills met little opposition since Prime Minister Junichiro Koizumi's ruling Liberal Democratic Party and its coalition partner New Komei Party clinched a two-thirds majority in the 480-member lower house in Sept. 11 elections.