---
[ FAST FACTS HAWAII ]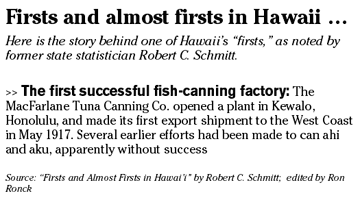 ---
BACK TO TOP


|


NATION
Preparation is key for small businesses
If there's a lesson small businesses can learn from Hurricane Katrina, industry consultants and experts say, it's that the time to prepare for a disaster is well before it happens.
Business owners often think of protecting valuable equipment, but they also have to figure out how to preserve critical documents that will help rebuild their businesses, experts say.
Small business owners can buy a cheap scanner and post their important documents on secure Web sites, so insurance companies can easily retrieve them, according to Dan Yost, chief executive of SafeRegistry.com, a Stillwater, Okla., online document retrieval company.
"People can scan their documents and receipts for what they purchased and at least burn them to CDs and put them in a safe deposit box," he said. "If you have no documentation for anything you bought, you will be hassled a lot more by the insurance company."
It's also a good idea to videotape the place of business and take digital photos that can be stored in another location, Yost said.
Some firms coach leadership skills
Does your company coach you? Ever wonder why, or why not?
More than half the people, 54 percent, in a survey said their employer provides coaching for managers, executives and "high-potential" employees. The main reason cited for this effort, by 38 percent, was to sharpen leadership skills. Fifteen percent said coaching was a means to fix behavior problems: Improve weak communication skills, develop subordinates' talents, or quell indecisiveness. Fourteen percent said coaching was done to improve retention of leaders. The survey involved people at 328 companies by Right Management Consultants, a Philadelphia-based career transition and organizational consulting practice, a wholly owned subsidiary of Manpower Inc.
"Executive coaching is increasingly being used by organizations for talent value management reasons -- ensuring that they have the right leaders for today and tomorrow," said Paul Larson, an executive with Right Management Consultants.
Here's how to annoy customers
"Uh, that's not my department."
Ever hear that in a store? Did visions of fiendish violence against the clerk flash through your mind? "Not my department" topped the list of Most Annoying Words from Salesperson's Mouth, cited by 29 percent, in a poll of shopping mall customers by a retail consulting firm.
No. 2? The classic, "If it's not on the rack, we don't have it." That golden oldie was cited by 25 percent.
"That's the policy," "I'm on a break," "Ask the person over there," "I'm new here," "You'll have to wait your turn" and "The computer is down" rounded out the list.
The survey involved 230 shoppers at U.S. malls, conducted by Ridgewood, N.J.-based MOHR Access. Fortunately, times are changing. Many retailers are aiming to get their floor clerks "to take personal responsibility for the customers' experience," said Michael Patrick, MOHR Access president. "What's really needed is to get employees committed ... to do their best, even when nobody's looking or listening."