| | |
| --- | --- |
| | Newswatch |
---
Chimpanzee at zoo dies of pneumonia
One of the Honolulu Zoo's 11 chimpanzees died Monday.
Zoo officials said a necropsy showed that the juvenile female, named Anuhea, had pneumonia.
The animal had been spoon-fed a special diet of baby food enhanced with vitamin D and powdered milk after a pediatrician examined it two weeks ago and diagnosed rickets, a vitamin deficiency that causes weakened bones. Its mother was trained to bring the infant to the bars of the holding cage so zoo employees could feed her.
Zoo Director Ken Redman said Anuhea was never put on display because zookeepers believed she was not strong enough to hold her own in the population.
Anuhea was born Oct. 14, the sixth offspring of 34-year-old Boo, described by the zoo announcement as not being "as protective of her infants as desired." The infant was small and did not develop at a normal rate. The mother and baby and another female companion chimp had been kept apart.
Three male chimps have also been born at Honolulu Zoo since the original group of seven chimpanzees were brought here in 1994. Redman said this was the first death among the group.
Sit-in ends with vow to continue Akaka fight
A 24-hour sit-in at the Office of Hawaiian Affairs ended yesterday morning, with protesters promising not to give up their fight against the so-called Akaka Bill.
About 30 people sat at the agency's offices through the night and then spoke to trustees at yesterday's regular meeting, saying the bill that would set up a system of self-governance for native Hawaiians is flawed.
"We came to the Office of Hawaiian Affairs 24 hours ago out of a deep concern for the effects of the Akaka Bill on the kanaka maoli community and all the people of Hawaii," said Ikaika Hussey, spokesman for Hui Pu, the group that organized the sit-in. "This bill removes self-determination and replaces it with federal determination."
Board of Trustees Chairwoman Haunani Apoliona said she disagreed with the protesters. "Some of their statements are ill informed," she said.
---
[ TAKING NOTICE ]
ACADEMIC AWARDS
»
Torey M. Kikukawa
, a 2003 graduate of Castle High School, has received a $600 Bernice Jordan Memorial Scholarship from
Washington State University
.
» Michelle Sosa, a University of Hawaii-Manoa undergraduate student majoring in microbiology, was honored with the RCUH (Research Corporation of the University of Hawaii) Student Excellence in Research Award.
» HMA Educational Foundation has been awarded $5,000 from First Hawaiian Foundation to help students attending Hawaiian Mission Academy. The academy provides a Christian education to develop the whole individual and to prepare them for their careers.
» Josh Jerman Realtor Maui Scholarship Fund 2005 has awarded a $1,000 scholarship to Destinie Corpuz, a Maui High School graduate, toward tuition for the 2005-2006 college term. Noela Oliveira of Hana High and Elementary School received the $1,000 scholarship as well.
» McDonald's Restaurants of Hawaii has awarded $1,000 scholarships to 10 employees for outstanding academic achievement, community work and job performance.
They are Nanea-Ashlynn Abiva of Aiea High School; Annelysa Aquino and Diana Napoles, Farrington; Chantelle Briones and Kristine Sison, Waimea; Daniel Maile, Kamehameha; Julius Reganit, Radford; Catherine Saulog, Kaimuki; Andrea Takamiya, Mililani; and Vanie Valdez, Waipahu.
» The Water Environment Federation has named April Due and Aimi Latore of Kapolei High School as its 2005 state winners of the U.S. Stockholm Junior Water Prize competition. Due, whose project was on "The Viability of Processing Cruise Ship Waste at Land-based Wastewater Treatment Facilities," represented Hawaii at the national competition in Portland, Ore., in June.
OFFICERS
»
Chris Colgate
, senior general manager of Hula Grill Waikiki and Duke's Canoe Club Waikiki, has been named to the board of directors of Aloha Harvest, a nonprofit organization that gathers donated food for the needy. He is also active in the Tommy Holmes Foundation and the Outrigger Duke Kahanamoku Foundation.
» Hawaii Women's Political Caucus officers and directors are Faye Kennedy, president; Allicyn Hikida Tasaka, vice president; Nanci Kriedman, vice president; Caroline Wilcox, treasurer; Pua Auyong-White, secretary; and directors Amy Agbayani, Annelle Amaral, Diane Chang, Gladys Gerlich-Hayes, Malia Nobrega and Alice Tucker.
» Indiana University Alumni Association, Hawaii Chapter officers and directors are Lloyd Nakahara, president; Laura Anderson, secretary; Karl Rhoads, treasurer; and directors Kristina Doyle, Nora Harmsen and Tara Culbertson.
---
"Taking Notice" also runs on Tuesdays and Thursdays.
---
Police, Fire, Courts





By Star-Bulletin staff


NEIGHBOR ISLANDS
Boy hit by father backing car out of driveway dies KAILUA-KONA » A 1-year-old boy died Thursday after he was hit by a car driven by his father backing out of a driveway on Paiaha Street in Kailua-Kona, police said.
The child, Teiji Kuni, was hit at about 5:46 p.m. and was declared dead at Kona Community Hospital at 6:58 p.m. His father was identified as David Kuni III of Kailua-Kona.
An autopsy and a standard negligent-homicide investigation will be conducted, police said.
WEST OAHU
Couple used stroller to steal case of jewelry A couple who allegedly used a baby stroller to steal a jewelry display case last month is being sought by Honolulu police.
At about 3 p.m. on Sept. 29, CrimeStoppers officials said, a woman and a child walked into the Cathay Kai jewelry store in the Pearlridge Center and asked to see some bracelets in the back of the store.
While the salesperson and the woman and child were in the back, a man walked into the store pushing a stroller. However, it was not until both suspects had already left that the salesperson noticed a revolving jewelry display case missing. The store surveillance video showed the man had grabbed the display case and put it into the stroller.
The value of the case and its contents is estimated at $16,000.
The woman is described as in her late 20s, about 5 feet tall, 120 pounds, with black shoulder-length hair and a tan complexion. She was last seen wearing a black short-sleeved T-shirt and black shorts.
The man is described as also in his late 20s, about 5 feet 6 inches tall and about 160 pounds. He was last seen wearing a black hat, white tank top and shorts.
Anyone with information on this case is asked to call CrimeStoppers at 955-8300 or by dialing *CRIME on a cellular phone.
WAIKIKI
2 Waikiki thieves escape on bicycles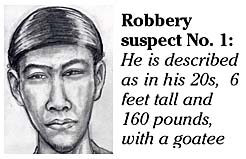 Honolulu police are asking for the public's help in identifying two bicycle-riding robbery suspects.
On Sunday at 8:45 p.m., the two suspects on black bicycles approached two men in front of the Continental Surf Hotel on Kuhio Avenue. Without any provocation, the suspects punched one victim in the face, then punched and kicked the other victim when he tried to intervene, police said.
After the assault, one of the suspects took a cell phone from one of the victims and fled. Both suspects were last seen fleeing on their bicycles heading mauka on Kapuni Street.
Police said one of the victims suffered broken orbital bones in both eyes after the assault. Suspect No. 1, who allegedly took the cell phone, is described as in his 20s, 6 feet tall and about 160 pounds, with a slim build, black or dark brown, curly hair, brown eyes and a slight goatee. He was last seen wearing a black or dark brown shirt with lettering down the front and a brown beanie.
The second suspect was described as in his 20s, about 5 feet 5 inches tall and about 200 to 250 pounds, with a heavy build, short black hair and a dark brown complexion. He was last seen wearing a light gray or white short-sleeve shirt.
Both suspects were last seen on old black bicycles.
Anyone with information on this case is asked to call CrimeStoppers at 955-8300 or by dialing *CRIME on a cellular phone.
HONOLULU
Police say man choked and bit his stepson, 16 A 41-year-old Honolulu man was arrested Wednesday after he allegedly choked and bit his teenage stepson.
Police said at about 5:30 p.m. the suspect and victim, 16, got into an argument at their Piikoi Street apartment unit. The argument turned into a fight, during which the stepfather allegedly pointed a kitchen knife at the victim.
Police said the victim took the knife from the suspect, and both parties struggled with each other. The suspect then fell on the victim and allegedly began to choke him then bite him on the arm and then the ear.
Police said the stepson broke free, left the apartment and called for an ambulance, which transported him to the Kuakini Medical Center. Police later arrested the victim's stepfather for second-degree assault and first-degree terroristic threatening.
Prostitute says she was threatened by customer
A Nuuanu prostitute told police one of her customers accused her of stealing his jewelry and held her at gunpoint yesterday morning.
According to police, the victim, a 30-year-old woman, was picked up along Nuuanu Avenue at about 4:30 a.m. by the suspect and was driven to the upper Nuuanu area to have sex. After sex the victim was paid, but the suspect accused her of taking his gold pendant.
Police said the suspect allegedly pulled out a gun and demanded the gold pendant back though the victim said she did not have it. The victim escaped and called police. The suspect is described as in his late 30s, carrying a pistol and about 5 feet 7 inches tall, with a medium build.