| | |
| --- | --- |
| | Island Mele |
---
---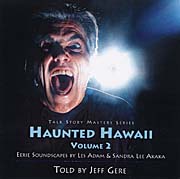 "Haunted Hawaii Volume 2"
Jeff Gere
(self-distributed)

The late Glen Grant was an avid collector of Hawaiian ghost stories and related folklore whose successful books and recordings inspired several come-latelys to follow in his footsteps with similar products. Spooky tales represent only a fraction of storyteller Gere's repertoire, however, and his recordings approach them in a different way. Where Grant is remembered more as a conventional narrator, Gere's storytelling prowess adds comic shadings to the stories at times, despite the basically grim material. With his second album in the "Haunted Hawaii" series, Gere includes spooky stories from Samoaas well.

Several were shared with him by local kids. There's the tale of the bus driver who picks up a mysterious woman in the Punchbowl area, and another about a loudmouth uncle who dares challenge the dreaded "night marchers." A third describes a case of demonic possession.

Two of the Samoan stories contain sugar-coated lessons for young listeners. A boy who killsbirds and sasses his elders learns the error of his ways. A near-death experience teaches two men not to work when they should be in church.

Les Adams (keyboard) and Sandra Lee Akaka (percussion) embellish Gere's work with just enough music to set the mood or underscore key moments in the narrative.

While spooky stories come into vogue in the weeks leading up to Halloween, Gere's tales have year-around appeal.
---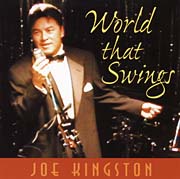 "World That Swings"
Joe Kingston
(Flying Mongoose)

Kingston sings classic American pop songs with an exuberance that sells whatever he's singing, even when he seems on the verge of exceeding his vocal range. As with his 2001 debut album, "On the Swing Shift," the sincerity of Kingston's vocalizing makes him a noteworthy disciple of Harry Connick Jr. and John Pizzarelli.

Kingston opens the album on an upbeat note with a bright swinging arrangement of "You're Nobody Till Somebody Loves You." Two songs later, he shows his mellow side with a poignant rendition of "Summer Wind."

Big Band-era classics, such as "Embraceable You" and "Night & Day," predominate, but Kingston steps into the 1960s with"This Guy's In Love With You." A tight sextet - sax, trumpet, trombone, bass, drums and keyboards - gives him the solid support that only a live horn section provides.

Kingston closes with "We've Got a World That Swings, " another engaging upbeat anthem with a timeless theme.

John Berger, who has covered the local entertainment scene since 1972, writes reviews of recordings produced by Hawaii artists. See the Star-Bulletin's Today section on Fridays for the latest reviews. Contact John Berger at

jberger@starbulletin.com

.