The Bloomberg /
Star-Bulletin Index
---
The Bloomberg / Star-Bulletin Index is a price-weighted index designed to measure the performance of Hawaii-based companies. The index was developed with a base value of 100 as of December 31, 1999. A chart of the index which shows the weekly performance of its members is published weekly in the Honolulu Star-Bulletin.
Hoku climbs 13.6%
Hoku Scientific Inc.
, which went public on Aug. 5, resumed its upward march this week as it rose 13.6 percent to lead the way in the Bloomberg Honolulu Star-Bulletin index. The Kapolei-based developer of fuel cell technology recently received a boost when the Navy announced it had exercised its options on a contract with Hoku worth $2.5 million. Hoku ended this week at $12.16, just off its high of $12.65 reached on Tuesday.
Maui Land & Pineapple Co. brought up the rear as it slipped 6.8 percent to $28.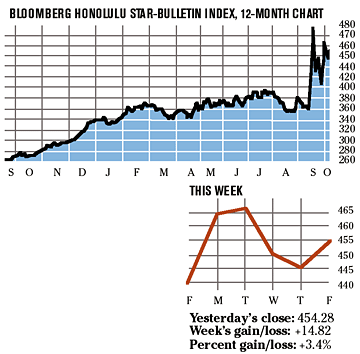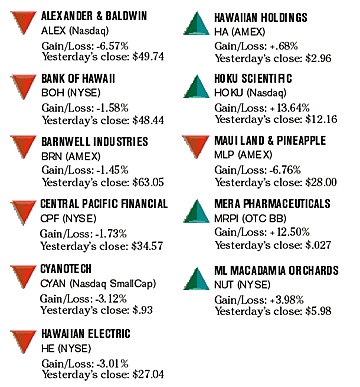 SOURCE: BLOOMBERG NEWS
STAR-BULLETIN GRAPHIC