---
[ FAST FACTS HAWAII ]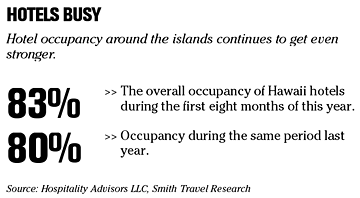 ---
BACK TO TOP


|


HAWAII
Aloha Airlines posts profitable month Aloha Airlines had its fourth straight profitable month in August, posting an operating gain of $2.6 million.
The bankrupt carrier generated revenue of $42.2 million in the month, more than $3 million less than in July, according to a company filing in U.S. Bankruptcy Court. Year-earlier numbers were not disclosed.
The airline had a net loss in August of $874,721. Since filing for bankruptcy, Aloha has had an operating loss of $8.2 million and a net loss of $16.5 million.
The carrier, hoping to be out of Chapter 11 reorganization by the end of the year, announced last month it had signed a letter of intent with two Los Angeles-based investment groups, one headed by billionaire Ronald Burkle and the other led by former National Football League standout Willie Gault.
Maui condo median hits $425,600
The median sales price for a condominium on Maui rose 29 percent to $425,600 last month from a year earlier, just shy of the all-time high of $430,000 in January.
At the same time, the pace of single-family home and condominium sales dropped off on the Valley Isle. Some 108 houses and 137 condominiums sold on Maui in September, according to the Realtors Association of Maui.
The average number of days a Maui condominium was on the market for sale was down to 98 days -- the lowest it's been since last December.
NATION
NYSE to delist Delta Air Lines Delta Air Lines Inc., which filed for bankruptcy protection last month, said it expects the New York Stock Exchange will delist its stock and 818 percent notes.
The exchange plans to suspend trading in the securities Thursday and apply to the Securities and Exchange Commission for the delisting, the airline said. Delta, the third-largest U.S. carrier, won't oppose the delisting and expects the commission to approve the request.
News Corp. sued over poison pill
A group of investors has sued the
News Corp.
in Delaware Chancery Court, seeking to undo a poison pill defense the company created to fend off the advances of the
Liberty Media Corp.
, its largest outside shareholder.
If the lawsuit is successful, it will add intrigue to the corporate fandango between Rupert Murdoch, who controls News Corp., and John C. Malone, Liberty's chairman.
Murdoch put the poison pill in place to stymie pressure from Malone to force News Corp. to sell some of its assets to Liberty.
Ex-Berkshire exec faces fraud suit
Berkshire Hathaway
, the Omaha, Neb., holding company controlled by Warren E. Buffett, said yesterday that regulators had notified Ronald E. Ferguson, a former chief executive of a Berkshire subsidiary, the General Reinsurance Corp., that they planned to file a civil fraud complaint against him in connection with an investigation of possible insurance fraud.
Feds seize $9 million from sale of mogul's apartment
CHICAGO » Federal agents seized nearly $9 million in proceeds yesterday from the sale of embattled media baron Conrad Black's apartment on New York's Park Avenue.
FBI agents showed up at the real estate closing in New York yesterday and immediately seized $7.9 million. Earlier in the day, they seized more than $1 million that had been held in escrow as part of the sale.
A civil warrant signed by a Chicago judge authorized the seizure, saying that Black had derived the money as part of a fraud scheme involving the Park Avenue cooperative apartment. Black has not been charged with any criminal wrongdoing.
A spokesman for Black, Jim Badenhausen, did not return a message left yesterday at his office.
Black stepped down as chairman of the newspaper publishing company Hollinger International Inc. in 2003 after an internal investigation accused him and others of looting the Chicago-based company.
FCC chairman wants telecom deals approved
WASHINGTON » The top federal communications regulator wants two multibillion-dollar telecommunications mergers approved without requiring the companies to sell off assets.
The deals are SBC Communications Inc.'s $16 billion acquisition of AT&T and Verizon Communications Inc.'s $8.5 billion offer for MCI Inc.
Federal Communications Commission Chairman Kevin Martin planned to send his fellow commissioners proposals outlining his reasons for seeking approval, a person close to the matter told the Associated Press yesterday.
This person was authorized to speak about the proposals only on the condition of anonymity because the petitions have not been made public.
If Martin gets at least two of the three other commissioners to agree, the mergers could be approved at the commission's monthly meeting Oct. 28.
The Justice Department's antitrust division also must approve the deals, and it is the agency that would go to court if there were any government effort to force some assets to be divested. The Justice Department is not bound by any decision the FCC reaches, but the commission's position would have considerable influence on the final ruling.
WORLD
German authorities search Volkswagen offices BERLIN » German prosecutors said yesterday they are investigating Volkswagen AG's former personnel director, Peter Hartz, for suspected breach of trust involving possible abuse of expense accounts for company representatives.
Prosecutors in the central city of Braunschweig, near Volkswagen's Wolfsburg headquarters, had said as recently as last week that Hartz was not under suspicion, citing lack of evidence.
However, they said they decided to widen their probe after questioning Hartz as a witness. Hartz's former offices at Volkswagen were searched yesterday and evidence secured, prosecutors said.
Prosecutors stepped in earlier this year at VW's request to investigate whether company officials abused expense accounts for luxury holidays across Europe and beyond.