---
[ FAST FACTS HAWAII ]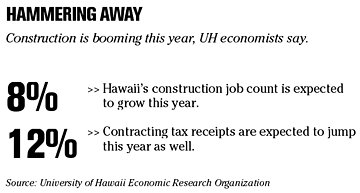 ---
BACK TO TOP


|


HAWAII
Barnes & Noble to open at Ala Moana on Oct. 19 Barnes & Noble Inc. said yesterday that it will open a new Honolulu book store, complete with a cafe and wireless Internet services, on Oct. 19 in part of the old J.C. Penney space at Ala Moana Center.
The store will be at the street level on the mauka side of the center, between Hino's Hairstyle and the satellite city hall. Barnes & Noble also has a store at Kahala Mall.
The Ala Moana store will stock close to 200,000 book, music, DVD and magazine titles and will employ about 100 people. It will open from 9 a.m. to 11 p.m. daily.
Barnes & Noble will hold a preview party from 6 to 9 p.m. on Oct. 18, with a portion of that night's sales donated to Read To Me International.
Singer Natalie Ai Kamauu will provide Hawaiian-style music at the event and a children's story time will be held at 7:30 p.m. Costume character Clifford the Big Red Dog will make an appearance.
Plan for Kakaako gets Web site
A&B Properties Inc.
has set up a Web site and telephone hotline to provide information about its $650 million plan to develop 36.5 acres on the Kakaako waterfront.
The Web site is www.kakaakowaterfront.org and the phone number is 596-4645.
A&B's proposal includes 220,500 square feet of retail and dining attractions, three 20-story residential towers and 2,928 parking spots.
NATION & WORLD
Zetsche's wife gets hit with fine BLOOMFIELD HILLS, Mich. » Gisela Zetsche, the wife of incoming DaimlerChrysler AG Chief Executive Dieter Zetsche, was fined $500 and ordered to pay $2,500 in court costs yesterday for her role in hosting a party at which more than 20 underage drinkers were ticketed.
Had Bloomfield Township police taken the case to Oakland County prosecutors, Gisela Zetsche could have been charged with providing alcohol to a minor, a misdemeanor punishable by a fine of up to $1,000 and as many as 60 days in jail.
Instead, she pleaded no contest on Aug. 24 to a township ordinance violation that carries a maximum fine of $500, plus court costs. Her plea is not an admission of guilt but is treated as such for sentencing purposes.
Regulators target spyware firm
WASHINGTON » Regulators are trying to shut down a company they say secretly downloaded spyware onto the computers of Internet users, opening them to a flood of pop-up ads, computer crashes and other problems.
The Federal Trade Commission accused Walter Rines of Stratham, N.H., and his company, Odysseus Marketing, of luring computer users with the promise of free software that would make illegal peer-to-peer file sharing anonymous and hard to trace.
The claim was bogus, the FTC said, and the software was bundled with spyware that was secretly downloaded onto computers. Rines disputes the charges and maintains no wrongdoing.
Migrants send $240B to folks back home
UNITED NATIONS » International migrants send about $240 billion to their home countries yearly, a significant engine of growth for the world economy, the Global Commission on International Migration said yesterday.
But the 19-member independent panel said in a report that world governments have failed to take advantage of the enormous opportunities that result from such migration or to manage the challenges posed by the foreigners' arrival.
Claims over popcorn butter flavoring settle
JOPLIN, Mo. » The claims of 19 people who blame lung disease on the butter flavoring used at the popcorn plant where they worked have been settled for an undisclosed sum.
The settlements come after the flavoring company was ordered in jury trials to pay four people about $53 million in damages, which were appealed.
People who worked at the plant in Jasper, 135 miles south of Kansas City, claimed that exposure to diacetyl, a chemical used in the butter flavoring, caused bronchiolitis obliterans, a disease that obstructs the lungs.
None of the workers have died. Ken McClain, an attorney for 15 plaintiffs, said several remain close to needing lung transplants.
In other news ...
» Russian prosecutors yesterday raided offices affiliated with
Yukos
, the oil company in a tax dispute with the Kremlin, and for the first time accused company employees of money laundering.