UH FOOTBALL
---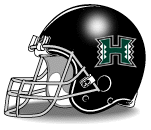 Hawaii's defense grows a nose
It took a few weeks, but UH has found a couple of big guys it can count on
Ask Jerry Glanville about the importance of the nose tackle position and he gives you the name of a cornerback. As it often does in his case, what at first doesn't seem to make sense does with just a little more information.
"Cris Dishman," the Hawaii defensive coordinator said, naming one of his old Houston Oilers.
Then, after a pause:
"A great cornerback. He always wanted to know who the nose was. 'You got a nose?' "
The Warriors have about five or six. Four games into the season, it looks like they've narrowed it down to two with a clear starter in sophomore Mike Lafaele and a solid No. 2 in freshman Keala Watson after the defense played well again in Saturday's loss to Boise State.
Back to Glanville's point. Dishman wanted to know who the nose tackle was because if he was a good one, he could help put pressure on the quarterback and Dishman wouldn't have to try to cover his man for too long. Every player depends on every other player in a defense, but in the 3-4, none is more important than the nose tackle, and it's a chain reaction all the way to the cornerbacks.
"It's always been important in this scheme. You gotta have a nose that is a team player and powerful and tough," UH coach June Jones said. "You just gotta have that guy in there and we've got two pretty good ones now."
Lafaele, the converted offensive lineman from Farrington, has likely earned a second consecutive start. Tony Akpan, Reagan Mauia and Watson started the first three games, and the preseason favorite to do so was injured Renolds Fruean.
The auditions are over for now as the Warriors (1-3, 1-1 WAC) get ready for a game at Louisiana Tech (1-2, 1-0) on Saturday.
"I would say he's playing nose very well," Jones said of Lafaele. "He'll start probably again this week."
If the nose tackle and the other defensive linemen to either side of him (Melila Purcell and Ikaika Alama-Francis) can occupy a large number of offensive linemen, the other defenders have a better chance of outnumbering the offense at the point of attack.
"They free up the linebackers," Alama-Francis said. "The center is the key. He has to play the center really hard, really good, and that opens it up for the middle linebackers to make plays inside. We did a really good job against Boise State. Michael did an awesome job, Keala did an awesome job. I'm excited about playing next to them."
Lafaele said he was triple teamed often Saturday. And he loved it, because it meant he was doing his job. Here's how he described his tasks:
"Hold the line of scrimmage, play that center, don't let him get out to the linebackers, blow up the line, cancel out gaps. Try to make plays," Lafaele said.
The 6-foot-1, 297-pound Lafaele said his year with the UH offensive linemen serves him well now, because he can anticipate their moves based on what he used to do.
"I know for O-linemen, they pick up blitz first. There's a lot of stuff that carries over to the other side. A lot of technique and alignment and stuff like that. That really helps me a lot, knowing the different kind of blocking they like to run."
Lafaele has been credited with just two tackles, both assists. But everyone associated with the Warriors defense know that stat means next to nothing for the nose tackle.
"Everybody has a job. It just makes everybody's job much easier with a nose who can do the right things in this scheme," Alama-Francis said. "They play hard. And that's what Coach Glanville is looking for. On his defense you need a nose. Mike and Keala are outstanding there."
Keomaka might play: Reserve cornerback Ryan Keomaka, listed as questionable for Saturday's game, might play because his shoulder injury suffered against Boise State isn't as bad as it might have been.
"It's subluxed and he'll have to play with pain and get it fixed at the end of the year," Jones said.
Kenny Patton and Keao Monteilh are the starting corners, with Turmarian Moreland and Keomaka listed as the backups.
By way of Texas: The team flies to Houston tonight and practices there tomorrow and Friday before heading to Monroe, La., Friday afternoon.