| | |
| --- | --- |
| | Newswatch |
---
Program offers study-abroad for professionals
The Hawaii Rotary District 5000 is looking for professionals between 25- and 40-years-old to participate in a month-long study abroad program.
Those chosen to be a part of the four-member Hawaii Group Study Exchange receive a grant to tour Albania and Italy from May to June. They would live in a host Rotarians' home and follow a set itinerary, while observing their host country's commercial operations and systems of government, health care and education.
Applicants must be non-Rotarians who are employed full-time. Applications are available on the club's Web site, www.rotary.org and are due Oct. 27. For more information, contact Marietta Bustamante, at 780-8472 or mariettab@hawaii.rr.com.
Ridership doubles on Maui bus routes
WAILUKU » Ridership on Maui's public transit system has doubled in the past few months, county Transportation Director Kyle Ginoza said.
In an appearance Monday before Maui County Council's Planning Committee, Ginoza attributed the increase to a combination of higher gasoline prices and a more informed community.
The addition of two bus routes also helped fill more bus seats.
In all, the number of bus passengers reached 20,105 last month, up from 13,180 in June.
Wilson Tunnel to close for cleaning
The townbound lanes in the Wilson Tunnel on Likelike Highway will be closed from 8 tonight to 4 a.m. tomorrow for drainage cleaning.
Expect delays on Farrington Highway
State transportation officials advised Oahu motorists that the right Honolulu-bound lane of Farrington Highway between Nanakuli Avenue and Laumania Avenue will be closed between 8:30 a.m. and 3 p.m. tomorrow and Friday for guardrail installation.
Motorists should anticipate delays, allow for extra travel time and use caution while driving through the work area.
Bryan Clay to talk at free public meeting
Bryan Clay, the "world's greatest athlete," will be special guest at a free public meeting entitled "Getting a Grip on Arthritis" from 9 a.m. to noon Saturday at the Renaissance Ilikai Waikiki Hotel.
Clay, 2004 Olympic silver medalist and gold medalist in the decathlon at the 10th IAAF World Championships of Track and Field, will discuss the importance of staying healthy and his Olympic training regimen.
Discussing nonsurgical and surgical treatment options for arthritis and chronic joint pain will be Drs. Alberto Santos-Ocampo, Cedric K., Akau, Edward J. Weldon, Cass Nakasone and Spencer K.Y. Chang.
The Bone & Joint Center at Straub is hosting the event and it is organized by the Straub Foundation. Call 524-6755.
---
Police, Fire, Courts



By Star-Bulletin staff


NEIGHBOR ISLANDS
Kauai man, 60, dies after truck hits pipe and flips HANAMAULU, Kauai » A 60-year-old Wailua man died Monday afternoon when his truck struck a pipe on the side of the road and flipped.
Police said Mitchell Quinones was heading south in a Toyota pickup truck on Kuhio Highway near Hanamaulu Road when he crossed the center line, climbed onto the sidewalk, struck a four-inch pipe at the entrance of a 7-Eleven, and flipped the truck onto its side.
Quinones was extricated from his car and taken to Wilcox Hospital, where he was pronounced dead.
Hilo girl, 15, reported missing since Oct. 1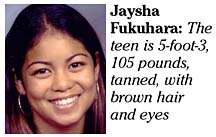 Big Island police are looking for a 15-year-old Hilo girl reported missing from her home since Oct. 1.
Jaysha A.K. Fukuhara is described as 5-foot-3, about 105 pounds, with a medium build, tan complexion, brown hair and brown eyes.
Anyone with information is asked to call officer Peter Kualii at 961-2373, the police nonemergency number at 935-3311, or CrimeStoppers at 961-8300 in Hilo or 329-8181 in Kona.
HONOLULU
Police seek fugitive from furlough center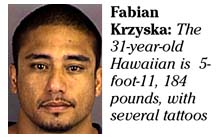 Police are looking for a 31-year-old man who escaped from the Laumaka Work Furlough Center.
Fabian Krzyska failed to show up for work 6 p.m. Monday.
He is described as Hawaiian, 5 feet 11 inches, 184 pounds, with black hair, brown eyes and "KRZYSKA" tattooed on his stomach, "YUSON" on his back, "Kiana" with a tiger on his left forearm and another tattoo on his right forearm.
Anyone with information is asked to call CrimeStoppers at 955-8300 or *CRIME on a cell phone.
Public is warned about phony lottery letters
Honolulu police and CrimeStoppers are warning the public about a lottery scam from Canada.
Numerous victims have reported receiving letters saying they had won the lottery. Included with the letters were checks ranging from $1,870 to $7,850, which were later discovered to be fraudulent.
The letter instructs the recipient to call a person in Canada and send a money order for a designated amount in order to collect the winnings.
Police remind the public that:
» Foreign lotteries are illegal in Hawaii.

» If you did not enter a lottery, chances are you did not win.

» Legal lotteries would not ask you to pay anything to collect winnings.

» Lottery winners have to show proof of a ticket and would not be notified by the lottery.

» If it sounds too good to be true, it probably is.